Beer and Pretzel caramel stuffed chocolate chip cookies. The ultimate cookie experience that is sweet, salty, and totally irresistible. 
Good morning, friend! I hope you are doing well. Me, I am chipper because the days are finally getting longer and the weather is finally warming up. Spring is almost here! I kind of almost don't even know what to do with my excitement. Oh, I know, what about eat a ton of these beer and pretzel caramel stuffed chocolate chip cookies?
For those of you who follow me on Facebook, thank you for all your comments and messages, it really helped me get through the week. Last week I was in the hospital for about five days. I contracted a chest infection which was complicated by my asthma. I ended up having a severe asthma attack and almost stopped breathing on my own. I was admited to the ICU for a few days. Fortunately, the doctors and nurses were amazing and I was downgraded and shortly released. I am feeling SO MUCH BETTER, but it is still hard for me to move around like I used to and still get dizzy spells and find it hard to concentrate. Then yesterday (Monday), I got a tummy bug, but that is gone now and is my excuse for not having this post up like I planned.
I've always been one of those "Oh, nothing will happen to me. I'm a workhorse." kind of people and never checked up with my pulminary doctor, even though I was recently diagnosed with asthma. Lessoned learn. Love thy doctors or else you may end up really sick.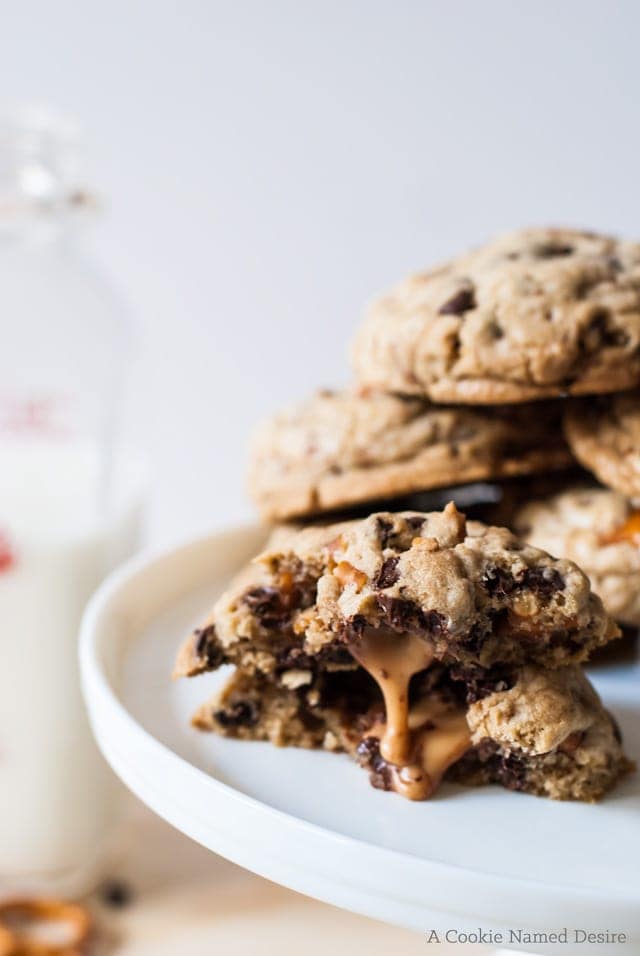 I made these beer and pretzel caramel stuffed chocolate chip cookies the day before my incident and sharing them with you was all I could think about. The first time I made them was when I shared my beer and pretzel caramels. My family was so stuck on eating them right away that I ended up trying to take photos of them at night and they were horrible (the photos that is, not the cookie)! It's taken me this long to remake the cookies for you, but they are so worth the wait.
Oh, and when I was taking the photos, my backboard fell and tipped over the milk over everything. I ate maybe four cookies at once just to get the space cleaned up. I liked the shot of the scene with all the milk everywhere. Whaddya think?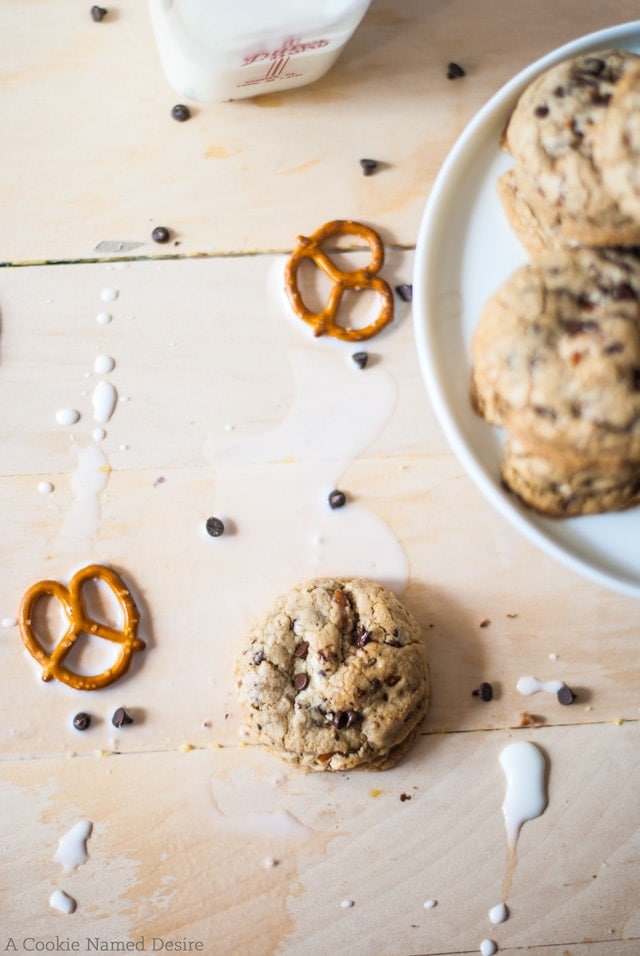 I used a standard chocolate chip cookie base, but added a bit of homemade beer extract. Totally up to you if you want to use it or not. I liked how it emphasized the flavor of the beer in the caramels. I then crushed in some mini pretzels and voila! The perfect sweet/salty/caramely snack with a bit of crunch. If you are looking for a dude-friendly cookie, this is so it.

Recipe Card
Beer and Pretzel Caramel Stuffed Chocolate Chip Cookies
Ingredients
2 ⅓

cup

all-purpose flour

1

teaspoon

baking soda

1

teaspoon

cornstarch

1

cup

2 sticks unsalted butter, room temperature

¾

cup

semi-packed light brown sugar

½

cup

sugar

1

egg

plus 1 egg yolk, room temperature

½

teaspoon

beer extract

use the same method as in the beer pretzel caramels

1

teaspoon

vanilla extract

1

cup

crushed mini pretzels

1 ¼

cup

mini chocolate chips
Instructions
Mix together the flour, baking soda, and corn starch together. Set aside.

Beat the butter until smooth. Add in the sugars and beat until fluffy and creamy - about 2 minutes on medium if using a stand mixer. Add in the egg and yolk and beat until incorporated. Mix in the extracts and beat well.

Slowly add the flour mixture into the wet ingredients and mix until just combined. Fold in the pretzels and chocolate chips.

Allow the dough to chill for about one to two hours. Preheat your oven to 325 degrees F.

Scoop out one tablespoon of dough and create a little nest. Insert the caramel into the nest. Cover with another tablespoon of dough. Lightly roll the ball of dough to ensure there are no cracks the caramel can leak from. Repeat with the remaining dough.

Bake for 13 minutes. If you have to bake in batches, leave the second and/or third batch in the refrigerator while it awaits its turn.

Allow the cookies to rest for about 2 - 3 minutes before transferring to a wire rack to cool.
Tried this recipe?
Tag me on Instagram! @acookienameddesire #acookienameddesire