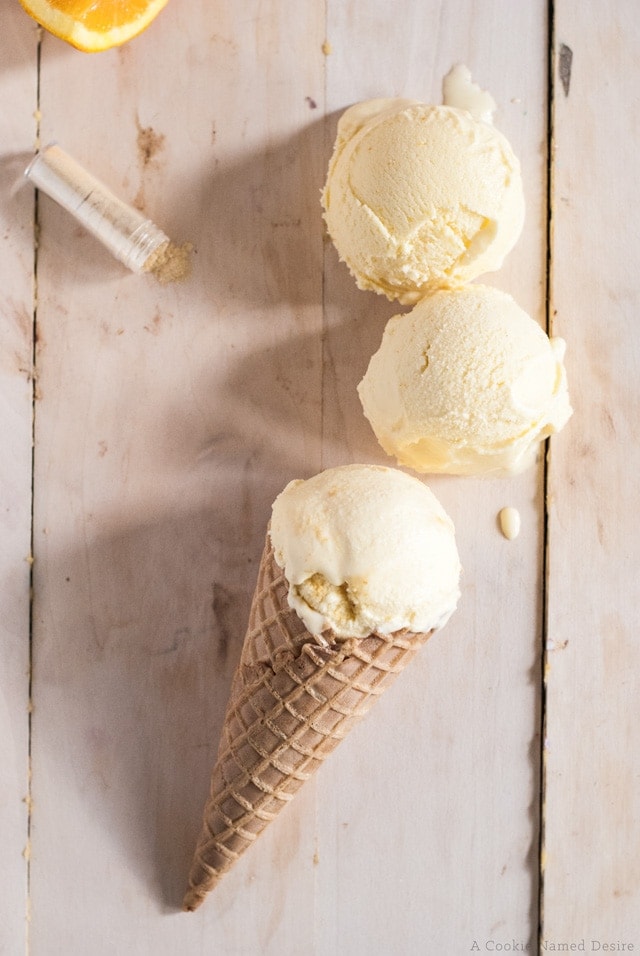 Ice cream is my jam right now. It's all I can think about anymore. In the past week, I've already bought three ice cream cookbooks. So when I found out Big Gay Ice Cream had a cookbook coming out, I was so excited to get my hands on it. That sparkly rainbow cone was drawing me in big time.
I loved the high school yearbook theme of the book and how each chapter was separated into the four years of high school. Each year touches upon a different aspect of creating an ice cream experience starting with the easiest (grocery store topping ideas) going to the hardest (actual sorbet and ice cream making). In between recipes, there are comics and celebrity testimonials. I loved how they inserted "Science Club" tidbits about the hows and whys behind the technical aspects of ice cream making. Overall, I liked most of the book, but would've liked more recipes and less of the other stuff.
What gives the Big Gay Ice Cream its cult status isn't necessarily crazy ice cream flavors, but the incredible combination of ice cream and additions to create a whole new ice cream experience.
I read this book maybe three times already and I just fell in love with their Tangerine and Mezcal ice cream flavor. Its Mexican influences just call to me. They listed orange and tequila as acceptable substitutions which was perfect because that was exactly what I had on-hand. It tastes like the most wonderful boozy orange creamsicle ice cream. It has a wonderful texture right out the freezer perfect for scooping and has a slow melt which means you can enjoy it longer on those hot summer nights. Woot woot!
I was really feeling the fabulousness of the book, that I wanted to glam up my ice cream a bit, all I had was some edible gold dust which really made the ice cream so much fun to eat. You can't really tell in the photos, but the orange creamsicle ice cream really glitters!
Don't have an ice cream maker? No problem! Learn how to make ice cream without an ice cream maker here. If you're looking for more creamsicle goodness, try this orange creamsicle popsicle.
Boozy Orange Creamsicle Ice Cream Recipe
Recipe Card
Boozy Orange Creamsicle Ice Cream aka Orange & Tequilla Big Gay Ice Cream
Ingredients
1 ½

cups

heavy cream

1

cup

whole milk

Seeds from one vanilla bean

1

cup

sugar

2

teaspoons

orange or tangerine zest

¼

teaspoon

salt

6

large egg yolks

⅔

cups

fresh orange or tangerine juice

⅓

cup

tequila or mezcal
Instructions
In a large saucepan, add the cream, milk, vanilla bean seeds, sugar, and zest then mix well. Heat on medium high until it is steaming and simmering at the edges.

Beat the salt into the egg yolks, then temper the yolks by slowly adding ⅓ of the cream mixture to the yolks while continuously whisking the yolks.

Place the tempered eggs into the large saucepan and stir the mixture constantly until it is thickened, about 5 minutes.

Strain the mixture through a fine mesh strainer. Stir in the juice and tequila. Pour the mixture into a gallon freezer ziplock bag and chill until it reaches 40 degrees F.

Run the custard through an ice cream mixture according to manufacturer instructions. Pour into an air tight container and allow to freeze until firm and scoopable – at least 3 to 4 hours.
Tried this recipe?
Tag me on Instagram! @acookienameddesire #acookienameddesire
Although I was not compensated for this review, but I did receive this book for free from Blogging for Books to review. All thoughts and opinions are always 100% my own.