Light and fluffy carrot cake muffins with crumb topping. These muffins have the perfect blend of sweetness, spice, and lots of crumb topping.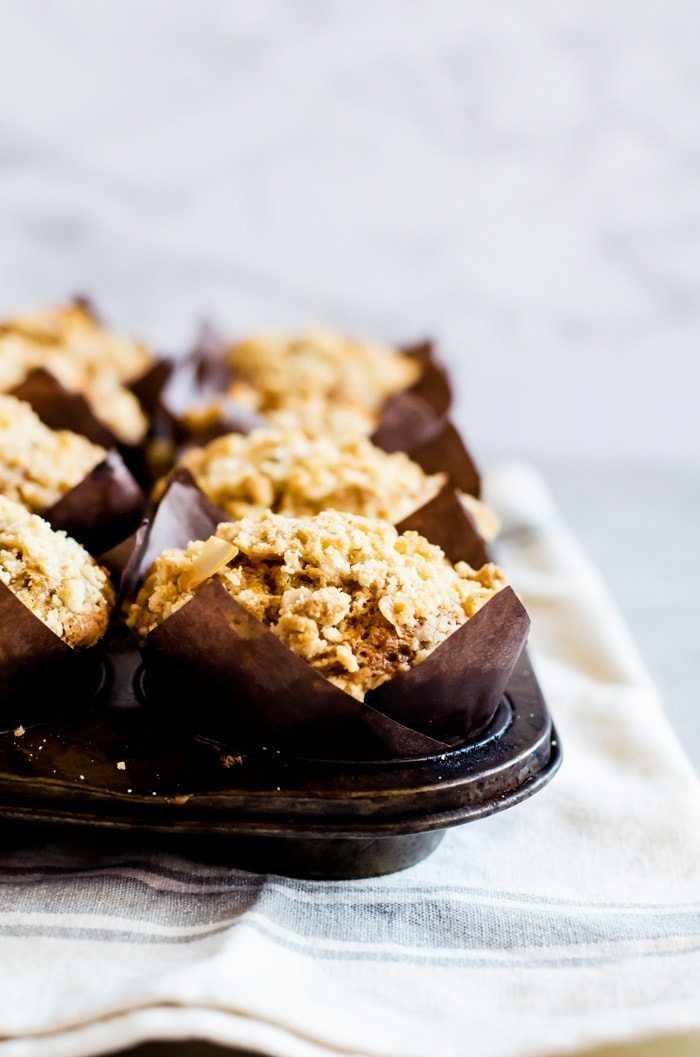 Just like pumpkin spice is to fall and peppermint is to winter; carrot cake is to spring. Everyone seems to crave this moist and irresistibly spiced cake in any form they can get it. Personally, I am a bit picky about my carrot cake. I am not a huge fan of large chunks of carrot and raisins are usually a no-go for me. I've been developing a carrot cake recipe, but I am not yet ready to share. For now, I am sharing my favorite carrot cake muffin. It is lightly sweet and has a great balance of flavor and enough crumb topping to make the most dedicated crumb topping lover satisfied.
I love making muffins for the family. When they are done properly - as in they are not just cupcakes without the frosting - they make a wonderful grab and go breakfast or midday snack. For me, muffins shouldn't be overly sweet in general, but that doesn't mean I don't like a bit of indulgence in my muffins from time to time. That's where the crumb topping comes into play with these carrot cake muffins.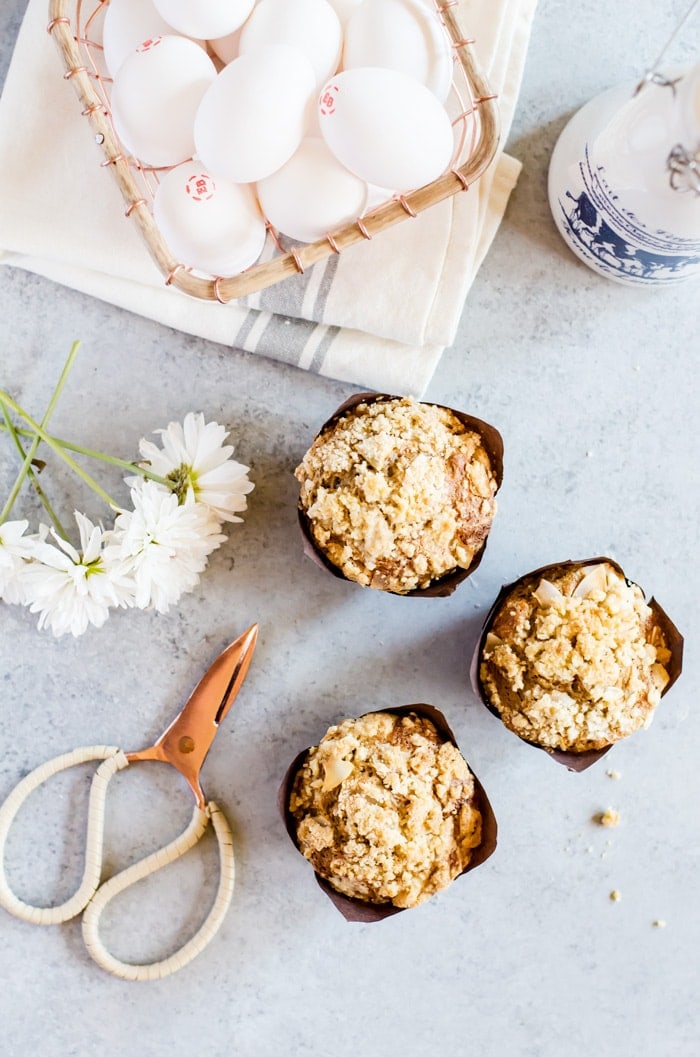 I don't know anyone who doesn't enjoy a good crumb topping. For me, there is no such thing as too much crumb. I usually like to keep some pre-made in the freezer for me to add to things like carrot cake muffins, pancakes, or some homemade doughnuts. Crumb topping for life!
These light and fluffy muffins are a great way to get your carrot cake fix without having to go all out on a cake. Plus it allows you to eat it first thing in the morning without anyone giving you judgy side eye. There may be some glances hoping you'll offer a bit, but we can't blame them for that.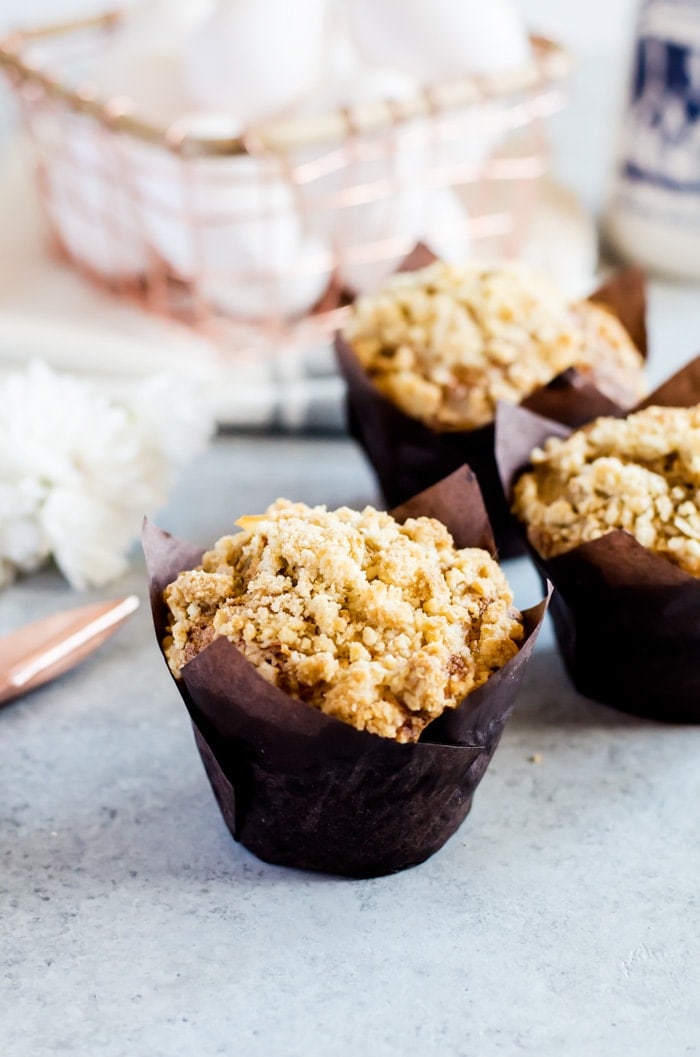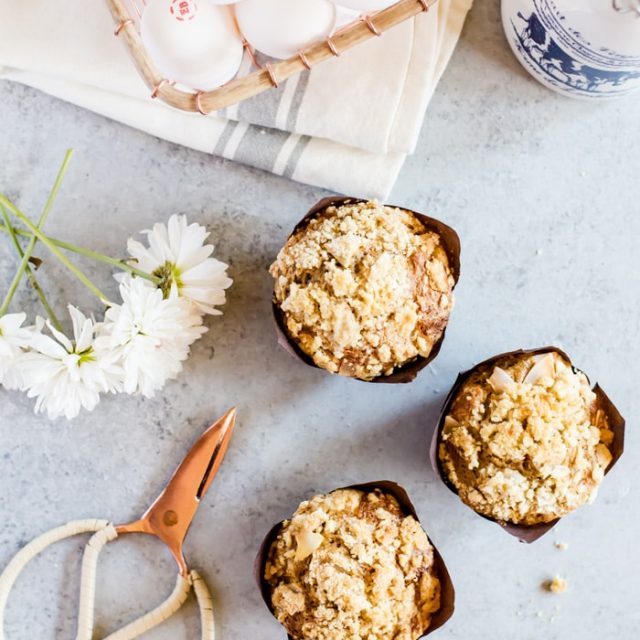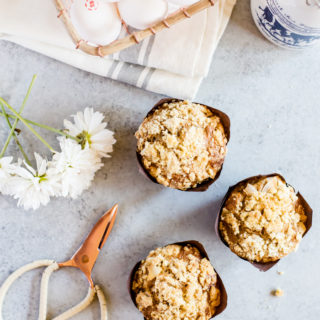 Carrot Cake Muffins with Crumb Topping
Fluffy carrot cake muffins with a buttery crumb topping
Ingredients
Crumb Topping
½

cup

all-purpose flour

1 ½

tablespoons

brown sugar

1

tablespoon

granulated sugar

½

teaspoon

baking powder

pinch

of salt

3

tablespoons

unsalted butter

softened to room temperature

½

teaspoon

vanilla extract
Carrot Cake Muffins
2 ½

cups

all-purpose flour

2

teaspoons

baking powder

1

teaspoon

baking soda

2

teaspoons

ground cinnamon

½

teaspoon

ground nutmeg

½

teaspoon

ground ginger

¼

teaspoon

ground allspice

¾

teaspoon

salt

2

large eggs

room temperature

1

cup

lightly packed brown sugar

⅓

cup

vegetable oil or melted butter

1 ⅓

cup

plain yogurt

1

teaspoon

vanilla extract

1 ½

cups

grated carrots

patted dry

⅔

cup

chopped toasted pecans
Instructions
Preheat the oven to 375 degrees F. Line a muffin tin with liners.

Make the crumb topping first. Mix together the flour, both sugars, baking powder, and salt. Cut in the butter and add in the vanilla until combined and the mixture clumps together when pressed. It should form large crumbs as you mix it in. Set aside in the refrigerator as you make the muffin batter.

Mix together the flour, baking powder, baking soda, cinnamon, nutmeg, ginger, allspice, and salt together until combined and set aside.

In a separate bowl, beat together the eggs, sugar, oil, yogurt, and vanilla together until well combined.

Gently stir in the flour mixture into the wet ingredients and mix until just combined. There should be lumps in the batter. Fold in the carrots and pecans without over mixing the batter. Again, we want lumpy batter!

Evenly divide the batter among the muffin liners until it is about ¾ full. 

Top each of the muffins generously with the crumb topping. You may have some crumb topping left over, which you may store in the refrigerator up to a week, or in the freezer for a few months.

Bake for about 25 minutes, or until light and springy with a nice golden brown hue. A toothpick inserted in the middle should come out clean, or with a few crumbs sticking to it. 

Remove and allow to cool before serving. 
Notes
*Nutrition info calculated assuming all the crumb topping is used. 
**Recipe created by me and originally shared on ohsweetbasil.com as a contributor
Nutrition
Serving:
1
muffin
Calories:
328
kcal
Carbohydrates:
36.2
g
Protein:
6
g
Fat:
9.4
g
Cholesterol:
36.2
mg
Fiber:
2.1
g
Sugar:
16.2
g
Tried this recipe?
Tag me on Instagram! @acookienameddesire #acookienameddesire