Light and fluffy carrot cake muffins with crumb topping. These muffins have the perfect blend of sweetness, spice, and lots of crumb topping. It's all the flavors of carrot cake in a not-too-sweet muffin.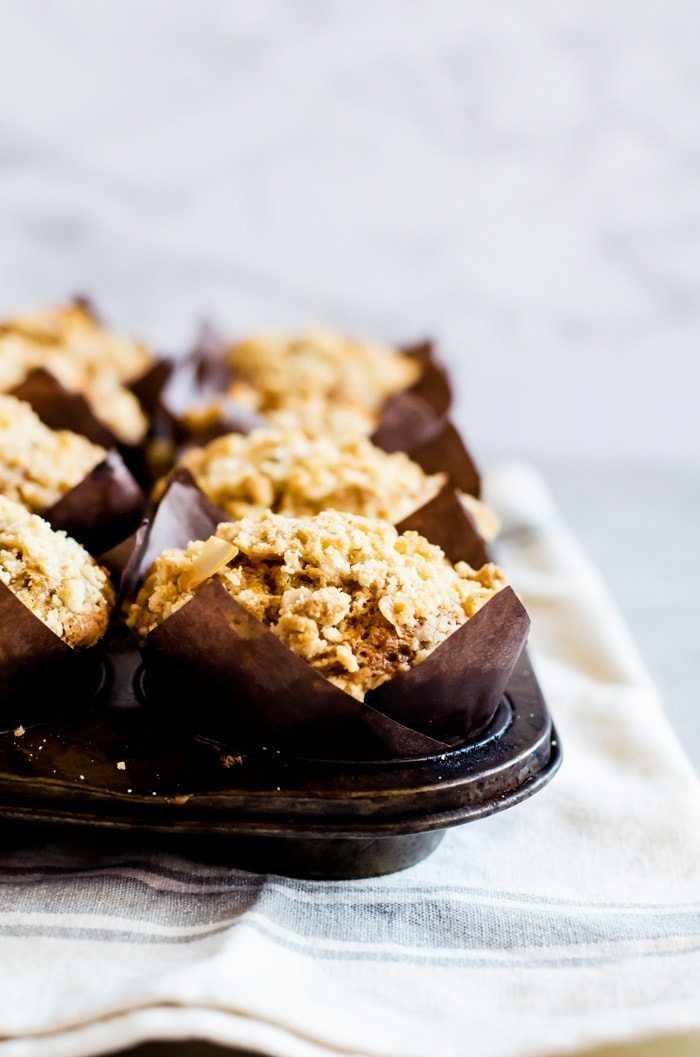 Why you'll love it
This has all the best things about carrot cake, but in a deliciously fluffy muffin. Just like these carrot cake pancakes, it is a tasty breakfast option! It is moist, full of warm spices, and packed with flavor without being too sweet. The crumb topping adds an irresistible buttery crunch.
If you're skeptical about carrot cake, this muffin will convince you that it is your new favorite, at least when you have it this way.
Ingredients
There are a few ingredients you'll need to make the best muffins. Chances are that you may already have many of them available.
Flour - For the best muffins, you want to use all-purpose flour. If you would like a more wholesome version, you can use white whole wheat flour.
Butter and Oil - Butter is necessary for the crumb topping. You can use either melted butter or oil for the muffin batter itself. I recommend using oil for the batter because it gives you a lighter muffin with great rise.
Spices - For the best treat, we use a lot of warm spices to give delightful flavor in every bite.
Sugar - Brown sugar helps give the muffins a deep, rounded flavor. You can make homemade brown sugar if you don't have any available.
Yogurt - I love using yogurt for these muffins because they add tanginess and make them a little more wholesome. You can also use sour cream or buttermilk.
Carrots - The grated carrots you can buy at grocery stores don't work as well as finely grating your own at home. Freshly grated will give you a lot more flavor.
Nuts - I used toasted chopped pecans, but chopped walnuts also works incredibly well in this recipe.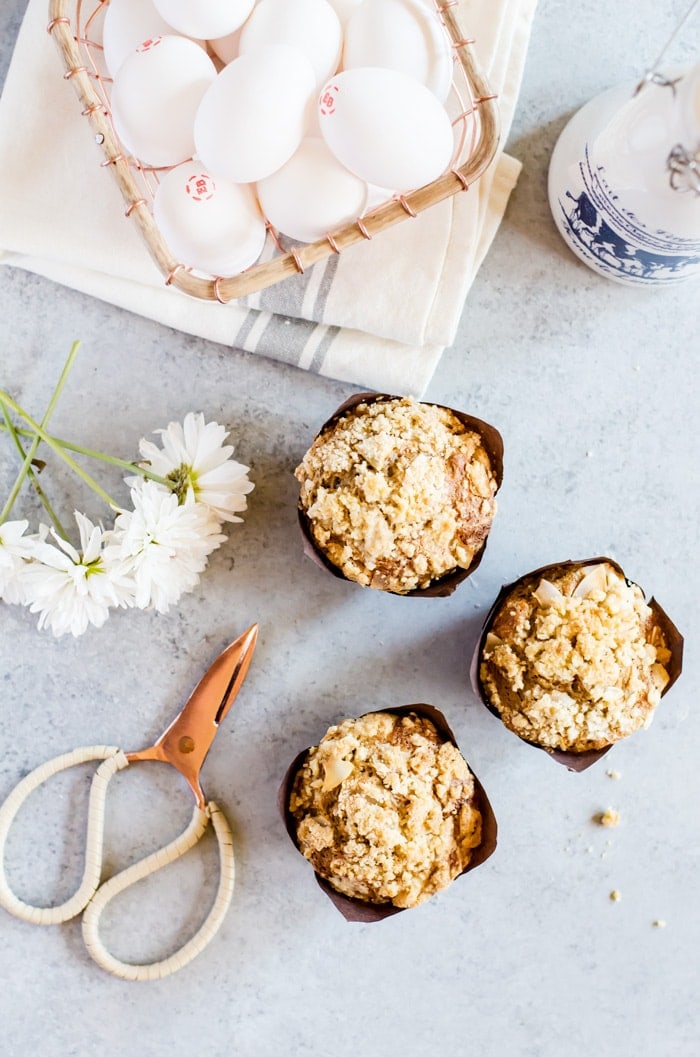 Step by step instructions
Start off by making your crumb topping. You want to mix the dry ingredients together, then rub the butter into the dry ingredients until it forms crumbs. splash in the vanilla to give them a nice coating. Store in the refrigerator or freezer until ready to bake!
Preheat the oven to 375F, then line your muffin tin with paper liners. If you don't have any liners, you can generously grease your tin.
Mix together your flour, leavening, spices, and salt for the muffins in a medium bowl and set aside.
Mix together the eggs, sugar, oil, yogurt, and vanilla until well combined.
Gently mix the dry ingredients into the wet ingredients and stir just until it starts to come together and there are lots of lumps still.
Fold in the grated carrots and nuts and mix only until evenly distributed, but there are still plenty of lumps.
Evenly divide the batter among the muffin liners, then top with the crumbs.
Bake until they're risen and a toothpick inserted comes out with a few crumbs attached.
Why use room temperature ingredients
In recipes like these carrot cake muffins, we use room temperature ingredients. If you've been wondering why, it is for a very good reason. First, room temperature eggs and yogurt are thinner than their colder counterparts which makes it easier to mix together the batter. Room temperature batter also bakes up better and faster.
Bring ingredients to room temperature quickly
You don't need to plan ahead to get the ingredients for the muffins to room temperature quickly. I recommend placing the eggs in very warm water until you're ready to use them. You can add the yogurt to a microwave-safe bowl and heat for about 20 - 30 seconds, then stir well.
Grating carrots
Grating your own carrots always gives you the best results. A box grater with its finest grating side is the best. You can also use a zester or a food processor using the grating board it comes with. Smaller food processors may not have them. A blender may also work in a pinch as long as you are careful to not accidentally puree the carrots.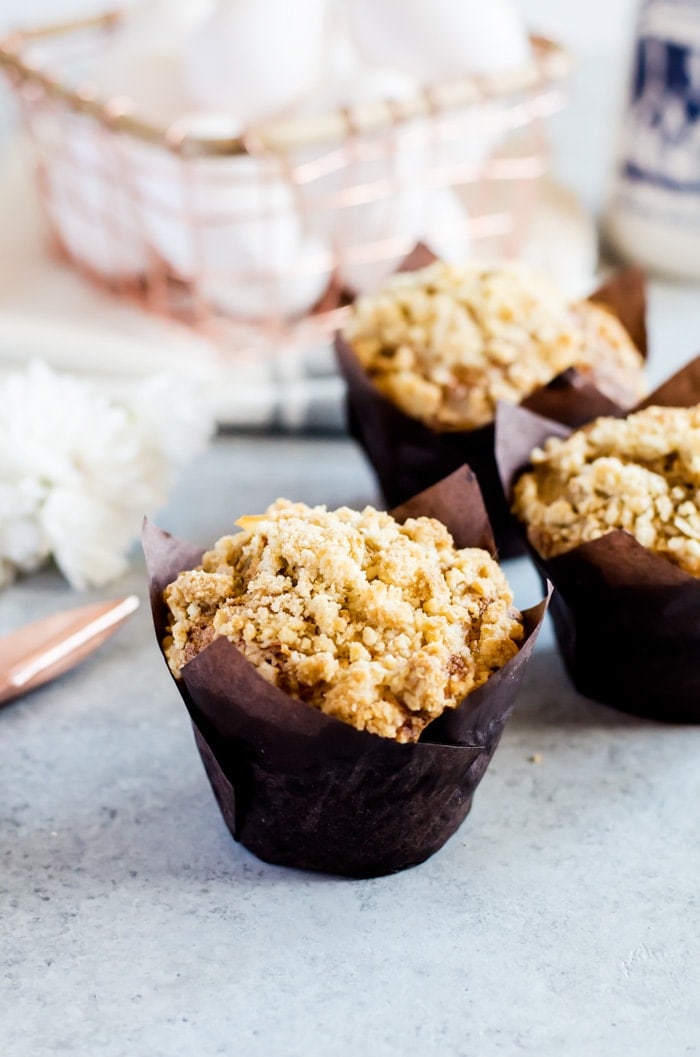 Recipe FAQs
How can I get the BEST muffins?
Let your batter rest covered overnight in the refrigerator. The rest allows the flour to hydrate and for all the flavors to fully mingle and develop. It also helps the muffins rise more for delicious bakery-style muffins. Please note you must double check your baking powder is double acting.
Can I make these gluten-free?
Absolutely! I recommend the Bob's Red Mill gluten-free 1 to 1 baking mix. This mixture benefits especially well with an overnight rest.
Recipe Card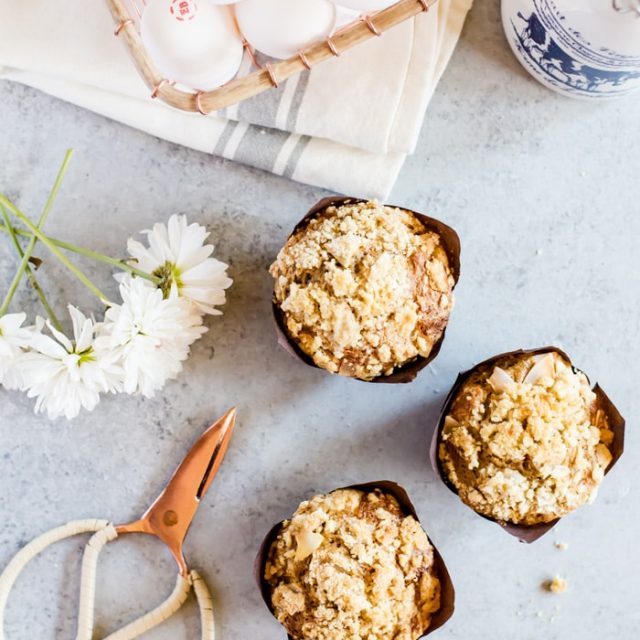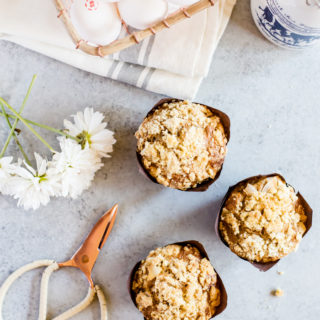 Carrot Cake Muffins with Crumb Topping
Fluffy carrot cake muffins with a buttery crumb topping
Ingredients
Crumb Topping
½

cup

all-purpose flour

1 ½

tablespoons

brown sugar

1

tablespoon

granulated sugar

½

teaspoon

baking powder

pinch

of salt

3

tablespoons

unsalted butter

softened to room temperature

½

teaspoon

vanilla extract
Carrot Cake Muffins
2 ½

cups

all-purpose flour

2

teaspoons

baking powder

1

teaspoon

baking soda

2

teaspoons

ground cinnamon

½

teaspoon

ground nutmeg

½

teaspoon

ground ginger

¼

teaspoon

ground allspice

¾

teaspoon

salt

2

large eggs

room temperature

1

cup

lightly packed brown sugar

⅓

cup

vegetable oil or melted butter

1 ⅓

cup

plain yogurt

1

teaspoon

vanilla extract

1 ½

cups

grated carrots

patted dry

⅔

cup

chopped toasted pecans
Instructions
Preheat the oven to 375 degrees F. Line a muffin tin with liners.

Make the crumb topping first. Mix together the flour, both sugars, baking powder, and salt. Cut in the butter and add in the vanilla until combined and the mixture clumps together when pressed. It should form large crumbs as you mix it in. Set aside in the refrigerator as you make the muffin batter.

Mix together the flour, baking powder, baking soda, cinnamon, nutmeg, ginger, allspice, and salt together until combined and set aside.

In a separate bowl, beat together the eggs, sugar, oil, yogurt, and vanilla together until well combined.

Gently stir in the flour mixture into the wet ingredients and mix until just combined. There should be lumps in the batter. Fold in the carrots and pecans without over mixing the batter. Again, we want lumpy batter!

Evenly divide the batter among the muffin liners until it is about ¾ full. 

Top each of the muffins generously with the crumb topping. You may have some crumb topping left over, which you may store in the refrigerator up to a week, or in the freezer for a few months.

Bake for about 25 minutes, or until light and springy with a nice golden brown hue. A toothpick inserted in the middle should come out clean, or with a few crumbs sticking to it. 

Remove and allow to cool before serving. 
Notes
*Nutrition info calculated assuming all the crumb topping is used. 
**Recipe created by me and originally shared on ohsweetbasil.com as a contributor
Nutrition
Serving:
1
muffin
Calories:
328
kcal
Carbohydrates:
36.2
g
Protein:
6
g
Fat:
9.4
g
Cholesterol:
36.2
mg
Fiber:
2.1
g
Sugar:
16.2
g
Tried this recipe?
Tag me on Instagram! @acookienameddesire #acookienameddesire