These cheddar pumpkin sage scones are the perfect way to enjoy all your favorite fall flavors in the morning. You can make them sweet or savory, so go nuts!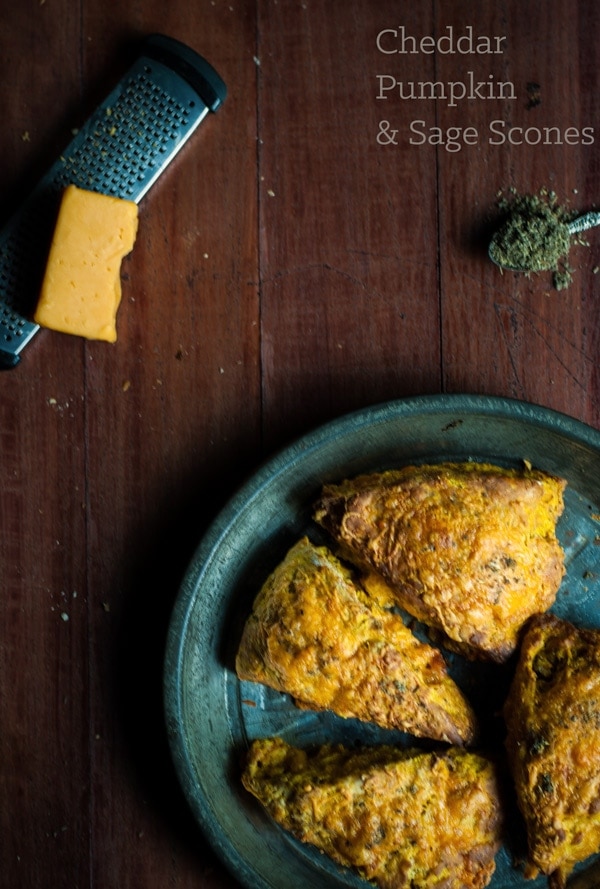 I originally planned on sharing some pretzel pizza rolls with you today, but then I made these cheddar pumpkin sage scones and man oh man, I really needed to post them. I originally made these scones as a savory option and they are so good as a savory scone (that's what you see here), but then I also made them sweet and oh my gosh, they were phenomenal!!! It's hard for me to decide which I like best. I recommend making them both and deciding for yourself. Chances are you will end up in the same predicament as I.
If you follow me on Instagram, you saw that I was snacking on one of these scones with a hot mug of sweet cinnamon apple tea. It was pure autumn perfection. All I needed to do was put on some cute brown boots and one of my favorite Raj Imports scarves and I would be the picture of fall suburban life. And I am so okay with that as long as I keep eating these scones.
Use a strong, sharp cheddar cheese in these scones, it makes all the difference. I also recommend cutting the cheese in small cubes instead of grating them so you get nice cheese pockets. You can also try experimenting with different types of cheeses if cheddar isn't your thing.I had to use ground sage in my scones because apparently no one sells fresh sage near me, but if you can get your hands on some fresh sage, definitely use it.
The scones are at their best fresh out of the oven, but you can keep them in an airtight container for up to three days. My recommendation: heat them up again before eating.
Don't have time to make these yummy scones now? Pin it for later!
Print
Cheddar Pumpkin Sage Scones
Yield 8 scones
Ingredients
2 cups all-purpose flour
4 tablespoons sugar for sweet scones (omit for savory scones)
1 tablespoon baking powder
1 scant teaspoon salt
1/2 teaspoon cinnamon
1/2 teaspoon ground nutmeg
1/4 heaping teaspoon ground cloves
1/4 heaping teaspoon ground ginger
2 1/2 teaspoons ground sage (or 2 teaspoons ground fresh sage)
6 tablespoons unsalted butter, cut in cubes and chilled
1/2 cup pumpkin puree (plus 2 tablespoons for savory scones)
1/3 cup milk or heavy cream, plus extra for brushing tops
1 large egg
4 oz sharp cheddar cheese, cut in small cubes, (plus extra grated cheddar for savory scones)
turbinado sugar for sprinkling sweet scones
Instructions
In a large bowl, whisk together the flour, sugar (if making sweet scones), baking powder, salt, and spices together. Use a pastry cutter or your hands to cut in the butter until the mixture resembles large crumbs.
In a small bowl, mix together the pumpkin, milk and egg together. Form a well in the middle of the flour mixture and add the wet ingredients. Fold in the wet ingredients into the flour. Do not over mix. fold in the cheddar and bring the dough together to form a ball.
Transfer the dough to a floured surface and squish down the ball to form a disc shape about 7 - 8 inches in diameter. Cut the disc into 8 triangles and gently separate the triangles. Cover the scones in plastic wrap and freeze for about 30 minutes. While it is int he freezer, preheat your oven to 425 degrees F and line a baking sheet with parchment paper.
Remove the scones and place on the parchment paper. Brush with the milk or cream and top with either the grated cheddar cheese and maybe a sprinkling of more sage, or with turbinado sugar if you are making sweet scones. Bake for about 18 - 20 minutes.
Nutrition Facts
Serving Size 1 scone
Amount Per Serving
% Daily Value
* Percent Daily Values are based on a 2,000 calorie diet. Your daily values may be higher or lower depending on your calorie needs.