I'm a sucker for a muffin with a nice big ol' muffin top. I judge muffins by their tops. If you don't got a nice big muffin top, you're probably not as delicious. Is that true? Well, for me it is.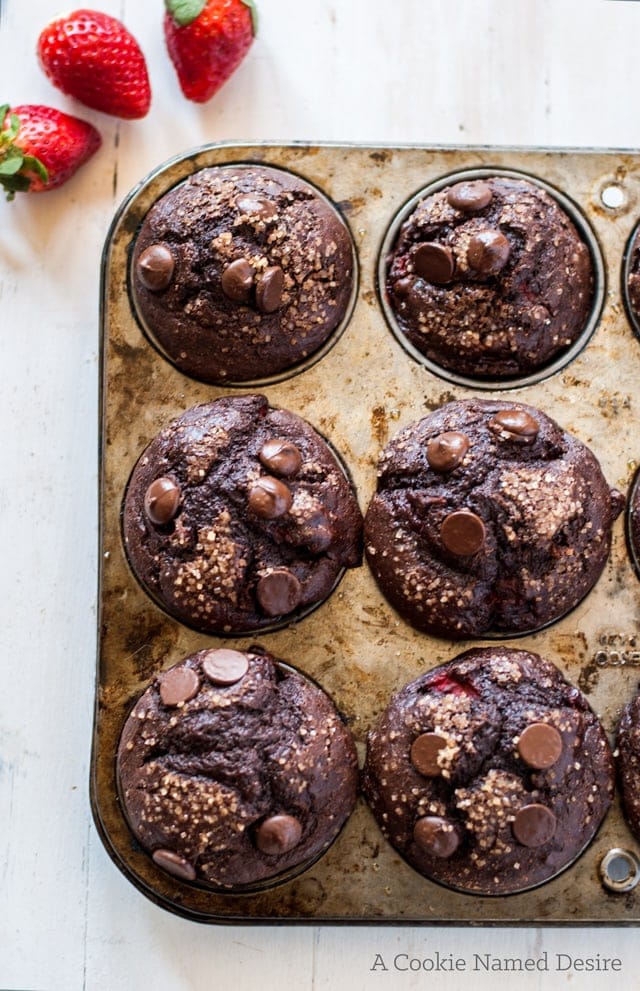 I don't know if you used to watch 30 Rock, but that was my show back in the day. That was when I realized I still have the hots for Alec Baldwin and found out just how much I really did love Tina Fey. They had this one episode where Jenna did a song at the end about muffin tops.
My muffin top is all that. Whole grain low fat... I know you want a piece of that, but I just wanna dance.
Pure comedy gold. After hearing that song, I haven't been able to even look at a muffin without think about those lyrics.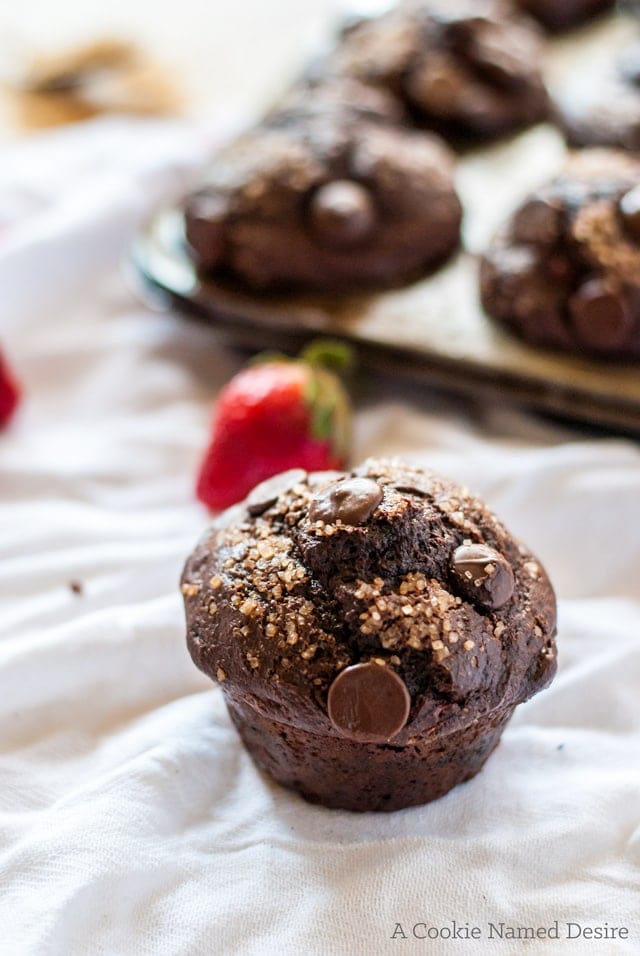 I totally spaced on the fact that Valentine's Day is just around the corner. Oops. Last year I made some heart-shaped whoopie pies and chocolate chili ice cream in honor of the day, but there year I got nothin'. Consider these chocolate covered strawberrry muffins as my Valentine's Day gift to you because they are so delicious and are the perfect way to wake up your honey in the morning.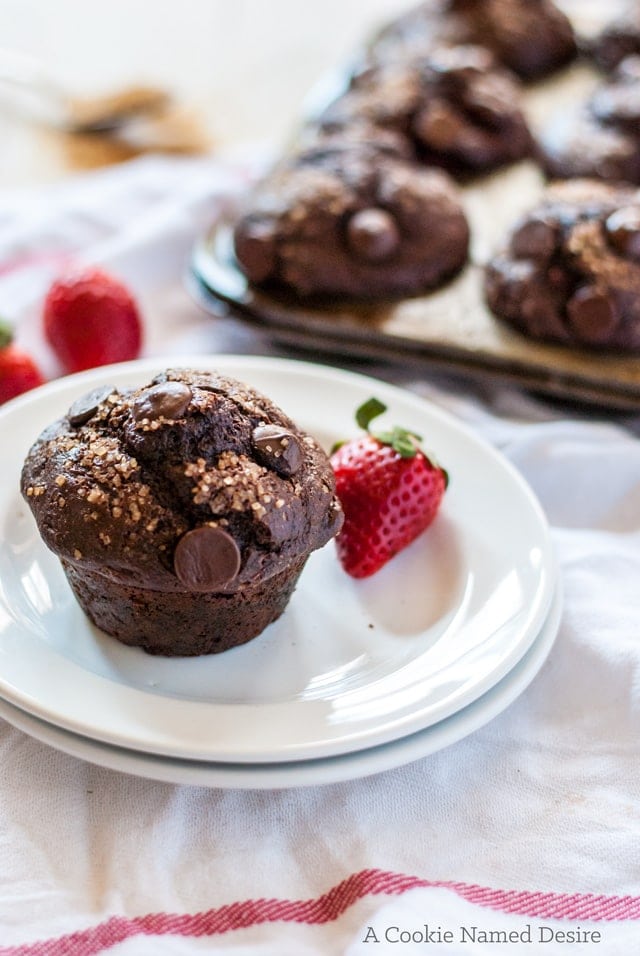 These muffins are relatively lower in the calorie department so you don't have to worry about completely over indulging throughout the day. The graham flour adds a bit more health to your muffin, while also added an extra dimension of nutiiness and texture.

Recipe Card
Chocolate Covered Strawberry Muffins with Graham Flour
Ingredients
2

cups

graham flour

plus 2 tablespoons divided

1

cup

natural cocoa powder

2 ½

teaspoons

baking powder

½

teaspoon

baking soda

½

teaspoon

salt

2

eggs

1

cup

sugar

½

cup

vegetable oil

1 ½

cups

yogurt

2 ½

teaspoons

vanilla extract

4 ½

ounces

chocolate chips

divided

1

cup

chopped fresh strawberries

turbinado sugar
Instructions
Coat a muffin tin with oil. Preheat the oven to 375 degrees F.

Whisk the flour, cocoa powder, baking powder, baking soda and salt together in a medium bow. Set aside.

In your mixer, beat the eggs on medium speed for about two minutes, then slowly add the sugar and beat for another minute, or until the mixture appear thick. Drizzle in the oil and continue to mix as you add in the yogurt. Add in the vanilla extract.

Slowly add in the flour mixture, being very careful to not over mix. A lot of lumps are okay and encouraged. Lightly toss the strawberrries and 3 ounceschocoalte chips in the remaining 2 tablespoons of flour and gently fold into the batter

Use an ice cream scoop to drop even amounts of batter into the muffin tin. Sprinkle the remaining chocolate chips and the turbinado sugar over the batter. (For the best results, make sure the batter has a domed shape before adding the chocolate and sugar.

Bake at 375 degrees F for 10 minutes, then reduce the heat to 350 degrees F and bake for an additional 8 - 10 minutes, or a toothpick comes out with a few crumbs stuck to it when inserted in the middle of a muffin.
Tried this recipe?
Tag me on Instagram! @acookienameddesire #acookienameddesire