A creamy roasted carrot soup with spicy roasted chickpeas. This soup is so easy to make and full of wonderful flavors perfect for fall.
I love soup.
Soup is probably one of my favorite things to eat ever. When I got my first office job after college/having a baby, I would bring a container of soup to work with me every day. It was a different soup each time. Split pea (my FAVORITE), chicken noodle, even lobster bisque! Still, my co-worker's began to notice and the whispers of my soup-eating started to spread. What the heck people?! I like soup. Let me eat soup and be happy. Why do you care if I eat soup every day? Well, when two people in the same day asked me about my soup eating, I decided to start mixing it up and stopped eating soup in the office. Sad face.
I just love all the different soup flavors, how inexpensive it is, and that you can make huge batches. I love that I can start it in the morning and let it slow simmer all day and have a rich, delicious meal at the end of the day - no thinking required. I love that I can pair it with a salad for a lighter meal, or make it more hearty by pouring it over rice. Soup is my go-to. It's my main squeeze. Call me Soup Girl, if you want. I don't care anymore. I am here. I am proud. I love soup.
I must sound so weird right now, but I simply cannot hide it anymore. Besides, this is a no judgement-zone. I can go on about my soup addiction and I won't blink an eye when you eat 12 of these cookies. That's what friends are for!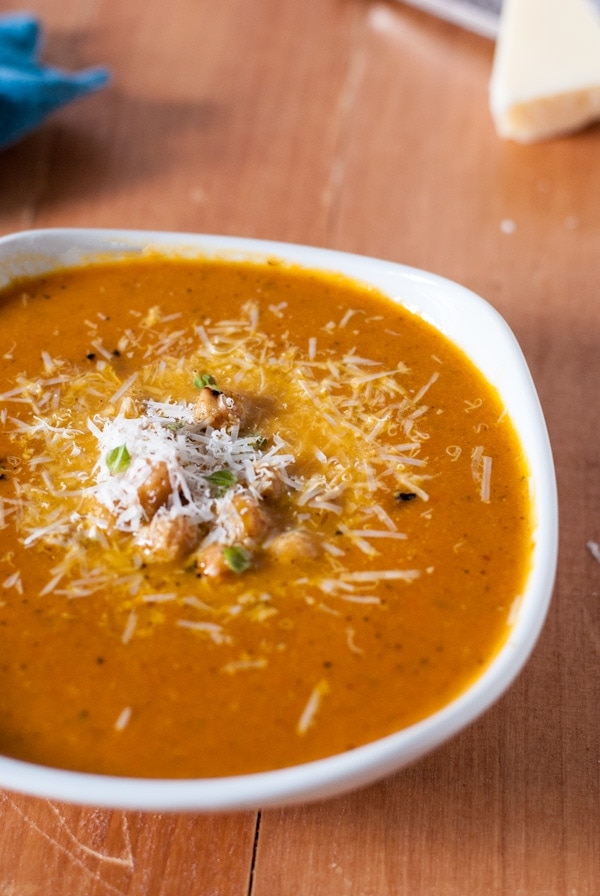 The first soup I make when I feel the crisp promises of autumn is my favorite roasted carrot soup recipe (second favorite being a spicy ginger carrot soup!) with spicy chickpeas and a generous amount of cheese. This soup is ridiculously easy and can easily be made vegan by swapping out the chicken broth for a veggie broth and skipping the cheese (nutritional yeast is so amazing in this soup too!).
Don't have time to make this creamy soup now? Pin it for later! 
Recipe Card
Creamy Roasted Carrot Soup with Spicy Chickpeas
A creamy roasted carrot soup with spicy roasted chickpeas. This soup is so easy to make and full of wonderful flavors perfect for fall.
Ingredients
2

lbs

carrots

washed, peeled, greens removed

6

tablespoons

extra virgin olive oil

divided

1 14

oz

can chickpeas

drained and rinsed

1

teaspoon

chili powder

½

teaspoon

cayenne pepper

½

teaspoon

oregano

½

teaspoon

cumin

salt and pepper to taste

1

teaspoon

Italian seasoning

1

teaspoon

paprika

3

large garlic cloves

chopped

½

large sweet onion chopped

2

cups

473 mL low-sodium chicken broth

2 ½

cups

710 mL low sodium vegetable broth
Instructions
Preheat the broiler set at 550 degrees F.

Chop the carrots into thick rounds and toss in two tablespoons of oil and sprinkle with a dash of salt. Broil for about 10 - 15 minutes about 6 -8 inches away from the broiler, turning halfway. The carrots should be browned, with a couple of blackened spots. Remove from the oven.

Heat the oven to 400 degrees F (the oven should still be hot from roasting the carrots) and toss the chickpeas in the remaining 2 tablespoons of oil and then toss with the chili powder, cayenne pepper, oregano, cumin, salt and pepper. Roast for about 25 - 30 minutes. Set aside.

Heat two tablespoons of oil in a stockpot and add the Italian seasoning, paprika, garlic and onion and cook until fragrant and the onions are translucent. Add the carrots and the broth. Boil, then take down to a simmer and allow the carrots to soften - about another 5 minutes.

Allow the soup to cool if you are using a blender (never blend hot liquids!) and blend the soup until smooth and creamy. You can also use an immersion blender while the ingredients are still hot to quicken the process. Add more stock if the mixture seems too thick. Reheat the soup and add the chickpeas.
Tried this recipe?
Tag me on Instagram! @acookienameddesire #acookienameddesire