Happy Monday, guys! How was your Halloween? I was supposed to be busy with work while my sister took my daughter out trick or treating, but they ended up coming back after 45 minutes because my daughter got bored trick or treating with her. So I ended up taking her back out around our neighborhood and then to the mall where my mom works to go trick or treating there, too. After, we got our favorite broccoli pizza for dinner and watched The Addams Family. It ended up being lots of fun and although I am a bit behind on work, I am really happy that we got to spend the day together instead.

I love bread. There i nothing more than a crusty loaf of bread and that is what really got me baking the the kitchen in the first place. As a student, I just couldn't afford to pay a lot of money on bread, so I decided to try it at home. Making bread in the UK was substantially easier than it was when I made bread here in America. It wasn't because the quality of ingredients was better. It was because of how everything was measured using grams and mililiters. It meant more consistent results every time because I was measuring everything exactly the same every time.
It took me a couple of months before I finally realized that was the problem with my bread in America. One loaf would be amazing, the other would be dense and dry as a rock. Eventually, I refused to make any bread until I could invest in a food scale.

Guys, this ciabatta recipe requires a scale, but trust me, you will be glad you invested in one. I included cups here for you, but I can't guarantee your bread will come out right without a scale. Don't say I didn't warn you.
I go through phases with my ciabatta making. I tend to make a lot in small amounts of time, then not make it again for months on end. This time I made 12 loaves of ciabatta and ate maybe 3 of them on my own, but it was probably closer to 5. I love to eat it plain, or cut in half for cheesy garlic bread, or as my sandwich bread. Most of the time I am in the kitchen ripping apart a loaf the moment it is cool enough to touch. Once you try homemade ciabatta, you will see why.
You have to be fairly careful when making ciabatta because the trick in getting those lovely holes inside the loaf is by handling the dough as little as possible once it has risen. So do everything with a gentle touch and you will end up with a delightful bread your whole family will love!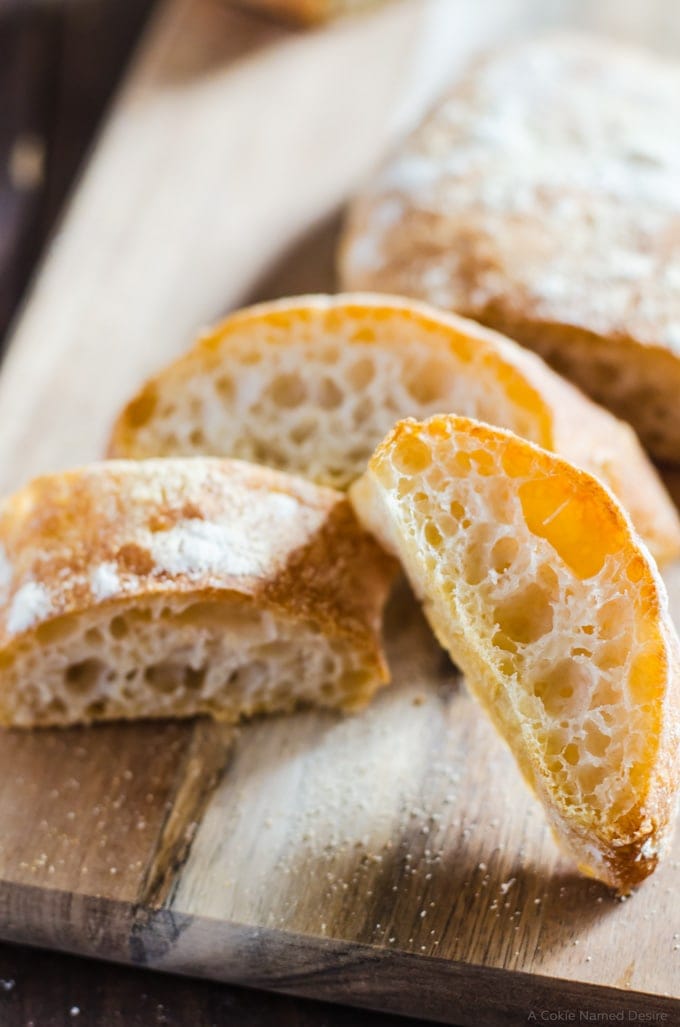 Recipe Card
Homemade Ciabatta Recipe
Ingredients
4

cups/500 g flour

bread flour or all-purpose flour recommended

2

teaspoons/10 g active dry yeast

2

teaspoons/10 g salt

14 ⅓

fl oz cool water

divided

1

tablespoon

olive oil

semolina flour for dusting
Special Equipment
Instructions
Stir together the flour, yeast, and salt together, Slowly mix in 11 fl oz of water. Mix until a dough forms, then very, very, slowly add the remaining 3 ⅓ fl oz of water. Knead for about 8 minutes, or until the dough is smooth and elastic. Since this is a very wet dough, I recommend using a mixture with a dough hook attachment. Whatever you do, do NOT add more flour.

Rub the inside of a large, square bowl (yes, you must use a square bowl, it helps the dough maintain it's bubbles when you tip it out which is important!) with the olive oil and place the dough into the bowl. Cover with a tea towel or greased plastic wrap and allow to rise for about 1 hour and 45 minutes. It is very important to not disturb the dough, or do anything that may make it lose the bubbles it is not forming as it rises.

Lightly dust a flat surface with extra flour and some of the semolina flour, do the same with two baking sheets. Very carefully tip the dough onto the floured surface while maintaining as many bubbles within the dough as possible. Do not punch the dough down!! Use a knife of bench scraper dusted with flour to cut the dough into quarters. Gently transfer each quarter onto the baking sheets - two per baking sheet. Again, be careful to not deflate the dough as much as possible.

Gently stretch out the dough until it is about 9 - 10 inches, then carefully cover. Allow to rise for 30 minutes. Sprinkle the top of the ciabatta with more flour and semolina.

Preheat the oven to 425 degrees F. Either spray the oven with water before adding the baking sheets, or place an oven safe container (I used a cake pan) half-filled with water at the bottom of the oven. Add in the baking sheets and bake for 25 minutes.
Tried this recipe?
Tag me on Instagram! @acookienameddesire #acookienameddesire