Mini cookie dough cheesecake. This delicious dessert is a velvety smooth cheesecake stuffed with chocolate chip cookie dough, then topped with whipped cream and mini chocolate chip cookies. This is the ultimate dessert recipe for anyone who loves cheesecake and cookie dough! 
So did you know that cheesecake is one of my favorite desserts? It's probably the most amazing dessert after eclairs that I've ever had. By now you are probably looking through the website and realizing that I share virtually no cheesecake recipes here. You are right, I don't. That's because out of all the desserts I make, I am the most paranoid about the calories in cheesecake. I think it's because I know I can't control myself around cheesecake and any portion control I can do just won't be enough so I just stay away.
But lately I have been seriously craving cheesecake and I wanted it to be something kind of rich and decadent, so I decided to just go for it and make cookie dough cheesecake. Originally, I want going to make a larger cheesecake, but I couldn't find my big springform pan, and had to settle for my mini springform pans. This is what I used. It's kind of like built in portion control. Except You make six cheesecakes. And after you eat one, there are still five others around that can "mysteriously" disappear.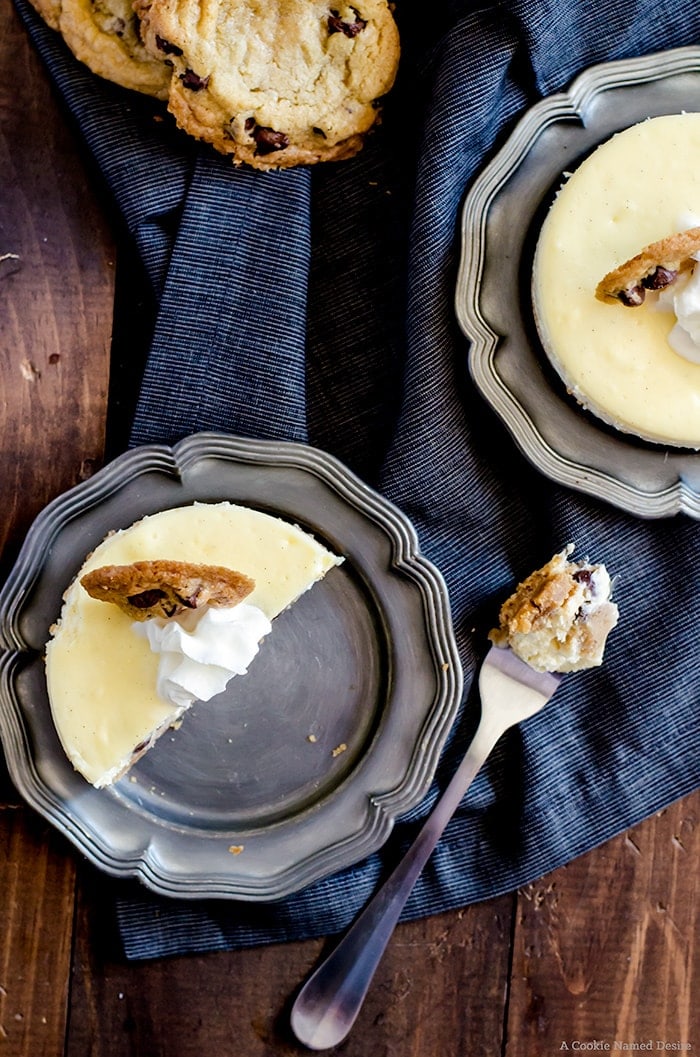 The cookie dough cheesecake uses my favorite chocolate chip cookie dough recipe cut in half and without eggs. Most of the recipe goes inside the cheesecake, but then I make a small flax egg to stir into the rest to bake mini cookies for the top of the cookie dough cheesecake. I tried baking the cookies without any egg, and they just spread so much, even as small rounds of dough that were baked after an overnight chill and frozen! They need some type of binder and the flax was the easiest way to do it, but you can use a bit of beaten egg or egg white.
Why you need cookie dough cheesecake in your life
Rich and creamy
Lots and lots of cookie dough
Surprisingly easy to put together
Recipe Card
Mini Cookie Dough Cheesecake
Ingredients
Graham Cracker Crust
1 ¼

cups

graham cracker crumbs

5

tablespoons

unsalted butter

melted

¼

cup

sugar

pinch

of salt
Cheesecake Filling
2 8

oz

packages of cream cheese

softened

3

large eggs

room temperature

1

cup

sugar

2

cups

sour cream

¼

cup

all-purpose flour

½

teaspoon

vanilla extract
Cookie Dough
1

cup

2 tablespoons all-purpose flour

¼

teaspoon

baking soda

¼

teaspoon

salt

½

teaspoon

corn starch

8

tablespoons

unsalted butter

room temperature

½

cup

firmly packed brown sugar

¼

cup

sugar

1

teaspoon

vanilla extract

2 - 3

tablespoons

heavy cream

1

cup

mini chocolate chips

may also use regular chocolate chips

1 ½

teaspoons

ground flax
Fresh Whipped Cream
½

cup

heavy cream

2

tablespoons

powdered sugar

⅛

teaspoons

vanilla extract
Instructions
Preheat the oven to 325 degrees F. Grease the mini springform pans along the bottoms and sides. Wrap the pans well with the aluminum foil.

In a food processor, mix together the graham crackers, butter, sugar, and salt. Pulse until it is combined and resembles wet sand. It should stick together as you press it.

Evenly divide the graham cracker crumbs among the pans. Lightly grease the bottom of a cup and use this to press the crumbs down into the pans. Set aside in the refrigerator as you make the cheesecake filling.

Beat the cream cheese until smooth. Add in the eggs one at a time, beating well between each until the mixture is smooth again. Beat in the sugar until it is smooth again.

Slowly beat in the sour cream, a half cup at a time so that it may become fully incorporated. Mix in the flour then the vanilla. There may be flecks of cream cheese, that is fine. Place in a bowl and set aside.

Make the cookie dough. Mix together the flour, baking soda, salt, and cornstarch together. Set aside.

Beat the butter and both sugars until light and fluffy; beat in the vanilla extract.

Slowly add the flour and mix until just combined. Add the heavy cream one tablespoon at a time until it is the consistency of cookie dough. Fold in the chocolate chips.

Take ½ tablespoons of dough and roll into balls and place on a plate. Leave about 3 tablespoons of dough.

Take out the pans and divide ¾ of the cheesecake filling among the pans. Place four cookie dough balls into the cheesecake, gently pushing it down into the cheesecake. Pour the remaining cheesecake filling over the cookie dough to fully cover.

Place the springform pans into rimmed baking pans or casserole dishes (I used two 9 x 13 baking pans) and carefully fill the baking pans so they are filled halfway up the springform pans. Be careful to not get any water into the cheesecake.

Bake for about 25 - 35 minutes, or until the edges are set, the center is puffed and still jiggly. Turn off the heat and leave the cheesecake in the oven with the door cracked for about 30 minutes.

Take out the cheesecake and leave at room temperature for about an hour. Place in the refrigerator until full chilled and set - about 4 or more hours.

Preheat the oven to 350 degrees. Line a baking sheet with parchment paper.

Take the ground flax seed and 1 tablespoon of water together and mix into the remaining cookie dough. Take ½ tablespoons of dough and roll into balls. Bake for 7 - 9 minutes and cool completely.

Beat the heavy cream, powdered sugar, and vanilla together using a whisk. (You can opt to use store-bought whipped cream if you wish)

Top the cheesecakes with the whipped cream and cookies. Serve.
Tried this recipe?
Tag me on Instagram! @acookienameddesire #acookienameddesire