There is nothing like cooling down with a tall ice cold glass of peach mango lemonade with a swirl of strawberry!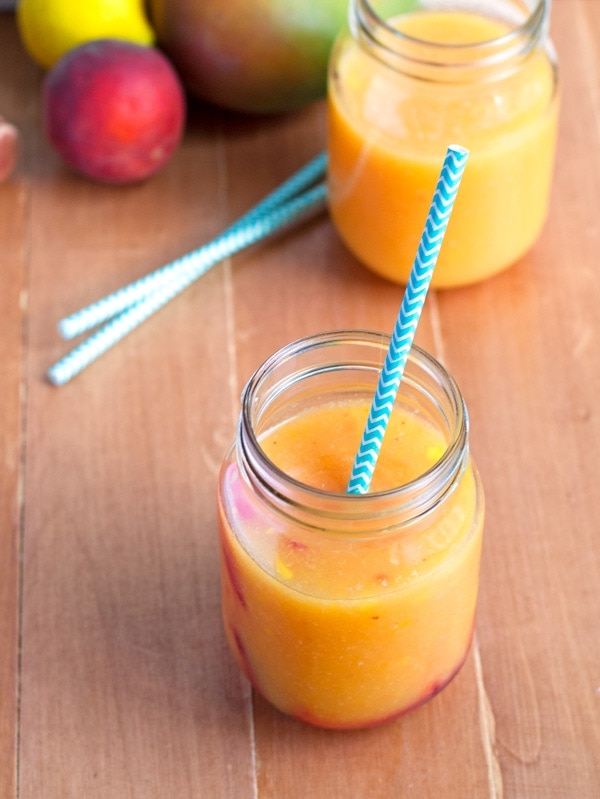 So, my internet is down at my house, so I am left to write this post on my Kindle from the Starbucks they conveniently placed two minutes from my house. I hate not having internet access, but a long trip to Starbucks isn't the worst thing in the world. They have their treat deal going on where you can get a $2 grande iced beverage if you ordered something earlier that day. It's a great excuse to get back-to-back frappuccinos, right? Then again, it took me 5 minutes to get through word frappuccino to post correctly on my Kindle. Maybe I should have brought my computer instead...
Anyway...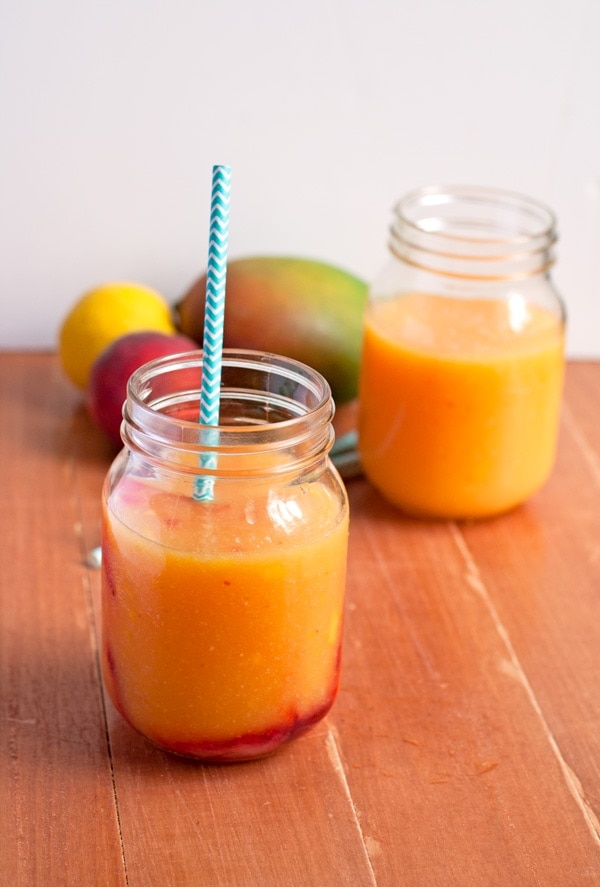 To be honest, I don't drink lemonade as much as I would like. Saying that, I don't think I would be satisfied unless I had at least one glass a day. It's the process of squeezing the lemons that really gets to me. Such a messy task. But then I saw the incredible cherry jam strawberry lemonade from The Frosted Vegan which I tried the day she posted the recipe and I fell in love, but it also reminded me about the super fast blender technique to make lemonade that I seemed to forget during the fall and winter months.
Indeed (in my faux professor voice), the "blender method" of lemonade making is both efficient and mess-free. Your lemonade may be completed from concept to ice cold beverage in your hand in as little as 2 minutes, depending on the strength of your blender or food processor. My blender is terrible, so I use my brand new food processor which makes the process even faster.
Basically all you do is toss your ingredients in the blender, blend until smooth, and put through the strainer to catch all the bits of lemon pith and pulp. Do you really need a recipe for this? I suppose not really, but this is just too delicious to not share. Plus, if you add an ounce and a half of vodka in your glass, you have yourself one incredible peach mango lemonade cocktail. I also mashed a bit of raspberry and strawberry in the bottom of my drink. It's not really required, but it is a really tasty addition! If you're a fan of lemonades, you must also try this blueberry lemonade and this blackberry lemonade.
Recipe Card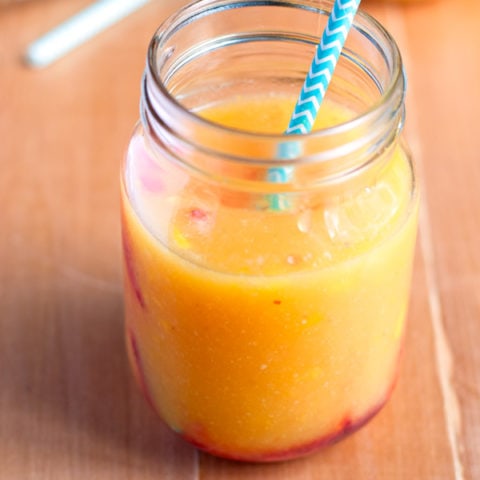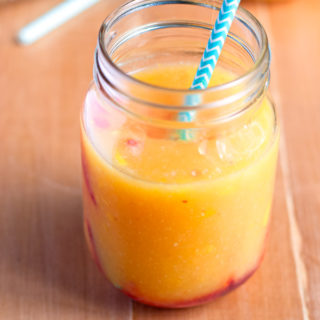 Peach Mango Lemonade
Sweet and fun peach mango lemonade
Ingredients
4

lemons

cut in quarters and de-seeded

1

large mango

pitted and skinned

4

ripe peaches

pitted and skinned

½

cup

granulated sugar

4

cups

cold water

1

cup

crushed ice

¼

cup

raspberries and sliced strawberries

optional
Instructions
Toss everything in the blender or food processor except for the berries and blend until a very smooth consistency. It should look a bit like a smoothie.

Strain the lemonade over your pitcher. Save the bits for baking or making jam later (I used mine for pie and an addition to jam)

Put the berries in the bottom of your glass and mash. Pour the peach mango lemonade over the berries and enjoy!
Nutrition
Calories:
109
kcal
Carbohydrates:
29
g
Protein:
1
g
Fat:
1
g
Saturated Fat:
1
g
Polyunsaturated Fat:
1
g
Monounsaturated Fat:
1
g
Sodium:
3
mg
Potassium:
261
mg
Fiber:
3
g
Sugar:
24
g
Vitamin A:
536
IU
Vitamin C:
43
mg
Calcium:
22
mg
Iron:
1
mg
Tried this recipe?
Tag me on Instagram! @acookienameddesire #acookienameddesire