Buttered popcorn ice cream with milk duds and goobers... this decadent creamy treat is the only way to do movie night. Use your favorite movie theater popcorn to make this ice cream irresistible. 
My perfect movie night is like this:
PJs
A throw blanket and pillow
Wine
Tons of buttery popcorn
Goobers & Milk Duds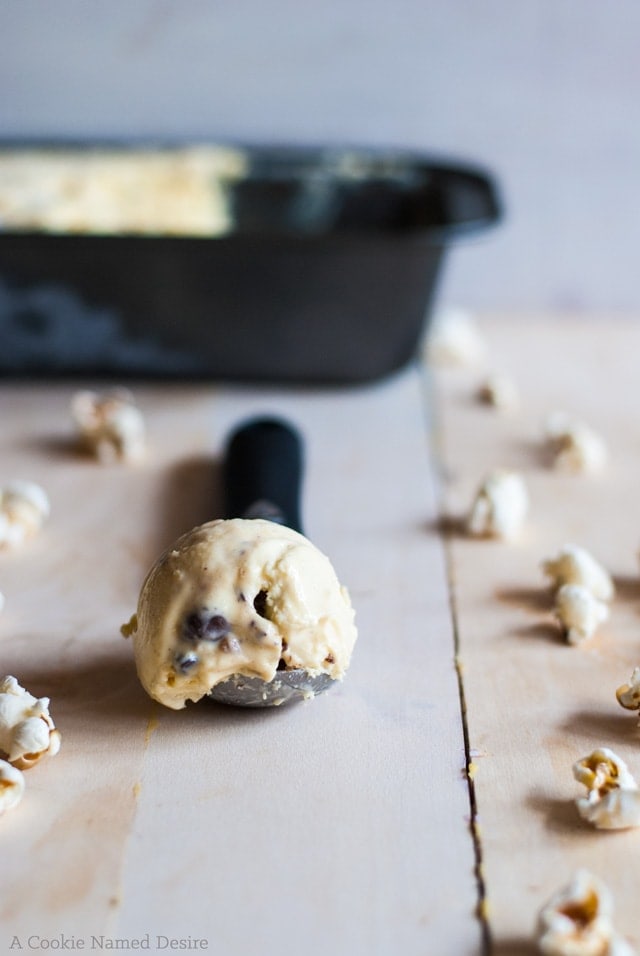 I am all about the snacks when it comes to movie night. I can eat my weight in popcorn. Being dirt poor in college and my first year out, I would actually eat a bag of popcorn as a meal some days. You know, cause of all the fiber. These days, I've been opting for popping my popcorn on the stovetop with just a bit of truffle salt so they aren't so bad for me. Still, I will indulge in some really buttery popcorn every now and then.
Also, I've discovered I love putting my favorite movie theater snacks into my desserts. Remember my movie theater cookies? They are my favorite cookies I've made for the blog so far. I loved it so much, in fact, that I decided to turn it into popcorn ice cream. And dagnabbit, it was the best decision ever. I freaking adore this popcorn ice cream. And Natushka is obsessed with it. (Earlier today, N got really quiet while I was cooking, so I went to go look for her and found her sitting on the potty eating her leftover ice cream cone I thought put in the freezer. Funniest sight ever.)
Normally, I use the ice cream base from Jeni's Splendid Ice Cream which uses a slurry for thickener and cream cheese for creaminess. It's my favorite way to make ice cream, but this time, I decided to use a traditional custard base and I think it really works here to elevate the indulgence factor in the popcorn ice cream. I used a mix of heavy cream and half & half. This paired with an egg custard base means the ice cream is really thick and creamy. It also takes a lot longer to melt without feeling too icy or warm on the tongue.
This popcorn ice cream definitely has a nice buttery popcorn flavor to it without being overwhelming and it is balanced out by the chocolate and the peanuts from the Goobers as well as the caramel from the Milk Duds. If you made the salted bourbon caramel on this site, I also recommend a nice drizzling of that on the ice cream. Trust me on this one!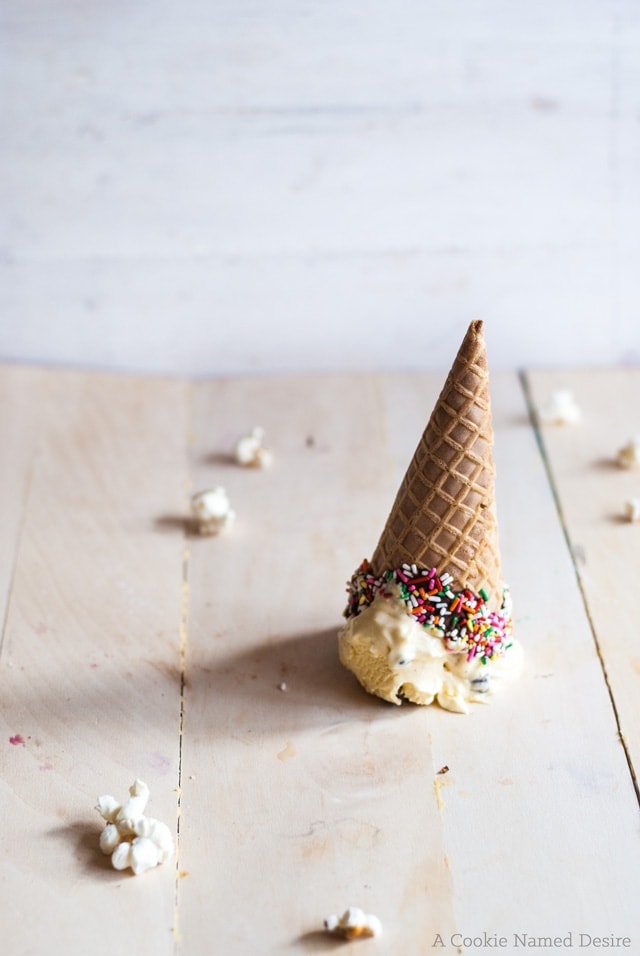 Don't have an ice cream maker? No problem! Learn how to make ice cream without an ice cream maker here.
Recipe Card
Popcorn Ice Cream with Milk Duds and Goobers (Movie Theater Ice Cream)
Ingredients
4

cups

half & half*

divided

1

cup

heavy cream

1

bag

about 6 cups buttered popcorn, popped

8

large egg yolks

¾

cup

sugar

2

teaspoons

vanilla extract

3.5

oz

box of Goobers

2

oz

Milk Duds

⅓

cup

mini chocolate chips

¼

cup

roasted peanuts

halves (optional)
Instructions
Bring 2 cups of the half & half and the heavy cream to a low simmer, stirring occasionaly. Add in the buttered popcorn and stir until the popcorn begins to dissolve into the cream. Simmer for about 2 -3 minutes, then turn off the heat. Strain the mixture as best you can to get back as much of the cream mixture as possible. Add as much half & half as needed into the popcorn-infused cream to get 4 cups of cream total. Return the cream to the saucepan.

In a medium bowl, whisk the egg yolks until they become light. Add in the sugar and vanilla extract and beat well.

Slowly add one third of the cream mixture into the eggs while whisking the eggs constantly to avoid scrambling them. Slowly add the tempered egg mixture into the cream mixture, whisking constantly.

Heat the saucepan on medium low and stir the mixture constantly until it becomes a thickened custard and coats the back of a spoon. Remove from heat. Place the mixture in another container (I recommend a gallon freezer bag) and place in an ice bath. Leave in the ice bath until the mixture is very cold - about 40 degrees F, I recommend placing the ice bath in the refrigerator.

Put the custard in an ice cream machine and make according to manufacutuer instructions.

Pour the mixture into an ice cream container and stir in the Goobers, Milk Duds, chocolate chips, and peanuts. Serve immediately as a soft serve ice cream, or freeze for at least 3 hours.
Notes
*You may need more half & half depending on how good you are extracting the cream mixture out of the popcorn
Tried this recipe?
Tag me on Instagram! @acookienameddesire #acookienameddesire