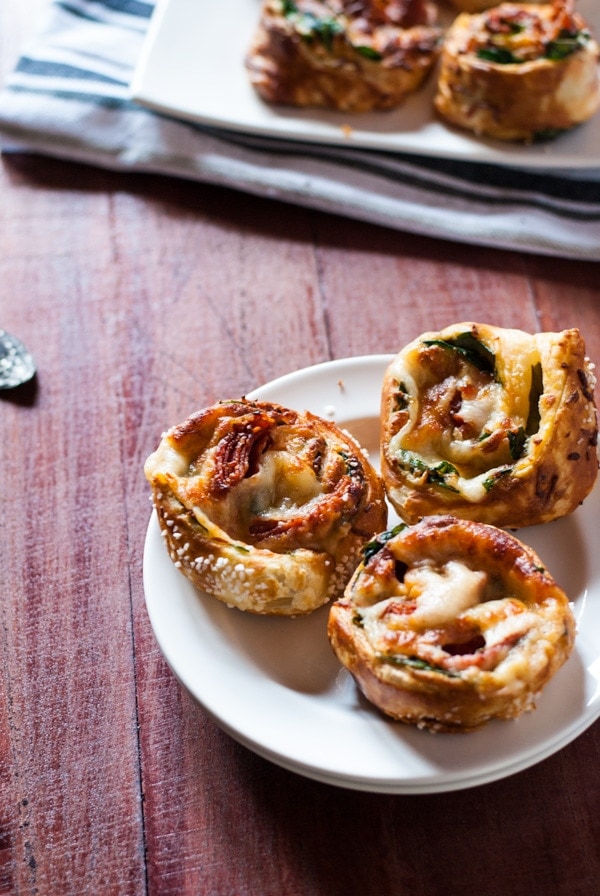 This past weekend, I was trying to perfect my puff pastry. It's one of those things I think is a simple enough process, but I always end up messing it up somehow. So far, every attempt was acceptable and deliciously edible, but it lacked that super flaky crust that I love so much. I am drowning in puff pastry though, so I used a few sheets to whip up these pretzel-y pizza rolls for lunch and they were so nommmm nommm noommmm GOOD!!!
But everything is good when you make them all nice and pretzel-y.
When I was in elementary school and learned about King Midas and his golden touch, I was convinced that I would be perfectly happy if everything I touch turned to pepperoni pizza. To be more specific, I wanted all solid things to turn into pizza and all liquids to turn into hot chocolate. These days, I wish that everything I touched suddenly became calorie-free. Especially pizza.
And pizza fixin's inside a flaky puff pastry is just amazing. And then, I got this brilliant idea to brush the pastry with some baking soda solution and add a bit of pretzel salt cause, well, pretzels rock. That is pretty much how I come up with everything I make for the blog. "Oh, I have this stuff left over, what am I going to do with it? Yes, I do love eating that. Oh, and this sounds good, too, so let's incorporate that." And I usually end up thinking about it at the oddest times like filing documents, tweezing, car inspections…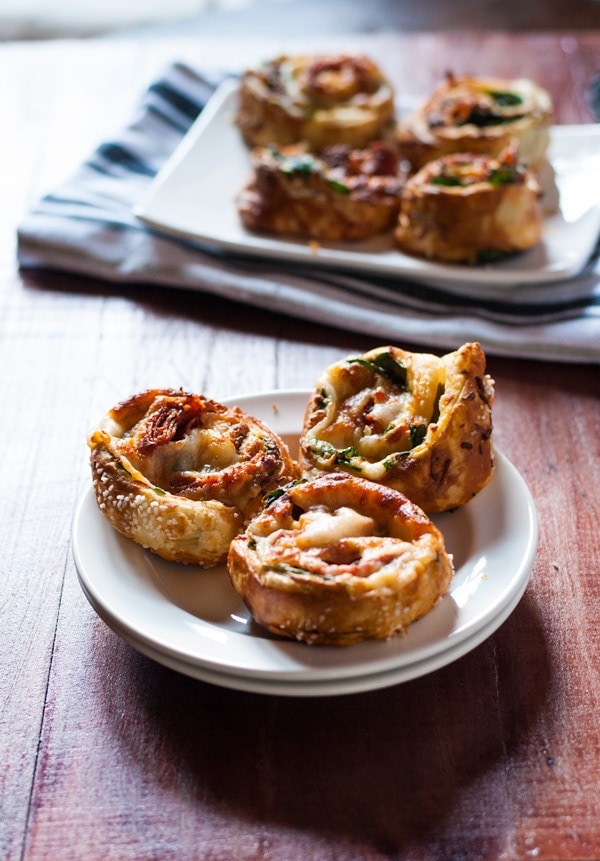 Now, I am not going to give you a recipe for puff pastry because I don't expect you to make it for such a simple snack. This is my go-to puff pastry recipe. If you don't want to make any, then feel free to use store-bought. I don't judge. Besides, this is just a pizza/pretzel snack roll I expect you to make for parties or give to your kids as an after school snack. No need to get all fancy with it….. yet.
Pretzel-y Pizza Rolls
Ingredients
1 sheet puff pastry
3 tablespoons pizza sauce (optional)
6 oz pepperoni slices
1 cup shredded fresh spinach (1/2 cup thawed and dried from frozen spinach works too)
1 cup grated mozzarella
¼ cup grated Parmesan
⅓ cup baked baking soda*
1 cup very warm water
pretzel salt for sprinling
Instructions
Preheat your oven to 350 degrees F and line a baking sheet with parchment paper.
Open your puff pastry and gently spread the pizza sauce in one thin layer if using. (I prefer to leave it out).
Layer the pepperoni and spinach, then spread the cheese over everything. Be sure to leave a small border around all the edges.
Tightly roll the pastry lengthwise. Cut slices about ½ inch thick and lay them cut side down on the parchment paper.
Mix together the baking soda and warm water. Use a pastry brush to generously brush the sides of each rolls with the mixture. add pretzel salt to the sides.
Bake for about 12 - 14 minutes, or until the cheese is bubbly and the outside has a nice golden brown.
Notes
*Bake your baking soda to increase it's strength. Bake at 300 degrees F for one hour. Do not touch with bare hands after baking. If this is unavoidable, wash hands immediately after.