Delightfully aromatic and herby rosemary bergamot cookies. These tasty treats will the the highlight of your afternoon tea. 
I don't think I ever realized how wonderful shortbread cookies were until I met my friend Vall. They way she enjoyed food was in such a purposeful manner. She took care to create these moments with food with everything she ate. In comparison, I felt I had the care and thought of some primal lumberjack with dead taste buds. She might think I am the weirdest person if she is reading this now, but I remember the first time I saw her eat shortbread cookies. She bought a beautiful jar of lemon curd and carefully ate the shortbread with the curd and the look on her face when she took that first bite. It was as if it was the most delicious thing she ever had. But that was the way it was when she ate something she loved. As if it were her first time experiencing how delicious it truly was.
From then on, I always associated shortbread cookies with her (that and tapenade, but that is for another day). The last time I made shortbread was for these balsamic strawberry cheesecake bars and it's been long overdue to share these rosemary bergamot cookies in particular with you.
It took me years before I realized that bergamot was the leading flavor in Earl Grey tea. When I finally did, it was a total mind blown moment for me. As it turns out, Earl Grey is simply black tea with bergamot flavoring. We don't get fresh bergamot in my local markets often, so when we do, I savor every moment an use them every time I can. I also bought bergamot oil so I can amplify flavors in my baking. If you can't get any bergamot, you can substitute the bergamot zest with lemon or orange zest and use finely ground earl grey.
I don't know if you've noticed, but I had some trouble shooting these bergamot cookies. I wanted to play with the pie pans I got, but didn't know how to best use them. I ended up using a few different background options, trying to decide what I liked best because I want to try and mix things up instead of plain white everything all the time. What do you think? I like all of them (hence why I posted something from each shoot), but for completely different reasons. It took me two days to take these pictures because of my indecisiveness. I hate making decisions, don't you? Sometimes I wish someone would follow me around and just tell me what the best decision is.
"Should I take Johnson or Elm to go home?" "Definitely Johnson." "Should I use the black board or white wood for this photoshoot?" "Go for the black." "Should I date that guy or pass?" "Go out with him, he has an awesome Doctor Who collection."
I really don't see the appeal in making your own decisions. I want to know I am making the right choices in life. I want to know that I can look back at old photos and not cringe at bad fashion choices. If I ever become wealthy, I am so hiring a decision maker. You can hire people like that, right? I think what I am looking for is one of those life coaches. Yeah, it would be nice to have one of those.
I definitely don't need a life coach to tell me that these shortbread cookies are a good idea because I already know that. (Someone to tell me not to eat that whole bowl of them might be necessary though). The first time I tried rosemary in a shortbread cookie was startling. It was paired with pink Himalayan salt and I was not prepared for the combination. It didn't take long for me to start to enjoy the combination and I've been in love with adding rosemary to my cookies ever since. It pairs especially well with the bergamot.
And while I wouldn't necessarily pair the rosemary bergamot cookies with lemon curd, I recommend eating it with a nice hot cup of tea or coffee. Preferably while you are with friends or family or cozying up with a good book (Any recommendations? I've finished my list of books to read for the year already). These are the type of cookies you make when you plan on taking the time to enjoy the moment and forget that mile-long list of to-do's you must conquer. Because these are the cookies that deserve that kind of relaxed attention so that you may appreciate the subtleties in the flavors and how they interact with one another.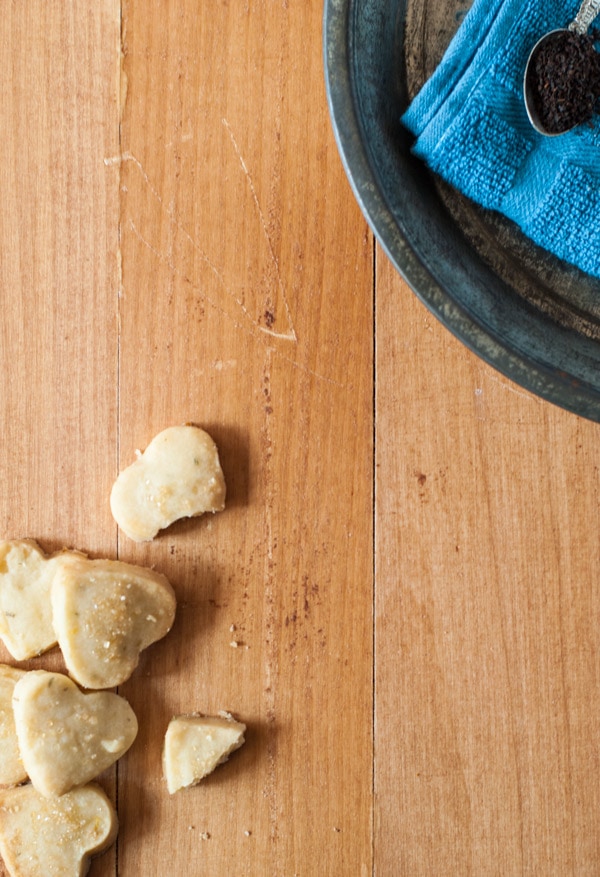 Note: Different brands of bergamot oil have varying strengths of flavor. I used the Bakto brand of bergamot oil which is a bit weaker than other brands. I recommend using less bergamot and slowly increasing the amount you use, testing along the way if you are using a different brand. If you are using a more potent brand of bergamot oil, you may not need the addition of bergamot zest.
Rosemary Bergamot Cookies
Ingredients
2

sticks unsalted butter

room temperature

1

teaspoon

bergamot oil*

optional, see notes

zest of one bergamot*

2

teaspoons

finely ground dried rosemary

½

cup

plus 2 tablespoons powdered sugar

2

cups

flour

1

teaspoon

coarse sea salt

1 - 2

tablespoons

turbinado sugar for topping
Instructions
Preheat the oven to 325 degrees

Cream the butter until light and creamy. Add the bergamot oil and zest along with the rosemary and beat for another minute. Add the sugar and mix well.

In another bowl, add the flour and salt together. Slowly mix into the butter mixture and mix until a ball forms.

If you are cutting out shapes, cover the dough in plastic wrap and form into a disc. Chill for about 30 minutes before rolling out and cutting out your cookie shapes. Otherwise, press the dough into a greased 8 inch round cake pan and cut out wedges with a knife. Top cookies with turbinado sugar.

Bake wedges for 50 minutes, or until a light golden brown. Cookies cut in shapes should be baked for about 20 minutes.
Notes
*May replace with 1 tablespoon finely ground earl grey teaUse bergamot oil if there you have no fresh bergamot available. When using the bergamot oil, test the potency of the oil as some brands are stronger than others and as such may require more or less oil.
Tried this recipe?
Tag me on Instagram! @acookienameddesire #acookienameddesire