Salmon tacos grilled on a cedar plank for a delicious smoky flavor and topped with a bright and fresh avocado mango salsa. The perfect barbecue meal. This post is sponsored by Santa Rita Wines. Thank you for supporting the brands I love and keeping the CND Kitchen running!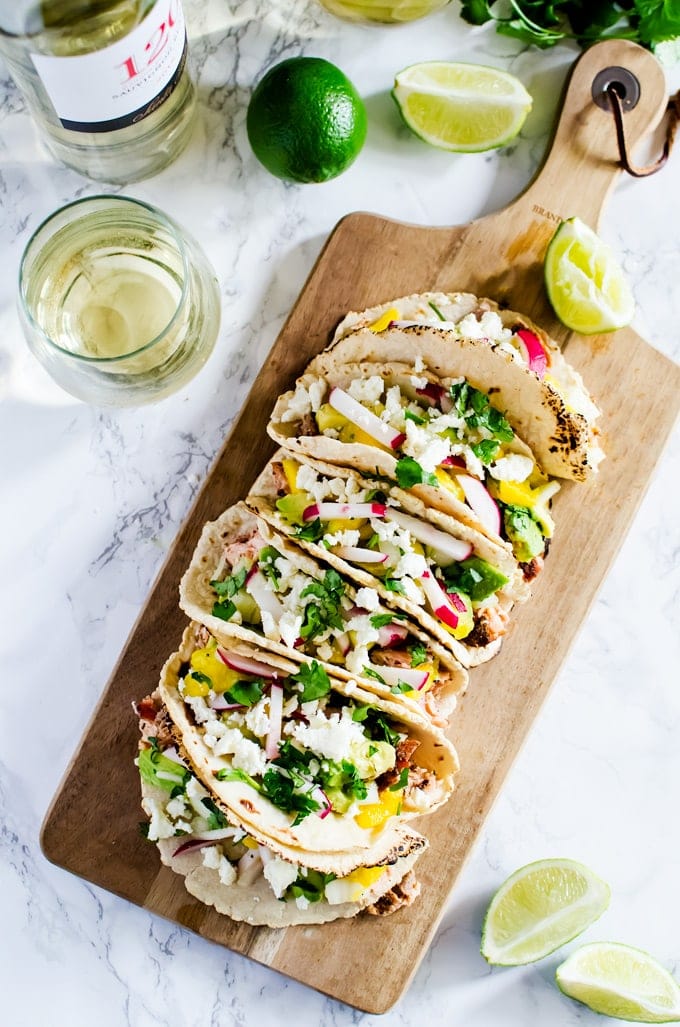 I am going to be honest with you, my grilling experience was pretty minimal for a long time. I was too afraid to touch the grill until last year when we had a huge storm that cut all power to my entire town for a week. In that week I grilled every day, three times a day. I became a grilling master. This year I plan on doing a lot more grilling, starting with these amazing salmon tacos with avocado mango salsa.
If you've been following the blog for a while, you will know that summer entertaining is one of my favorite things to do. There is nothing better than hanging out with good company with a few refreshing drinks and amazing food. So when chowing down on these salmon tacos, I paired it with the Santa Rita 120 wines which are perfect for everyday drinking and barbecuing. What's great is that the salmon is light and flaky, but still meaty with lots of umami which means it pairs really well with both the red and white varieties from the Santa Rita 120 wines.
In case you were thinking you can't make these grilled salmon tacos because you live in an apartment or don't really have the space or are going away on vacation for a while, I have a suggestion for you. Portable grills. My charcoal grill died last year because we didn't take care of it and now there is a hole in the bottom of the grill. So I actually went out and bought a portable grill that is the perfect size for grilling the salmon and throwing a nice barbecue for a few people. It is perfect for grilling on apartment balconies or porches and even bringing with you to the beach for a little cookout. I highly recommend checking them out. The best part is that they are super economical meaning you can enjoy salmon tacos and Santa Rita 120 Wine anytime this summer!
I created my own blend of seasoning for the salmon which borders on addictive. You might think it will be spicy, but the blend of spice is just perfect and the cooling nature of the mango avocado salsa works so well with it. My secret ingredient is the Badia Complete Seasoning. I love the Badia brand for spices and buy their dried garlic and onion for my everyday cooking because of how amazing it tastes, but this was my first time using their complete seasoning mix and I am in love. I also used a cedar plank to grill my tacos. It adds a wonderful smokiness to the fish and I wouldn't make it any other way. You can't use anything that's been treated. My fishmonger actually had them available. You can also find them online and at many large chain stores. It's one of those things you never notice until you actually look for it!
For these salmon tacos, I made my own corn tortillas. Now before you say that is just too much work, hear me out. It's actually super easy. The job is a lot faster if you have a tortilla press, but its not necessary at all. My recipe only requires three ingredients and if you made my enchiladas soup in the past, you probably already have the main ingredient hanging around the house begging to be used up anyway. Give it a try. You will be surprised at just how easy it is – and how delicious! Don't forget to also make some Mexican street corn as a delicious side to your tacos!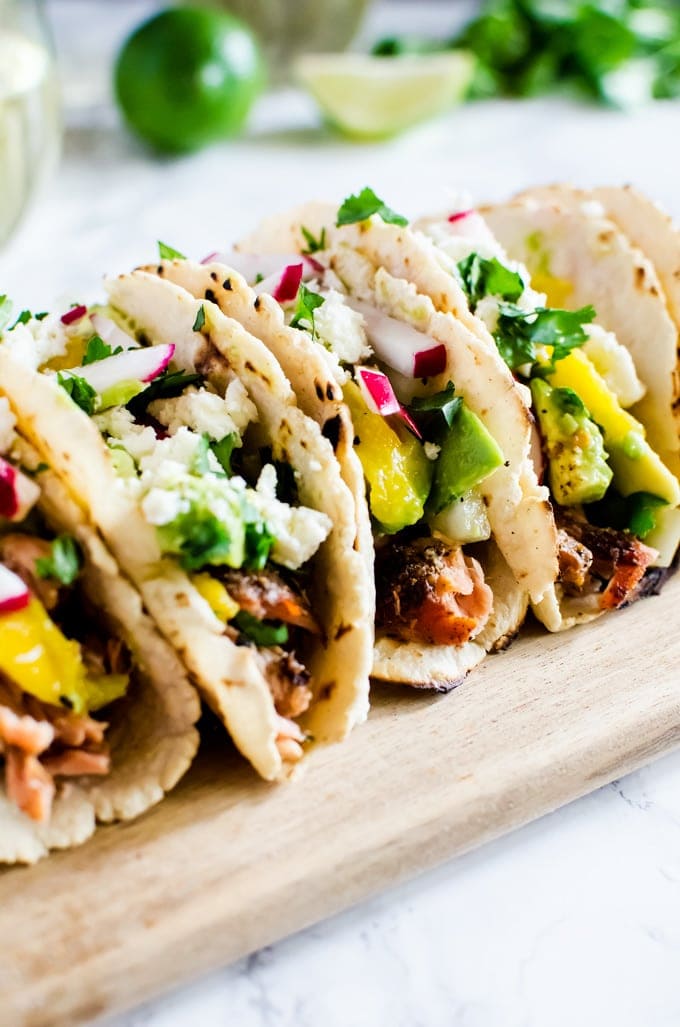 Recipe Card
Salmon Tacos with Avocado Mango Salsa
Unforgettable salmon tacos with avocado mango salsa
Ingredients
Corn Tortillas
1 ½

cups

masa harina

¼

teaspoon

salt

1

cup

water
Grilled Salmon
1

tablespoon

packed brown sugar

2

teaspoons

Badia Complete Seasoning

¾

teaspoon

salt

½

teaspoon

pepper

½

teaspoon

cumin

1

teaspoon

chili powder

1 ½

teaspoons

red pepper flakes

1

teaspoon

oregano

1

lbs

salmon filet
Avocado Mango Salsa
1

mango

1

medium avocado

½

red onion

1

lime

½

lemon

Salt and pepper to taste
Taco Toppings
2

– 3 radishes

cut in matchsticks

Fresh cilantro

chopped

Cojita cheese
Instructions
Soak your cedar plank in water overnight, or for at least an hour. Get your grill ready by lighting the coals or heating up your propane grill.

Mix together the ingredients for the tortillas in a bowl until it forms a ball. Cover tightly with plastic wrap and allow to rest at least 30 minutes.

In a small bowl, mix together the seasoning for the salmon. Rub ⅓ of the mixture on the cedar plank. Place the salmon on the seasoned plan and rub the remaining seasoning over the salmon.

Grill covered for about 13 – 18 minutes, or until the salmon is cooked through and flaky, but not dry. Remove from heat and allow to rest a minute or two before flaking.

While the fish is grilling, put together the salsa. Dice the avocado and mango into small cubes and finely dice the onion. Squeeze the lime and lemon over the mango, avocado, and onion, then add salt and pepper to taste. Lightly toss to combined.

Equally divide the tortillas into 8 balls. Roll out until very thin circles about 6 – 8 inches in diameter. Cook over high heat on your grill or a hot skillet for about 1 – 2 minutes on each side.

Fill the tacos with the salmon, then the salsa. Add any of your favorite toppings such as matchstick radishes for crunch, cilantro, and some cojita cheese. Serve with a chilled Santa Rita 120 wine.
Nutrition
Calories:
190
kcal
Carbohydrates:
24
g
Protein:
14
g
Fat:
5
g
Saturated Fat:
1
g
Polyunsaturated Fat:
2
g
Monounsaturated Fat:
1
g
Cholesterol:
31
mg
Sodium:
330
mg
Potassium:
427
mg
Fiber:
3
g
Sugar:
6
g
Vitamin A:
546
IU
Vitamin C:
16
mg
Calcium:
55
mg
Iron:
3
mg
Tried this recipe?
Tag me on Instagram! @acookienameddesire #acookienameddesire