This shop has been compensated by Collective Bias, Inc. and Silk. All opinions are 100% my own. Posts like these help keep the kitchen running for A Cookie Named Desire, thank you for supporting my blog!
#CollectiveBias #SwapMilk4Silk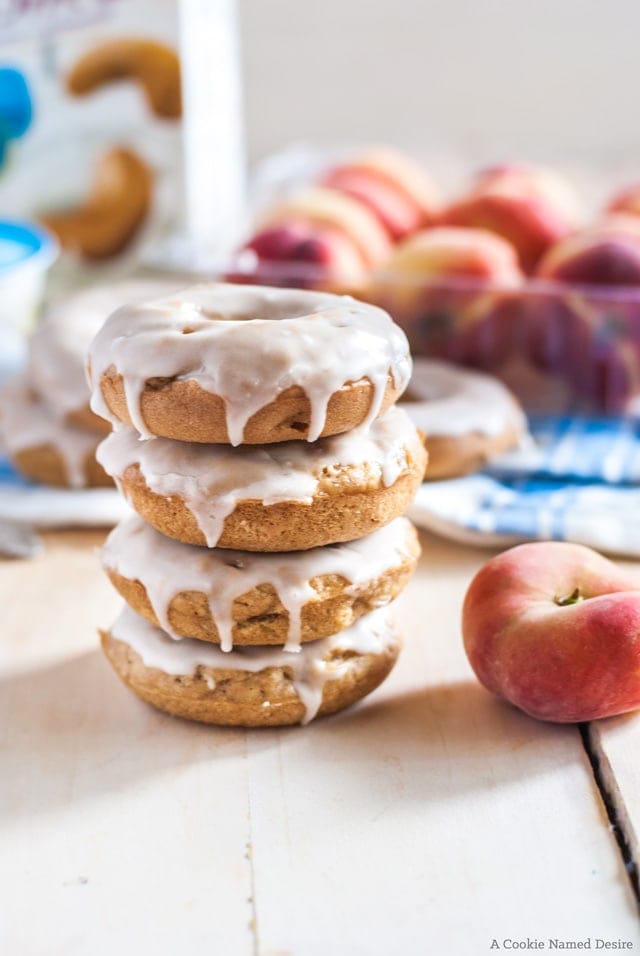 A couple of weeks ago, I picked up a vegan cookbook because I was drawn in by all the amazing cupcakes and the fact that none of the recipes had funky vegan alternatives like vegan cheez which kinda weirds me out a bit. I mean, it tastes fine, it's just a mental thing I have about it. I decided to take a page from this book and attempt to make myself a vegan treat using easy-to-find ingredients. I recently found the world's cutest peaches, called doughnut peaches, and these were the inspiration behind these vegan peaches and cream doughnuts.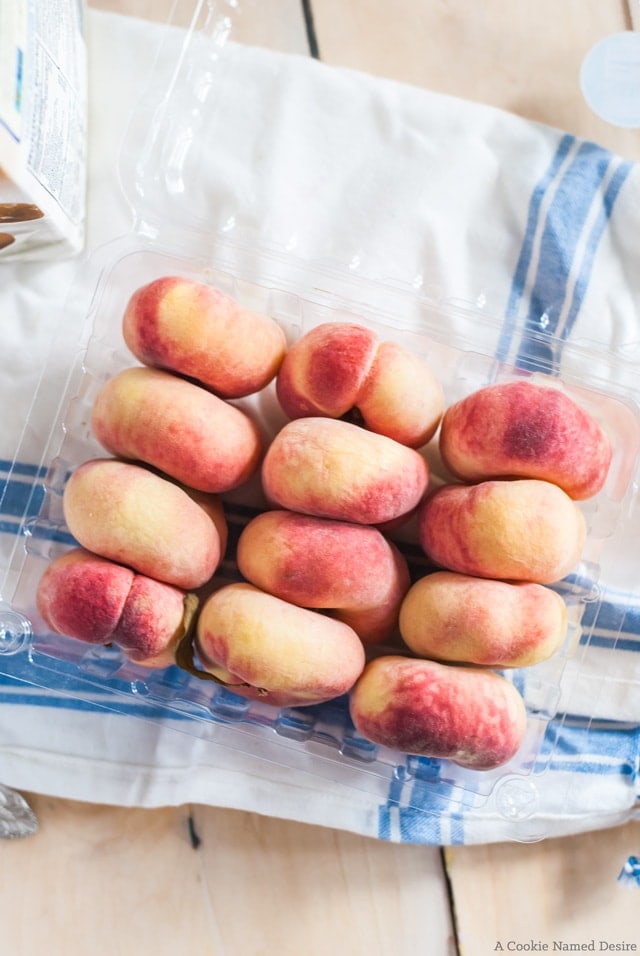 When I was pregnant, I would go crazy over a dozen doughnuts. I am not afraid to say that I would eat maybe six of them in a day. The number of doughnuts I've probably eaten during those months is probably too shameful to even think about. Now that I no longer have a pregnancy as an excuse to indulge my doughnut cravings, I try and keep my limit to maybe two or three a month. Don't ask me how I've managed to have such self-control because I don't even know. I have to confess that I did break this rule today because I've already had four doughnuts in two days. Since these doughnuts are vegan and are made with Silk cashew milk and vanilla yogurt and a nice helping of peaches, it's practically a health food, so it's okay. 😉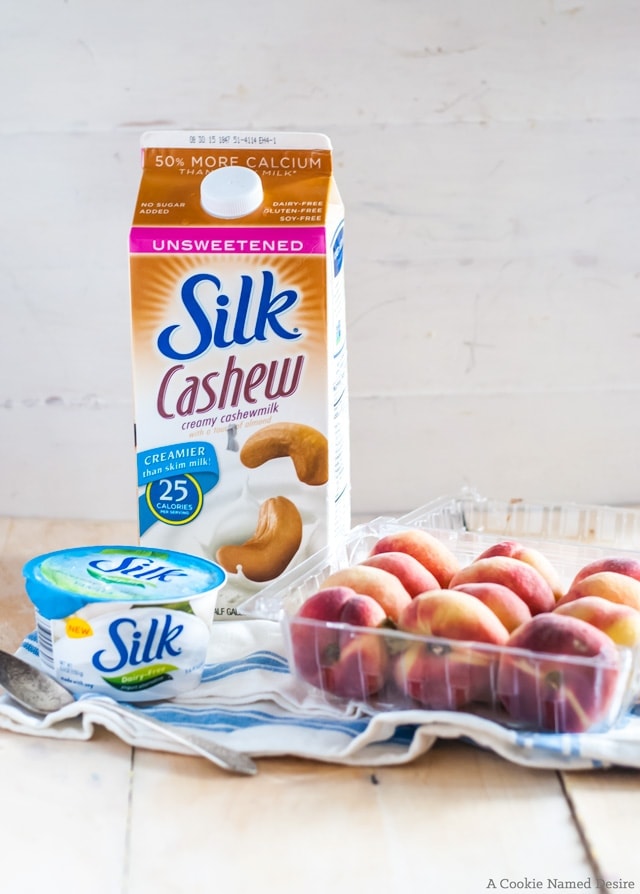 I am a huge fan of almond milk, so when I saw the Silk cashew milk and yogurt during my last trip to Walmart, I knew I needed to try it as the dairy replacement in my vegan peaches and cream doughnuts. During my shopping trip, I saw just how many flavors of yogurt Silk has and I immediately grabbed one of each flavor to try. (FYI, you may not be able to find Silk yogurt in every grocery store just yet, but I will tell you exactly where to find it later)
The peaches and cream doughnuts are incredible and so addictive! They are light and fluffy and so moist. When you take a bite out of one, I promise you won't even know they are vegan. The Silk yogurt has real vanilla beans and that helps amp up the flavor. You can also use their mango and peach yogurt for an extra boost of flavor. You won't need the whole container, so you can snack on the rest of the yogurt while the doughnuts are baking.
And now, I've had five doughnuts.
Recipe Card
Vegan Peaches and Cream Doughnuts
Ingredients
2 ¼

cups

flour

1

teaspoon

baking powder

½

teaspoon

baking soda

½

teaspoon

salt

1

teaspoon

ground cinnamon

2

tablespoons

oil

1

teaspoon

vanilla extract

¼

cup

Silk vanilla yogurt

½

cup

lightly packed light brown sugar

1 ¼

cups

Silk cashew milk

also works with their almond milk

1

large peach

peeled and diced
For the Glaze
1 ¼

cups

powdered sugar

1

tablespoon

cashew milk

¼

teaspoon

vanilla extract
Instructions
Preheat the oven to 350 degrees. Lightly grease a doughnut pan.

In a large bowl, mix together the flour, baking powder, baking soda, salt, and cinnamon together.

In a medium bowl, mix together the oil, vanilla extract, yogurt, brown sugar, and cashew milk.

Slowly mix the wet ingredients into the dry ingredients, mixing until just incorporated. Lumps are good and encouraged. Gently fold in the peaches.

Fill the doughnut pan with the batter and bake for about 15 minutes, or until they spring back when gently pressed. Remove from the pan and allow to cool completely.

In a small bowl, mix together the powdered sugar, cashew milk, and vanilla extract. Dunk each doughnut into the glaze and set on a wire rack over a paper towel.
Tried this recipe?
Tag me on Instagram! @acookienameddesire #acookienameddesire
P.S. I promised to tell you where you can easily pick up your Silk yogurts and milks. Many stores carry the milk, but Walmart has all of Silk's available yogurt flavors so you can easily stock up! They keep with with the rest of the yogurts and milk in their own little section so it's easy to find. If you want to find more recipes using Silk, check them out
here
.