I know, I know…
TWO quick bread recipes in one week. But… it's just too good to not post. I was going to post some other carb-y goodness, but I am in such an autumn-y mood right now, that I had to share a pumpkin recipe with you sooner. And with all the pumpkin recipes in all the land, this one is the best. No, really, it is. You see, it's cause there is zucchini in it, which ties in a bit of summer which means it is a nice way to transition from one season to the other. Plus, the two main ingredients are a veggie (the zucchini) and a fruit (the pumpkin – sometimes I find it so hard to call pumpkin a fruit, ya know what I mean?) which means this bread is totally on the healthy side. And that means it's okay to eat half a loaf on your own and not feel guilty. We're just trying to get our fruits and veggies in, right?? If you are questioning the combination of the zucchini and pumpkin together, don't! The zucchini adds more of a butteriness to the loaf and really complements the flavors of the pumpkin. Trust me, you will love it!
I am super excited because I have so many pumpkin recipes and ideas that I want to share with you. I am going to be in the kitchen non-stop starting tonight and even then, I am not sure if I will have enough time from now until winter starts to share allllll my favorite pumpkin recipes. Here is a quick preview of my favorites:
Chocolatey smoothies
Skinny lattes
Spicy curry
Loooooaaaaaads of pumpkin-y carbs
Fall is basically the time where I turn all regular food into pumpkin food. I hope you like pumpkin because otherwise, I might not see much of you for the next few months. Don't panic though, I promise I'll sprinkle a few non-pumpkin related foods in here, too.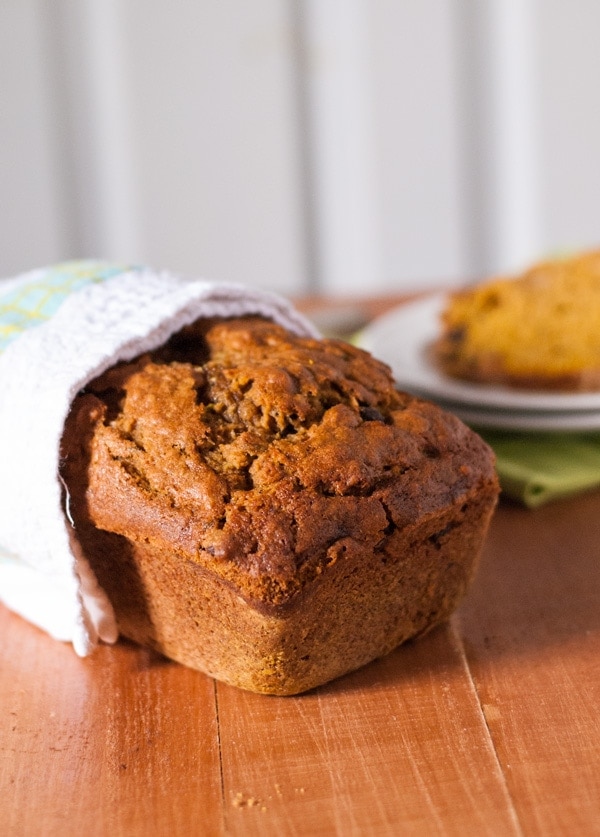 But for now, let's take a moment to admire how amazing this loaf is. we covered the pumpkin and zucchini, but did we talk about the chocolate? I added bittersweet chocolate chips because I like how it contrasts with the natural sweetness of the bread, but you can use milk or semi-sweet chocolate, too. I also chopped a chocolate bar and tossed it in. I used a Green & Black's Ginger chocolate bar because it gave this bread a nice little zing that complements the pumpkin spice (because you know, ginger is the best part of the pumpkin spice mix). You don't have to run out and buy this chocolate if you don't want, but it is so yummy! Also, it's not pictures here, but I had some left over salted caramel glaze from my peach bread that I drizzled over a slice of this bread and ZOMG, it is delightful beyond words. In fact, I just don't have any words for how wonderful it is. So, I definitely recommend trying some of that glaze on this bread when you get a chance!
The zucchini pumpkin bread is moist, but not heavy. Sweet, but not overly so. I didn't want to add too much sweetness, because I knew I would be testing it out with the glaze, plus for breads like this, I like to toast them up and add some butter and prefer that it isn't too sweet when I intend to nom on it this way. You really don't need that much sweetness to it because the chocolate does enough of that, plus this allows the pumpkin to shine through more. I recommend allowing this bread to cool for about 3 hours and take a nice thick slice and smother it in butter and add a dash of cinnamon while it is still warm. You can thank me later.
Zucchini Pumpkin Bread Recipe
Ingredients
1 cup pumpkin puree (not pumpkin pie filling)
1½ cups shredded zucchini
3 large eggs
1 cup lightly packed light brown sugar
¾ cup granulated sugar
1½ sticks (3/4 cup) unsalted butter, melted
1 tablespoon vanilla extract
3 cups, plus 1 tablespoon all-purpose flour
1½ teaspoons baking soda
1 teaspoon baking powder
½ teaspoon salt
1 tablespoon pumpkin pie spice (<-- click for recipe)
1 teaspoon cinnamon
1 cup bittersweet chocolate chips
3.5 oz chocolate, chopped
1 cup walnuts, chopped (optional)
Instructions
Preheat the oven to 350 degrees, grease and flour 2 9x5 loaf pans.
In a large bowl, mix the pumpkin, zucchini, eggs, sugars, butter, and vanilla together.
In a separate medium bowl, mix together 3 cups flour, baking soda, baking powder, salt, pumpkin pie spice and cinnamon together.
Slowly add the flour mixture to the wet ingredients and mix until just combined.
Coat the chocolate and the walnuts in the remaining flour. Fold into batter.
Pour into the loaf pan and bake for 45 - 50 minutes, or until a toothpick comes out clean when inserted in the middle. Cool the bread in the pan for 10 minutes before turning out onto a wire rack.