This easy enchilada sauce is finished in just a few minutes and is full of rich flavor. You will never crave store-bought again!
Why it works
This enchilada sauce is packed with flavor thanks to spices lightly cooked in oil to help them release and amplify their flavor.
It is finished in just minutes. In fact, it takes more time to grab all your ingredients and measure them out than it is to make the sauce.
You can make the sauce in big batches to can or freeze so you can enjoy it whenever you want.
Ingredients
This sauce uses pantry ingredients that you likely already have in the kitchen. Here are a few of the key ingredients we use. The full list and amounts are in the recipe card below.
Oil - You can use any neutral-flavored oil or extra virgin olive oil. We use it to make the roux, so you can even substitute all or some of it with butter if you want to add a buttery flavor to your sauce.
Flour - The flour is used to help make a roux. The roux thickens the sauce and can help amplify the flavors. You can use just about any flour, but all-purpose works best.
Chili powder - This recipe calls for American chili powder which is mild and not very spicy. It is a blend of different chilis and is important to use over anything like cayenne pepper which would be too spicy for this recipe. I recommend trying out different chili powders and finding one you really like since it is the biggest flavor component.
Tomato paste - Most recipes do not use tomato in the sauce, but the tomato paste adds more depth to the flavor and gives the sauce a thicker consistency which is perfect for making so many dishes.
Stock - Using a high-quality stock makes a noticeable difference in the sauce. I recommend getting the best you can afford. You can use vegetable or chicken stock.
Method
Heat your pan with the oil on medium-high heat and then add the flour. Cook until golden.
Add spices and cook until fragrant.
Add the tomato paste and cook for one minute.
Slowly add the chicken stock and stir until smooth.
Add the apple cider vinegar and cook for another minute.
Stir well.
Variations
If you want to change up your sauce a little, this sauce is super flexible and makes a great canvas to changes.
Add cream to make the sauce creamy and even more mild in flavor.
Add cayenne powder or hot sauce to give the sauce a spicier kick.
Use chipotle powder or a finely chopped chipotle in adobo sauce for a smokier flavor profile.
Omit the tomato paste for a thinner and more traditional sauce.
How to use
There are so many things you can make using your enchilada sauce!
Enchiladas - The most obvious use for the sauce.
Soups - It makes a great base for hearty and flavorful soups. My favorite being this chicken enchilada soup.
Breakfast - It is great with black beans, eggs, and cheese!
Hashes and Frittatas - It is excellent as a sauce for a hearty hash or frittata.
Dips - Make an enchilada-inspired dip by folding it into cream cheese and/or sour cream.
FAQ
Is taco sauce the same as enchilada sauce?
There are similarities in both sauces, but the spices and method of making them are different. Enchilada sauce is heavier on chilies and uses tomato paste. Taco sauce is thinner and uses tomato sauce.
Can I freeze enchilada sauce for later use?
Absolutely! I recommend freezing first in ice cube trays, then transferring to an airtight container. This makes it easier to use as much or as little sauce as you want later, and makes it faster to melt and reheat. It should last up to two months in the freezer.
Recipes you'll love
If you try this recipe, please tag me on instagram! Be sure to also follow me on Facebook, and sign up to my newsletter so you never miss out on another tasty treat!
Recipe Card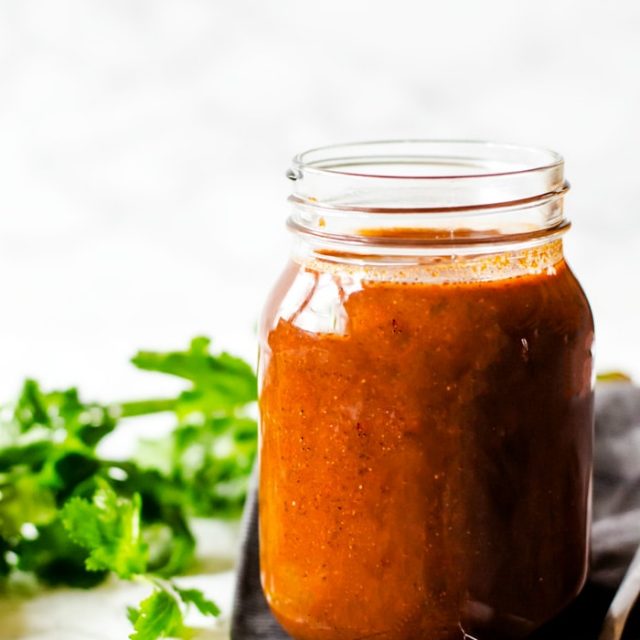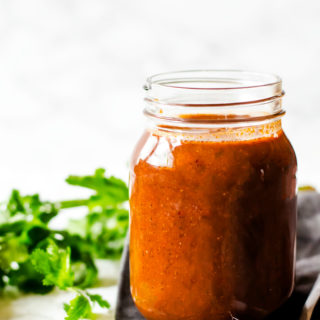 Easy Enchilada Sauce Recipe
Ingredients
2

tablespoons

extra virgin olive oil

2

tablespoons

flour

3

tablespoons

chili powder

not cayenne pepper, can reduce if chili powder is especially hot

1

teaspoon

cumin

½

teaspoon

paprika

1

teaspoon

garlic powder

1

teaspoon

dried oregano

½

teaspoon

salt

pinch

of ground cinnamon

6

oz

tomato paste

2

cups

chicken stock

1

teaspoon

apple cider vinegar
Instructions
Heat the oil in a large saucepan over medium high heat. Add the flour. Stir the flour until it becomes a golden brown.

Add the chili powder, cumin, garlic powder, and oregano and cook for an additional minute.

Add the tomato paste and stir until everything is incorporated.

Slowly add the chicken stock, whisking well until everything combines and there are no lumps. Remove from heat. Store in the refrigerator in an airtight container for up to a week.
Tried this recipe?
Tag me on Instagram! @acookienameddesire #acookienameddesire