This easy enchilada sauce is finished in just a few minutes and is full of rich flavor. The best enchilada sauce recipe you will ever try!
Hey there! Just a quick and simple post here for you because we will need this recipe for later. As in tomorrow. So hold onto this! Even if you aren't going to make tomorrow's recipe, I want you to hold on to this because it's seriously my favorite enchilada sauce recipe I've ever had.
This is actually the enchilada sauce my dad used to make us years ago when he used to cook a lot. Enchiladas hold a special place in my memory because it was the last meal we made for my great-grandmother the last time she came to our house before she had her stroke.
I cannot get over this enchilada sauce; it is incredible. It's has so much depth of flavor and is spicy, but not anything too crazy. If you aren't a huge fan of spice, you can tone things down a bit and cut the chili powder in half without compromising the overall recipe too much. Since it's so easy to make, I like to make a couple of batches of it for me to put on… oh everything. My favorite way to use this enchilada sauce recipe is for breakfast. There's something about enchilada sauce, eggs, lots of cheese, and crusty bread (or roasted taters!) that makes my mornings so much better.
You are going to make this easy enchilada sauce recipe. You are going to fall in love with it and make it over and over again and put it on all the things. I'm not being bossy or cocky, I'm just being honest 'cause it realty is that good. Promise!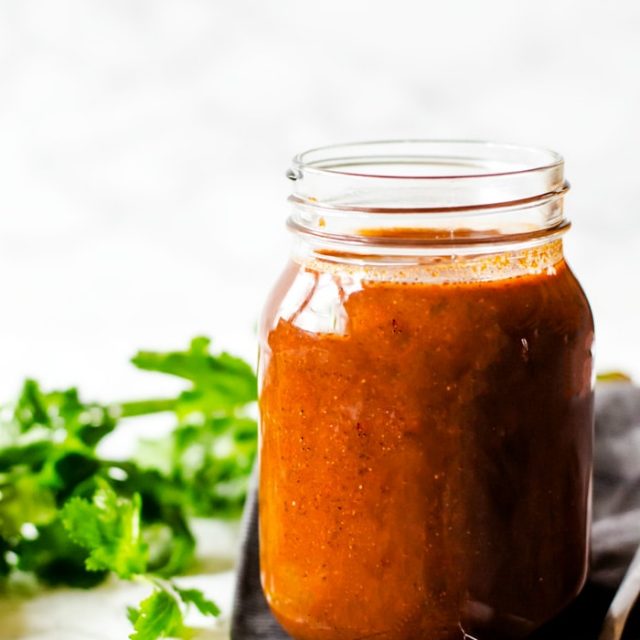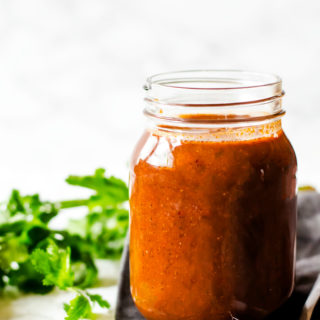 Easy Enchilada Sauce Recipe
Ingredients
2

tablespoons

extra virgin olive oil

2

tablespoons

flour

3

tablespoons

chili powder

not cayenne pepper, can reduce if chili powder is especially hot

1

teaspoon

cumin

½

teaspoon

paprika

1

teaspoon

garlic powder

1

teaspoon

dried oregano

½

teaspoon

salt

pinch

of ground cinnamon

6

oz

tomato paste

2

cups

chicken stock

1

teaspoon

apple cider vinegar
Instructions
Heat the oil in a large saucepan over medium high heat. Add the flour. Stir the flour until it becomes a golden brown.

Add the chili powder, cumin, garlic powder, and oregano and cook for an additional minute.

Add the tomato paste and stir until everything is incorporated.

Slowly add the chicken stock, whisking well until everything combines and there are no lumps. Remove from heat. Store in the refrigerator in an airtight container for up to a week.
Tried this recipe?
Tag me on Instagram! @acookienameddesire #acookienameddesire