There is something so satisfying about this grapefruit almond tart. It's the perfect dessert for a special dinner party.
I am sure I've mentioned this before, but I am a citrus-holic. I love citrus fruits and find ways to eat them as often as I can. One of my favorite citruses is grapefruit. A lot of people think of grapefruit as being too bitter to enjoy without large amounts of sugar. I've actually found that Florida grapefruits are so sweet, you can peel and eat them as a snack on the go.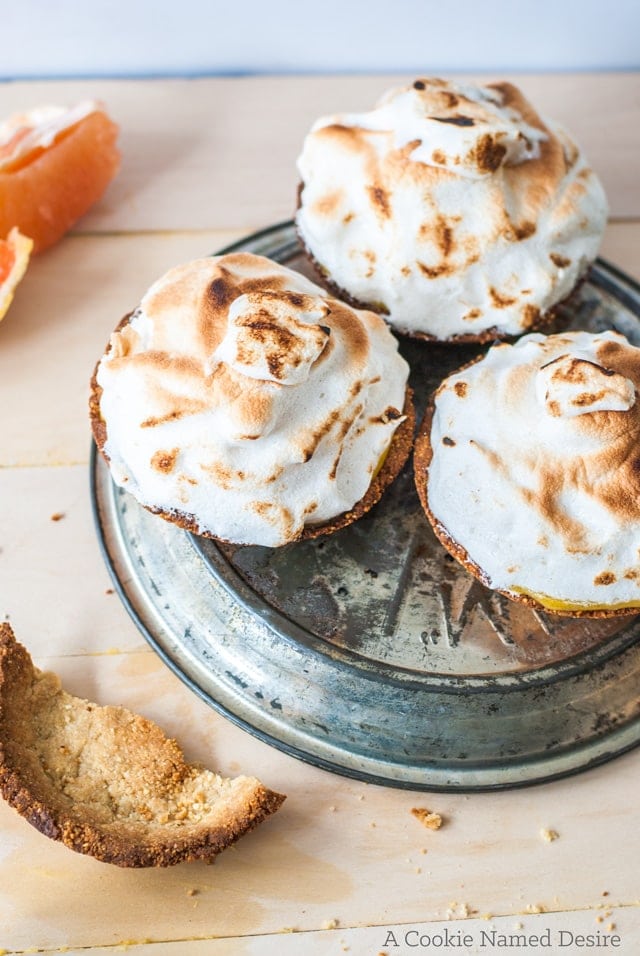 The trick is to know how to spot a Florida grapefruit and know when to buy them. Like most citrus fruits, grapefruits reach their peak during the winter and very early spring (from January to March). At this time, they are at their sweetest and So. Freaking. Juicy!! (Seriously, in the recipe below, I was able to get over a cup of juice from just one grapefruit!)
I'll be honest with you, Florida grapefruits aren't the prettiest grapefruits in the stand, but speaking a a bit of a connesiuer, I can tell you this is a time when looks are deceiving. Think of them as the Ugly Duckling. The aren't always lookers, but what's inside is the sweetest of all fruit. Plus, it makes them easier to spot.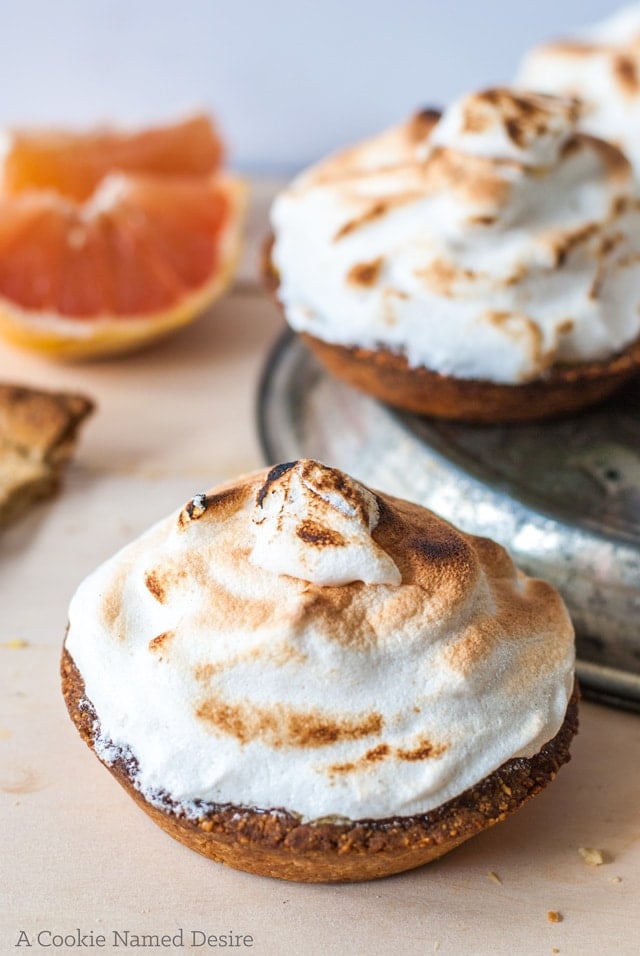 Some of my favorite ways to eat Florida grapefruit:
Sliced in half with a bit of sugar and broiled
Cut into rings and used in a delicious citrus galette
Peeled and removed from their skins and added to yogurt
What is your favorite way to eat grapefruit? I mostly like to just peel and eat right off the rind.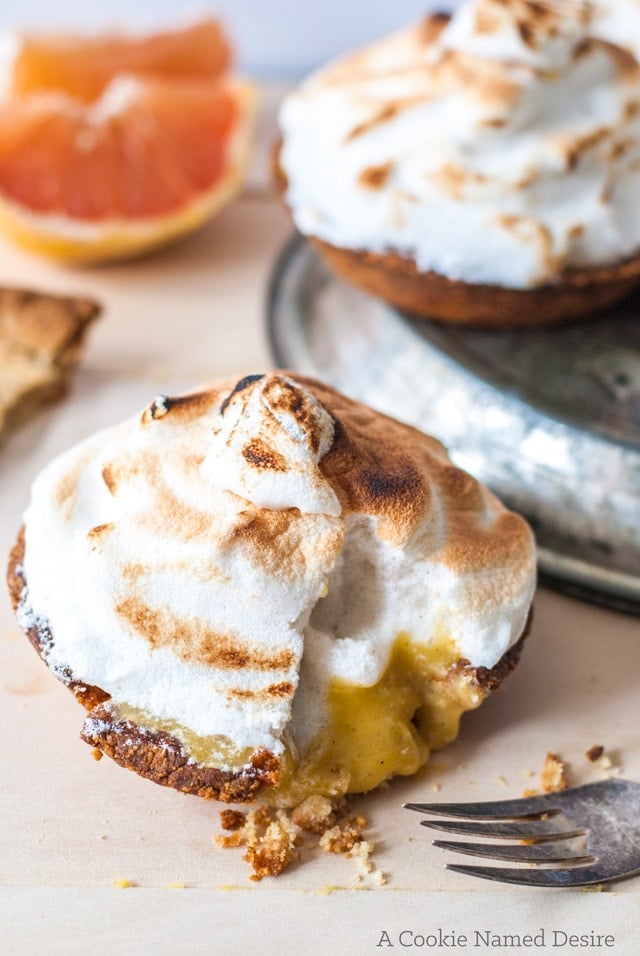 This curd is probably the best curd I've ever had in my entire life which is saying something because I am a bit obsessed with my lemon and pomegranate curds. The curd is sweet, but not cloying. The addition of ginger and vanilla bean add a depth to the curd that makes it so dreamy.
I never really say things are swoon-worthy, but this grapefruit curd truly is swoon-worthy! What I love about this curd is that is is much better for you than most curds because I cut down on the amount of butter you need and you can replace the sugar with honey or agave nectar.
The crust is made of just almond flour, a bit of sugar, a pinch of salt, and some butter. It is gluten-free, really simple, and adds a really lovely nuttiness to the entire tart. I made a couple of extra shells because they are really nice to eat on their own or top with yogurt and a slice or two of grapefruit.
*I know it looks like there is a lot of ingredients, but most of them repeat in each part of the recipe. I recommend starting this the night before you want to serve it for ease - although you can certainly make this all in one day in a couple of hours (less if you get everything prepared before cooking!) You can do the tart and curd the night before and make the meringue and assemble the day of. Finished tarts can last in the refrigerator up to three days.
Recipe Card
Ginger & Vanilla Bean Grapefruit Almond Tart with Ginger Cardamom Meringue
There is something so incredible about having a grapefruit almond tart for dessert
Ingredients
For the Crust
2

cups

almond flour

2

tablespoons

sugar

¼

teaspoon

salt

5

tablespoons

unsalted butter

cut in cubes and chilled

1

egg
For Ginger Vanilla Bean Grapefruit Curd
1 ¼

cup

fresh grapefruit juice

about 1 ½ grapefruits

¼

cup

plus 2 tablespoons sugar (or ¼ cup honey or light agave nectar)

½

teaspoon

salt

zest of two grapefruits

1

tablespoon

fresh ginger juice

from pressing grated ginger OR 1 ½ teaspoons ground ginger

3

large eggs

3

large egg yolks

¼

heaping teaspoon ground vanilla bean

about ½ a scraped vanilla bean

5

tablespoons

unsalted butter

cut in cubes
For Ginger Cardamom Meringue
⅔

cup

sugar

¼

cup

water

1

tablespoon

fresh ginger juice or 1 teaspoon ground ginger

¼

heaping teaspoon ground cardamom

5

egg whites

½

teaspoon

cream of tartar
Instructions
For the Tart
Mix together the almond flour, sugar, and salt together. Cut in the butter until the mixture is mealy. Mix in the egg until well combined and a crumbly dough forms. It should stick together if you squeeze it in your hands. Equally divide the dough by four and press into tart molds. Prick the bottoms of the tarts with a fork. Chill the molds in the refrigerator for at least 30 minutes, or overnight.

Preheat the oven to 400 degrees and bake for 10 - 14 minutes, until golden brown. Set aside to cool.
For the Ginger Vanilla Bean Grapefruit Curd
In a small saucepan, boil the grapefruit juice until only about ½ a cup of juice remains. Boiling concentrates the flavor for the best results.

In a double boiler, whisk together the sugar, salt, zest, ginger juice, grapefruit juice, eggs, egg yolks, and vanilla bean together. Cook on the double boiler, whisking constantly, until the mixture becomes very thick. This can take anywhere between 10 - 15 minutes. Add in the butter and whisk until the butter is completely melted.

Strain the mixture through a fine mesh strainer. Allow the curd to reach room temperature before putting it in the refrigerator to finish setting. The mixture will continue to thicken as it cools.
For Ginger Cardamom Meringues
In a small saucepan, place the sugar, water, ginger, and cardamom together. Bring it to a boil and then simmer for about 3 - 4 minutes until thick and syrupy. Set aside to cool.

In a freshly cleaned and dried mixer, whip the egg whites until soft peaks form. Add the cream of tartar and whip for another 30 seconds. Slowly drizzle in the syrup and whip until stiff, glossy peaks form.
Assembly
Fill the tarts with the grapefruit curd. You should have exactly enough curd to fill each tart almost completely.

Place the meringue in a piping bag and pipe a large amount of meringue over the curd, making sure to cover the curd entirely. Alternatively, you can use two spoons to scoop the meringue over the curd. I find this creates a more rustic look.

Use a kitchen torch or oven broiler to torch the meringue and lightly brown.
Nutrition
Serving:
1
g
Calories:
739
kcal
Carbohydrates:
89
g
Protein:
30
g
Fat:
47
g
Saturated Fat:
13
g
Polyunsaturated Fat:
20
g
Cholesterol:
148
mg
Sodium:
235
mg
Fiber:
9
g
Sugar:
65
g
Tried this recipe?
Tag me on Instagram! @acookienameddesire #acookienameddesire
Here are from fun facts about Florida grapefruits:
Florida grapefruit harvest begins in October, stretching all the way into April. Florida grapefruit is available in market from November through May, with peak season sweetness and juiciness starting in January.
Florida's unique fertile soil and lush subtropical climate provides ideal growing conditions for grapefruit to thrive, making Florida grapefruit the sweetest and juiciest variety of grapefruit in the world. The sun, humidity and rains during Florida's growing season are a blessing when it comes to producing flavor and juiciness, but as a result, Florida grapefruit's exterior appearance doesn't always look as flawless as grapefruit grown in other areas - though it certainly tastes better.
One-half of a Florida grapefruit contains at least 100 percent of the recommended daily amount of vitamin C, an important nutrient that can help support a healthy immune system.
By providing your body with a natural boost in energy with significant amounts of essential nutrients like vitamin C, vitamin A, potassium and fiber, Florida grapefruit certainly makes for a healthy snack.