Easy and refreshing mango kiwi lemonade popsicles with only 3 ingredients. Your kids will love having this ice pop on hot summer days! 
I freaking love popsicles. Isn't it obvious?  I feel like I've made so many popsicles already this year, and I still have so many more I want to make. At least they have a long shelf life so I can take my time enjoying them. And I have them all to myself because my daughter is all over that popcorn ice cream I made not too long ago. I think these mango kiwi lemonade popsicles are one of my favorites. Oh, and did I mention we only use three ingredients here? H-h-h-holla!
We still have the dog (her name is Max by the way) at our house. She is driving me nuts! Before, I was happy to have a dog around and spent a lot of my mornings playing with her outside and giving her treats. Now, I am just ready for her to go and have the house back. The other day she pooped on the living room rug, and it's so hard to get stuff out of the fibers of that rug. And she's a big dog which means big ol' poos. I'm sorry. I shouldn't have said that. What kind of person am I to talk about that on a food blog.
Ignore all that.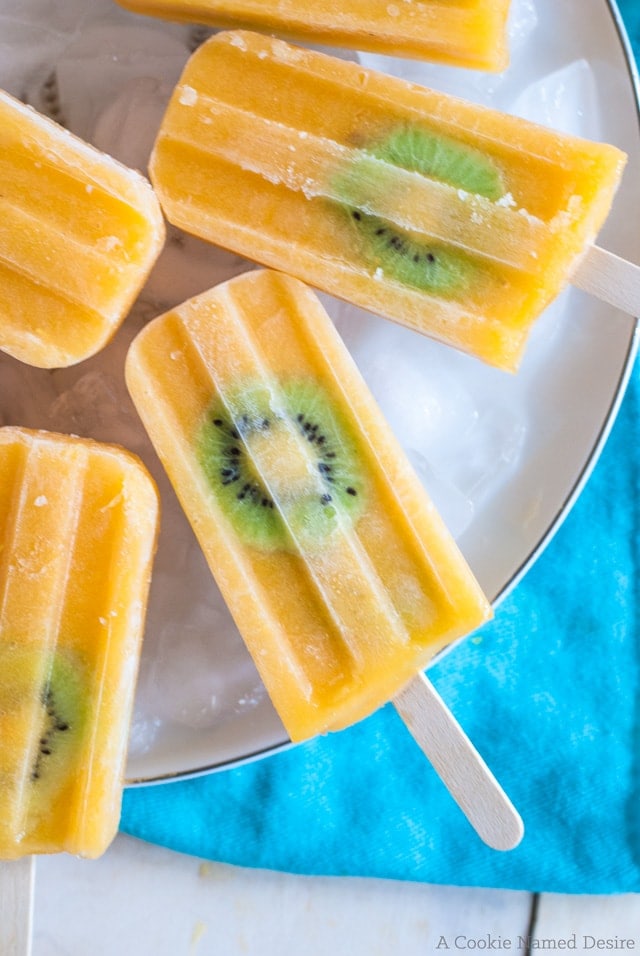 Starting over….
Max destroyed my inhaler. The mouthpiece is ruined. I need to go to see if I can get a new container for the medicine part of it. Lucky for her, that remained intact because it would've exploded if she bit through it, I'm sure.
That was the last straw. Unspeakable acts in the living room; I can clean that.. Destroyed inhaler; now that's a line crossed. I am very attached to my inhaler these days after I was hospitalized for an acute asthma attack. I take this inhaler situation personally.
Sigh.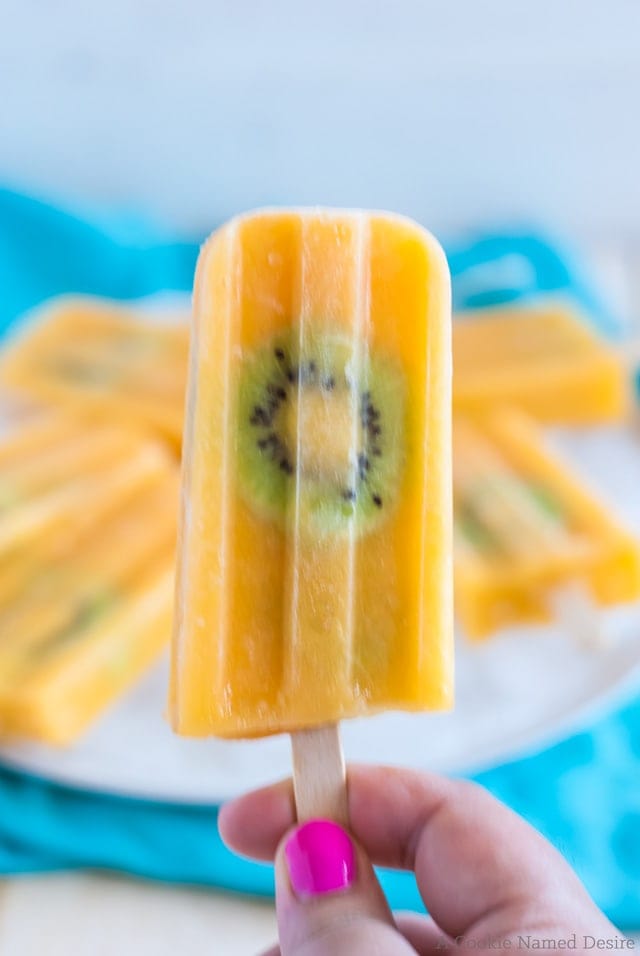 At least I have these incredibly fruity, summery tropical popsicles around. They taste like liquid sunshine and will be the main way I cool down on a hot day. I used alphonso mangoes which are smaller and sweeter than the regular mangoes you find in stores. I love the ones that are just ripened because they have this creaminess to them that reminds me a bit of sweetened condensed milk. And mango flavored sweetened condensed milk is amazing, folks. They are harder to find (and more expensive in many places), so you can use any mangoes you have and it will still be amazing!
Mango Kiwi Lemonade Popsicles Recipe
Recipe Card
Mango Kiwi Lemonade Popsicles
Sweet and tart mango kiwi lemonade popsicles
Ingredients
2

mangoes

1 ¼

cups

lemonade

3-4

kiwis

peeled and sliced
Instructions
Blend the mangoes in a blender or food processor until pureed. Add the lemonade and blend well. I used homemade lemonade (I always have some around during the warmer months). You can use store-bought, but it won't have that fresh citrus zing to it that I personally love!

Fill your popsicle molds ⅔ of the way full. It will seem as though we are being skimpy with the liquid, but the kiwi takes up a lot of room.

Place the sliced kiwi into the molds. I fit two slices per mold. The liquid is thick enough that the kiwi slices will not sink to the bottom. Freeze for about 1 ½ hours before inserting popsicle sticks (this is so we don't end up just pushing the kiwi down when we insert the sticks. Freeze until solid, about another 3 – 4 hours.
Nutrition
Calories:
56
kcal
Carbohydrates:
14
g
Protein:
1
g
Fat:
1
g
Saturated Fat:
1
g
Polyunsaturated Fat:
1
g
Monounsaturated Fat:
1
g
Sodium:
3
mg
Potassium:
155
mg
Fiber:
1
g
Sugar:
12
g
Vitamin A:
472
IU
Vitamin C:
40
mg
Calcium:
14
mg
Iron:
1
mg
Tried this recipe?
Tag me on Instagram! @acookienameddesire #acookienameddesire