A moist pumpkin cake with ginger chocolate and meringue swirls. It's the perfect way to bring in the cooler weather! 
Last year I didn't get a chance to really focus on making a lot of seasonal recipes. At least not as many as I wanted. I am trying to make up for that by creating as many recipes as possible and trying to keep up with the ideas that keep coming to mind. I've been thinking about making this pumpkin cake for you since before I even started this blog. It was inspired by this pumpkin meringue pie that I saw on pinterest and I wanted to make my own dessert based off it, but instead making it into a cake for a more dramatic effect. Between each layer I added a generous amount of ginger chocolate frosting which has a really nice bite of ginger and reminds me a bit of a spice cookie. Spice cookies are one of my favorite cookies. I remember dunking them into milk until they became nice and soggy and biting into that spicy sweet cookie. I begged my mom to buy them all the time until one day she convinced me they were no longer being made.
I actually believed her up until a few years ago.
The cake itself is wonderfully moist and has a delicate warming spice to it that isn't overbearing, but unmistakable. I use my own pumpkin spice mix which is a mix of freshly ground spices and dried ground ginger. (I recently saw a Good Eats episode where Alton shows you how to make your own ground ginger and I can't wait to try it!) It definitely holds its own against the bold flavors of the ginger chocolate frosting. The outer meringue frosting adds balance and lightness to the cake. Its cinnamon vanilla flavors add a welcome lightness to the deeper spices from the cake and chocolate. The toastiness of the meringue is addictive and adds gives the whole cake a "pumpkin s'mores" feel to it. You almost feel as though you are eating the cake out by the campfire.  It is one frosting you will not want to push to the side as you eat your cake.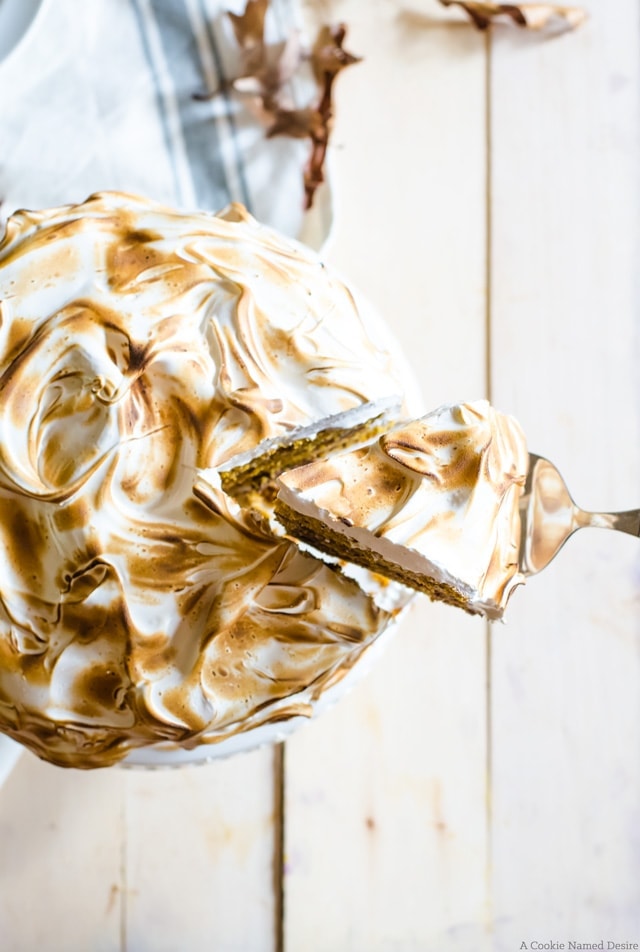 It took me almost two years to bring this cake to life, but it was so worth the wait. I love fall baking and making pumpkin everything and creamy butternut squash mac and cheese and big bowls of chili with buttery slices of cornbread. Now, if only the weather would catch up with my mindset. It is still over 90 degrees outside and my daughter keeps asking for dips in the pool and water balloon fights and I think "Nooooo, we need to make hot chocolate and s'mores and go on hikes wearing boots and jackets." Soon, Amanda, soon.
For now I am ignoring the heat and turning on the oven and working on hearty quick breads and candied yams and pies. You can find me hiding away with a large slice of this pumpkin cake while wearing my boots. And when fall does come, I'll be ready.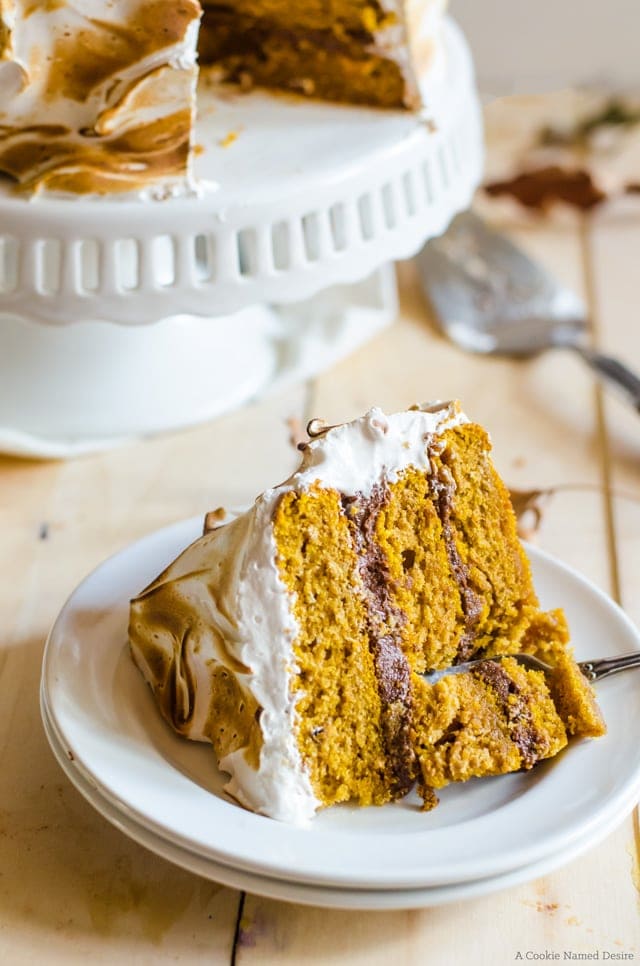 Recipe Card
Pumpkin Cake with Ginger Chocolate and Meringue
Light, moist, and packed with flavor, this pumpkin cake has it all!
Ingredients
For the Cake
2 ⅔

cups

flour

1

teaspoon

baking powder

½

teaspoon

baking soda

½

teaspoon

salt

2

teaspoons

pumpkin pie spice

¼

teaspoon

ground cardamom

1

cup

butter

room temperature

1

cup

lightly packed brown sugar

1

cup

granulated sugar

⅓

cup

oil

vegetable or canola works, I used avocado

3

large eggs

1 ½

teaspoons

vanilla extract

1 ⅓

cup

pure pumpkin puree

½

cup

milk

room temperature
For the Ginger Chocolate
½

cup

unsalted butter

room temperature

4

oz

semi sweet chocolate

melted and cooled

¼

cup

cocoa powder

1

cup

powdered sugar

1

teaspoon

ground ginger

1

tablespoon

finely chopped crystalized ginger
For the Meringue
1

cup

egg whites

about 6 – 7 large eggs

2

cups

sugar

⅛

teaspoon

salt

1

teaspoon

vanilla

1

teaspoon

cinnamon
Instructions
For the Cake
Grease and flour three 9-inch cake pans. Preheat the oven to 350 degrees F.

Mix together the flour, baking powder, baking soda, salt, and spices together. Set aside.

Beat the butter and both sugars together until light and creamy. Add in the eggs, one at a time and beat very well between each egg. Add in the vanilla, and then the pumpkin puree. Alternate between adding the flour and the milk to the batter, beginning and ending with the flour. Do not overmix.

Evenly divide the batter between the three cake pans. Bake for about 25 – 30 minutes, or until a toothpick inserted in the middle comes out clean. Remove from the oven and allow to cool in the pans for about an hour before removing and allowing to cool completely on wire racks.
For the Ginger Chocolate Frosting
Beat the butter until smooth and creamy. Add the melted chocolate and stir until combined. Add in the remaining ingredients and mix until well combined. Tip: mix the frosting on the lowest speed with the paddle attachment to ensure any air bubbles in the frosting are beaten out.
For the Meringue
Whisk together the egg whites, sugar, and salt just until mixed together. Place over double boiler and whisk constantly until the sugar is dissolved. Return to a stand mixer, or beat with a hand mixer until stiff, glossy peaks form and the bowl is cool to the touch. Beat in the vanilla and cinnamon
Assembly
Level the cake as necessary and cut off the edges around the cake if desired. (I find this is all easier to do after leaving the cakes in the freezer for a few hours). Take half the ginger chocolate and place on one cake. Top with another cake and the remaining ginger chocolate frosting. Top this with the last cake. Spread the meringue around the sides and top of the layered cake. The cake looks best when you make swooping swirls all around. Use a kitchen torch to toast the meringue. Make sure you really toast any bumps and curls in the meringue to make them really pop
Notes
Store in an airtight container for up to five days
Nutrition
Serving:
1
g
Calories:
448
kcal
Carbohydrates:
64
g
Protein:
5
g
Fat:
20
g
Saturated Fat:
10
g
Polyunsaturated Fat:
9
g
Cholesterol:
65
mg
Sodium:
234
mg
Fiber:
2
g
Sugar:
48
g
Tried this recipe?
Tag me on Instagram! @acookienameddesire #acookienameddesire