Give the perfect holiday food gift with these mocha salted caramel hot chocolate on a stick - or make them for yourself for an easy and fun way to enjoy hot chocolate!
If you are still looking for a great last-minute gift to give for the holidays, this mocha salted caramel hot chocolate on a stick is perfect. It is super simple to put together and creates a creamy, delicious hot chocolate that you will honestly want to keep for yourself.
Which you can do.No judgment here.
Hot chocolate is that one drink that I have to have all winter long. There is nothing better than looking outside, watching the snowfall and cuddling my daughter under a big blanket while sipping on hot chocolate. This winter may be warm, but I still crave lots and lots of hot chocolate.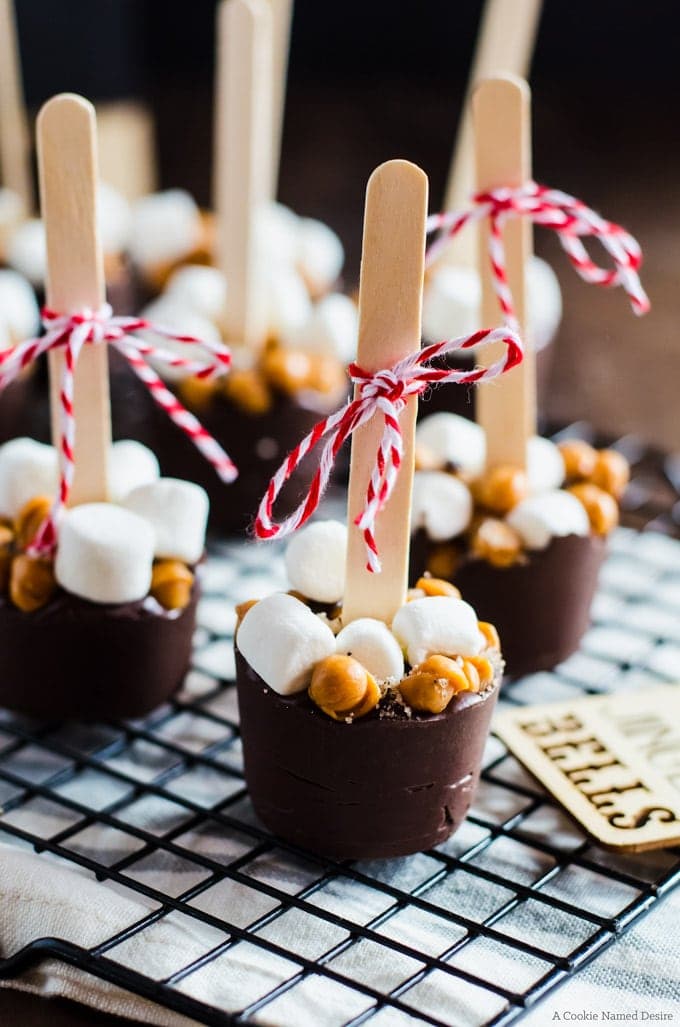 The first time I ever heard of hot chocolate on a stick was a couple of years ago when I was doing my subscription box review blog and I got one in a box. It was amazing.
In Richmond, Surrey, there was a chocolate bar where they served the most decadent food and the most incredible hot chocolate and chocolate cocktails.
Their hot chocolate tasted almost just like pure melted chocolate with a bit of cream to thin it out ever so slightly. That's what the hot chocolate on a stick I tried tasted like.
And that is what I think I achieved here with these mocha salted caramel hot chocolate on a stick. It is rich and incredibly chocolaty and a nice balance of espresso and salted caramel.
It's hard to have just one mug a day. And sometimes I don't stick to just one. Just being honest here.
How Do You Make Hot Chocolate on a Stick?
It is actually all about making a thick chocolate mixture that will solidify at room temperature but melt easily in hot liquid. The base recipe is a mixture of chocolate and cocoa powder to make the finished hot chocolate extra chocolaty, plus sugar to sweeten the finished drink, plus a touch of salt to balance the flavors.
It is easy enough to adjust your recipe to incorporate any flavors you might like, provided it does not introduce too much liquid to the mixture.
I prefer using dry ingredients so that I do not need to compensate for any liquid I add to the mixture. If I am adding a liquid, it is usually just a little bit of extract.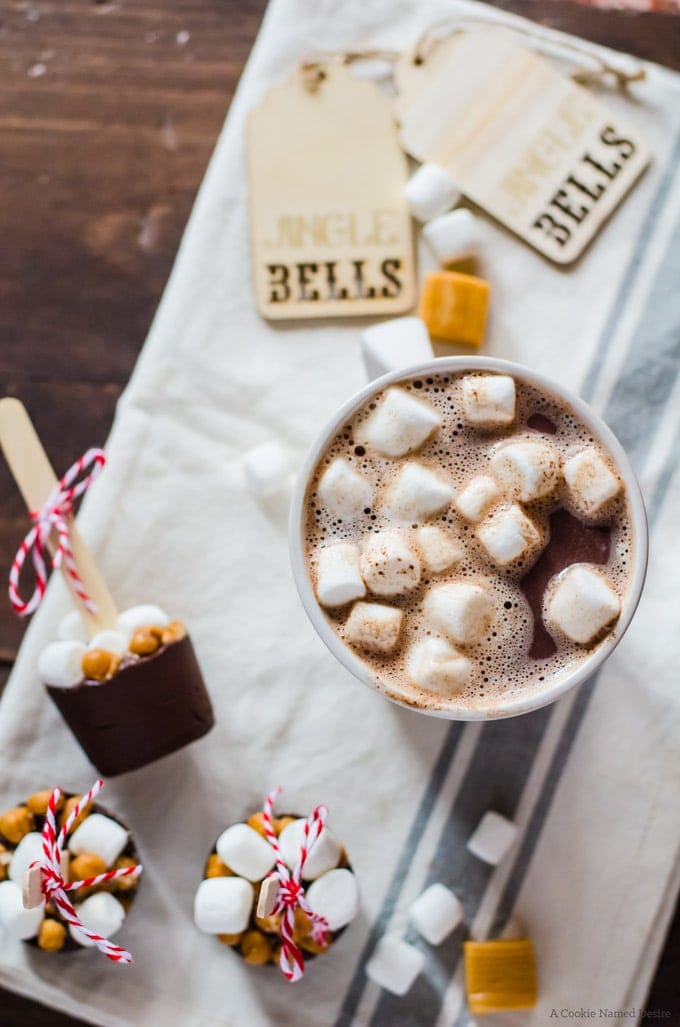 How to Customize Your Hot Chocolate on a Stick
You can mix and match pretty much any flavors you can think of. As mentioned previously, it is easier to incorporate dry ingredients to your mixture. I love adding spices like chai spice, or even some cayenne for a spicy hot chocolate.
I've had readers experiment with powdered dried fruits, and even dried lavender and rose for a floral infusion. You can also try dried orange peel or ginger.
Personally, I find it is better to use extracts and powdered spices over dried flavorings that will not mix into the hot chocolate, but that is entirely up to you!
How to Store Your Hot Chocolate
I like putting my hot chocolate on a stick in the small plastic gift bags or cellophane. The best place for them is in an airtight container, but as long as they are in a cool, dry area, they will be fine and last for a while.
So go ahead and make a batch for someone you love.... like yourself!
If you want more hot chocolate in your life, make sure you check out my guide on making the perfect homemade hot chocolate. You can also check out some of my favorite hot chocolate recipes like Nutella hot chocolate and Tiramisu hot chocolate or gingerbread hot chocolate! If you want something exotic, check out my friend's cardamom rose hot chocolate.
Recipe Card
Mocha Salted Caramel Hot Chocolate On a Stick
Mocha salted caramel hot chocolate on a stick - a delicious and fun way to drink your hot chocolate!
Ingredients
18

oz

chocolate

I did a mid of dark and semi-sweet

½

cup

cocoa powder

I used Dutch processed, but natural will work as well

1

cup

powdered sugar

¼

cup

espresso powder

¼

teaspoon

salt

⅓

cup

caramel bits

20

unwrapped soft caramels

mini marshmallows

Fleur de sel or Maldon salt
Instructions
On a double boiler, melt the chocolate until smooth. Stir in your cocoa powder, powdered sugar, espresso powder, and salt. The mixture will be very thick and you may think it won't work, but keep on working! It'll come together!

Get out your mini paper cups and popsicle sticks. Fill a piping bag with the chocolate mixture and cut out the tip.

Squeeze a small amount of the chocolate in the bottom of your paper cups, top with a soft caramel, then fill with more chocolate. Insert your popsicle sticks. The mixture should be thick enough to hold them up without a problem.

Top with more caramel bits and a couple of marshmallows. Sprinkle the salt over the chocolate.

Allow to harden 4 - 6 hours, preferably overnight.

Peel off the cups and place your hot chocolates in a cellophane bag and sprinkle in more marshmallows for topping (because let's be serious, that little bit of marshmallow on top won't be enough!)

To make hot chocolate: Heat 5oz whole milk and 2 oz heavy cream until hot and steaming. Place one of the hot chocolate sticks in the mug and swirl to melt. Top with more mini marshmallows.
Notes
Make sure you prepare all your ingredients by having them out and ready! Once you start, the process goes pretty quickly!
Nutrition
Serving:
1
g
Calories:
232
kcal
Carbohydrates:
36
g
Protein:
3
g
Fat:
9
g
Saturated Fat:
5
g
Polyunsaturated Fat:
3
g
Cholesterol:
7
mg
Sodium:
142
mg
Fiber:
1
g
Sugar:
28
g
Tried this recipe?
Tag me on Instagram! @acookienameddesire #acookienameddesire