Learn how to make seriously a seriously giant donut using a foolproof recipe that gets you the perfect crisp exterior and melt-in-your-mouth soft interior!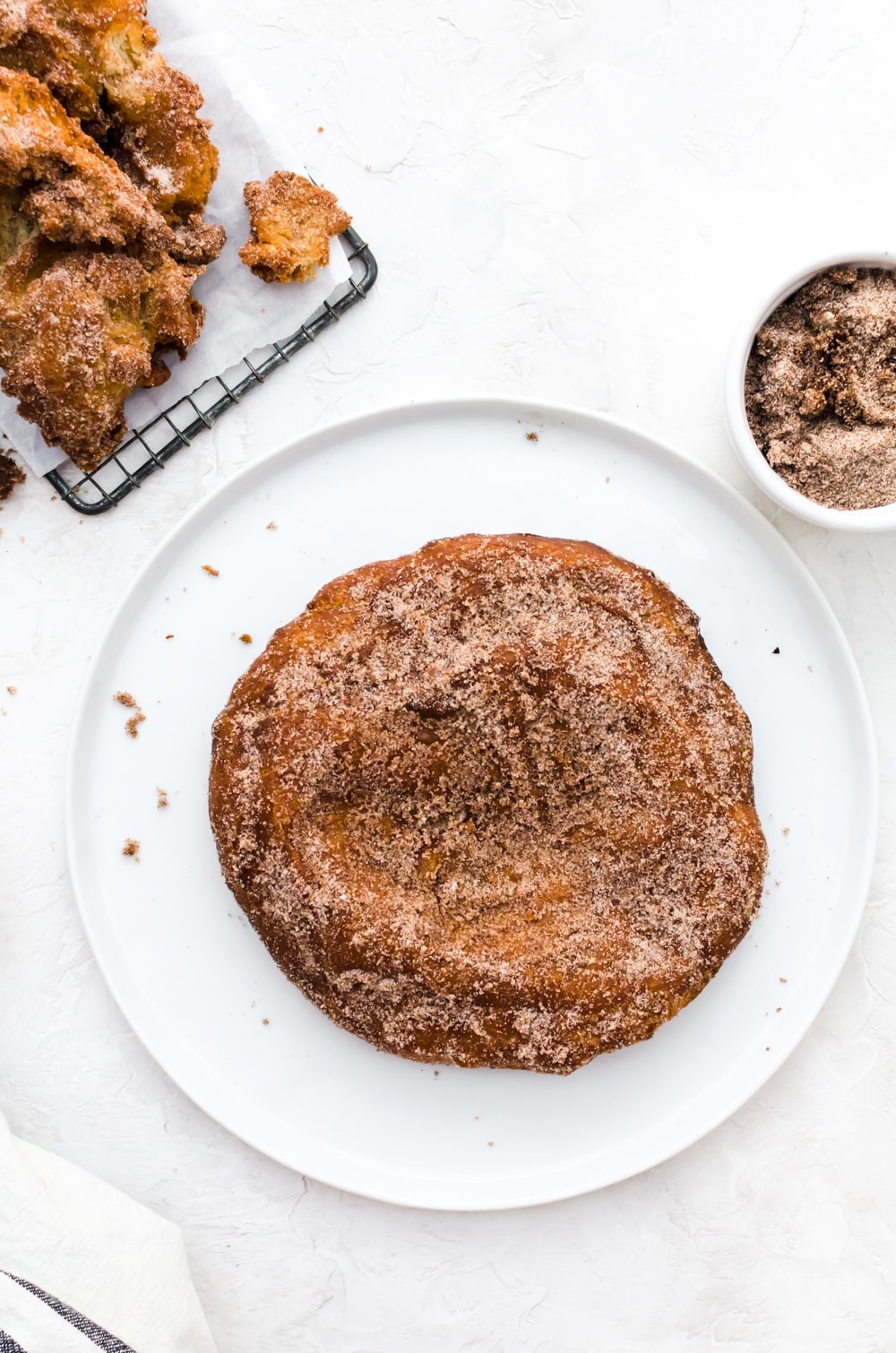 Why are doughnuts so delicious? For me, I think it's the crisp outside that gives way to a soft, fluffy inside that basically melts in your mouth. I am seriously addicted to that, and I know I'm not alone which is why we all crave freshly made donuts and not those day-old messes.
So, when I saw there was a recipe for a giant donut in Matty Matheson's cookbook, I was all over it. I mean, who doesn't want a giant donut in their life?
I started making the recipe, and it calls for a lot of everything. That's okay, I just need to make sure I don't mess up the recipe, right? I finish proofing and take a look at the dough. That is a LOT of dough. I mean, after deflating, it still took up over half my Kitchenaid mixing bowl.
The directions are somewhat vague. It says to just use a large Dutch oven to fry the doughnut. The dough takes up about an entire large Dutch oven without frying. Instead, I decide to play it safe and cut the dough in half. It starts off okay. The frying on one side is going well, and it is about time I flip.
Only, I can't.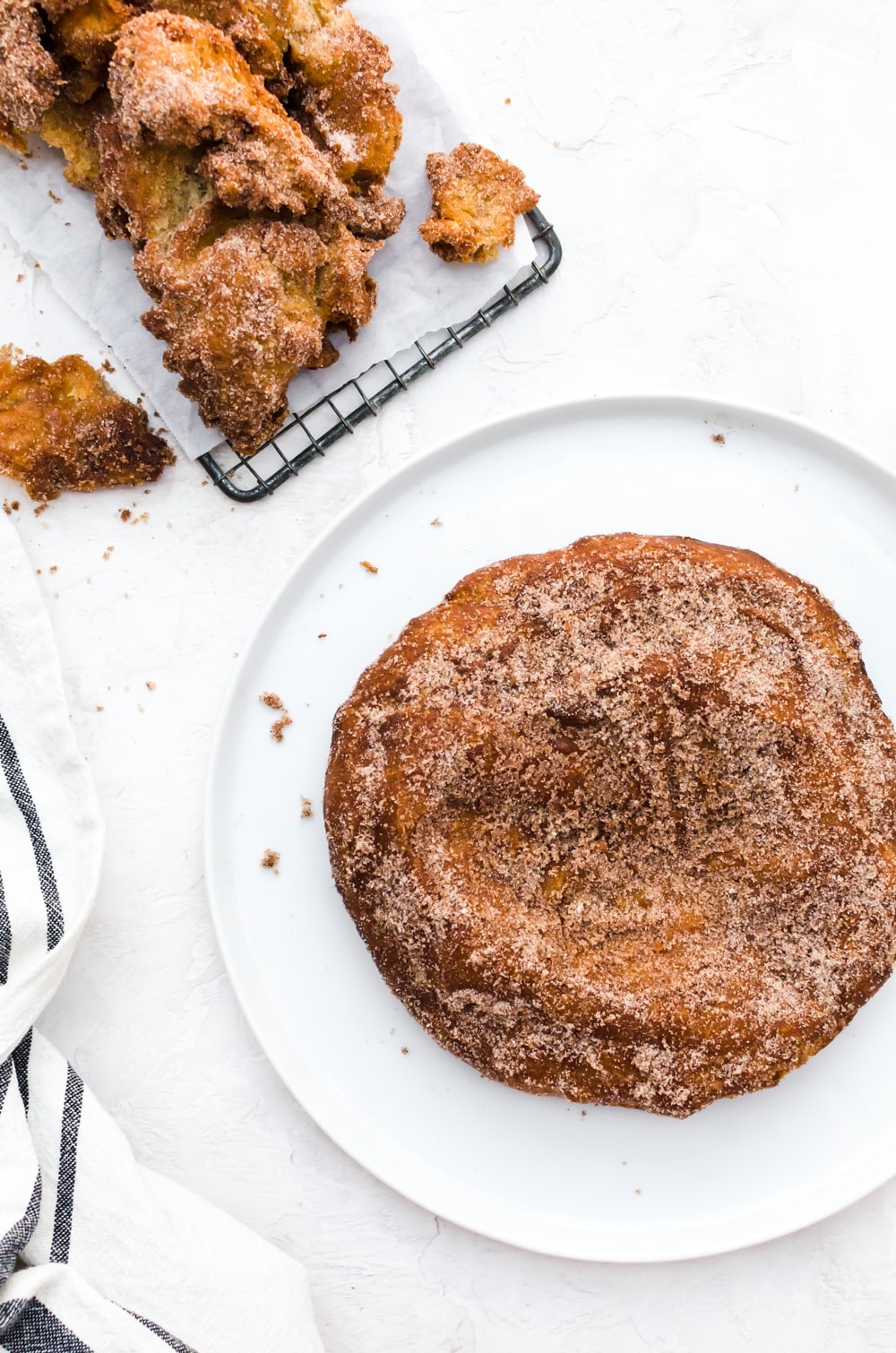 There is just no way to flip this huge doughnut because it's expanded to touch all the sides of the Dutch oven and is now about 3 ½ inches thick. Every time I try to flip, it starts to rip because of the sheer weight and density of the thing. No problem, I'll just cheat and add weight to the top of the doughnut so it submerges into the oil to cook the top. As it cooks, it should lighten as it gets airier.
Not today. It's basically almost cooked through, but I NEED to flip it. The bottom is starting to get too dark. So I decide to try my luck and just flip it fast. It rips horribly, I splash hot oil onto my arm. I am screaming and crying and cursing every decision in my life that led up to this very moment. In anger, I decide to let it stay ripped and break it into pieces to fry up little fritter-shapes of doughnut.
This was using half the dough in the largest Dutch oven I own. The only way I could've ever made the full-size giant donut was if I had a Dutch oven that was as wide as a round side table. I don't know Matty Matheson or what kind of Dutch ovens he thinks we own in our homes. The giant donut is a genius idea, but not realistic by any means.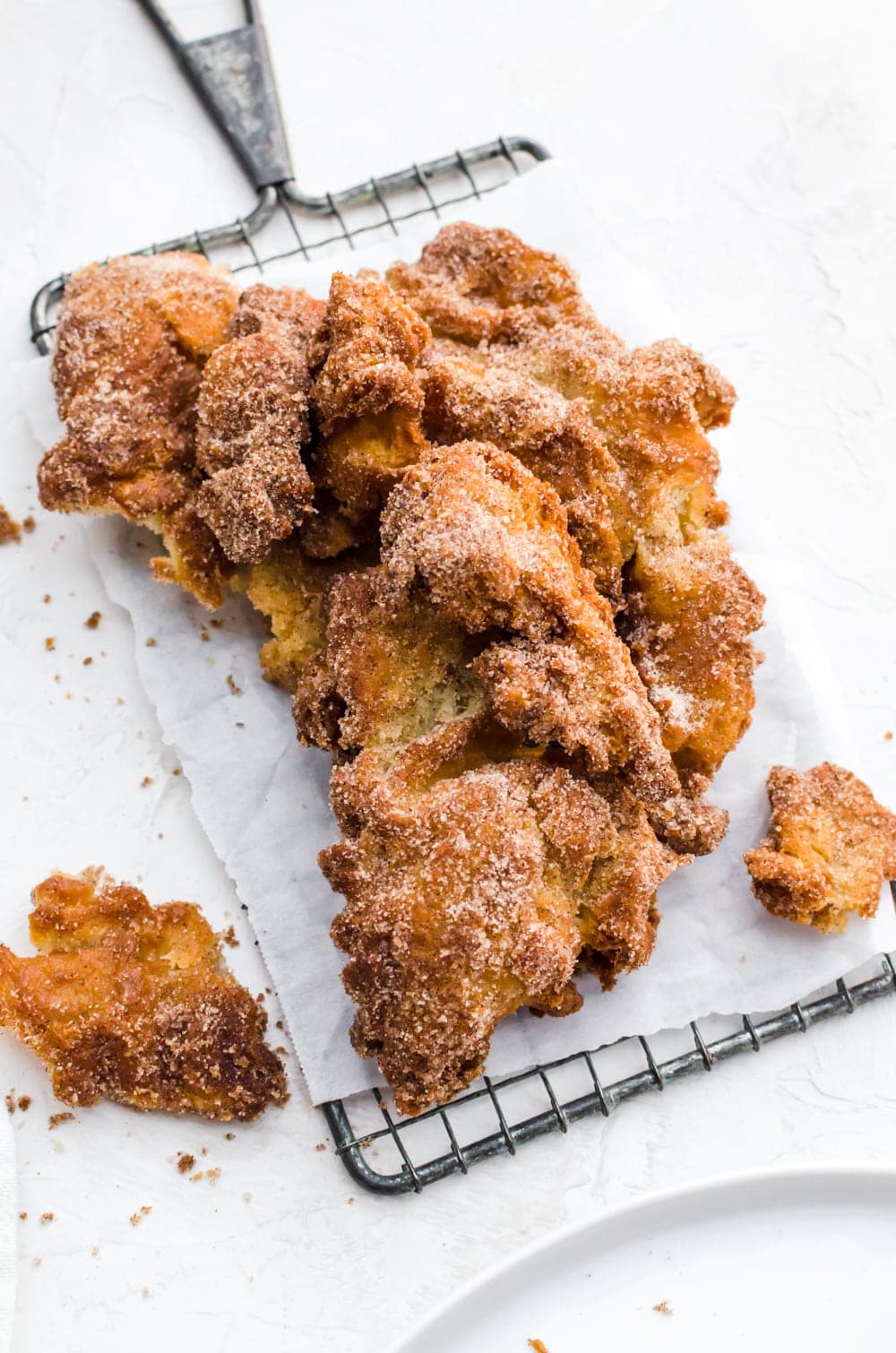 I took the remaining dough and divided it into four. I was able to make four giant donuts large than my head and still about 2-inches thick. These were the perfect giant size and so much easier to make in a regular kitchen.
I've tried other recipes from Matty's cookbook. A lot of them were good. And I learned to trust him when he says dessert isn't his strong suit. My advice is to go straight to his pb&j burgers and make 8 giant donuts.
Want more doughnuts in your life? Try these:
Recipe Card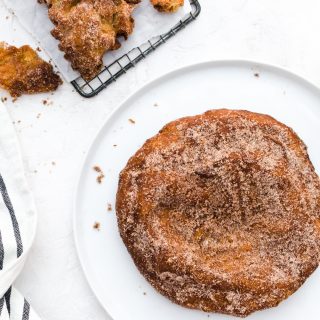 Giant Donuts
No one will be able to believe their eyes once they take a look at one of these giant donuts
Ingredients
2

cups

480 mL whole milk

1

cup

240 mL warm water

3

tablespoons

instant yeast

1

cup

2 tablespoons (200 g) granulated sugar

4

large eggs

room temperature

1

tablespoon

vanilla extract

1

cup

240 mL canola oil

2

teaspoons

kosher salt

8 ½

cups

1kg all-purpose flour
Cinnamon Sugar Mixture
⅔

cup

granulated sugar

¼

cup

ground cinnamon
Instructions
Heat together the milk and water until it is very warm, but not hot to the touch. Add the yeast and 2 tablespoons of sugar. Leave to get foamy - about 2 minutes.

Use your stand mixer with the whisk attachment to beat together the eggs sugar, and vanilla until light and fluffy.

Add in the oil and salt and mix to combine.

Stir in the yeast mixture and mix until just combined.

Replace the whisk attachment with the dough hook, then begin to mix in the all-purpose flour on low speed. Once the mixture starts to combine, knead on medium-high for 8 - 10 minutes

Lightly grease a large bowl and place the dough inside. Allow to double in size - about 30 minutes. While it is rising mix together the ingredients for the cinnamon sugar mixture in a bowl.

Heat oil in a very large Dutch oven until it reaches 325 degrees F.

Evenly divide the dough into 8 pieces. Roll out one piece at a time until it forms a large, thin disc.

Fry on both sides until golden brown. About 5 - 6 minutes per side.

Remove and place on a wire rack double lined with paper towels to catch the excess oil.

While the doughnuts are still hot, toss with the cinnamon sugar mixture.

Serve fresh.
Nutrition
Serving:
1
giant donut
Calories:
829
kcal
Carbohydrates:
110
g
Protein:
21
g
Fat:
33
g
Saturated Fat:
4
g
Polyunsaturated Fat:
28
g
Cholesterol:
99
mg
Sodium:
597
mg
Fiber:
5
g
Sugar:
7
g
Tried this recipe?
Tag me on Instagram! @acookienameddesire #acookienameddesire