These sweet little white chocolate raspberry cups will be an instant hit in your house. Bonus: they are totally guilt free and keto-friendly.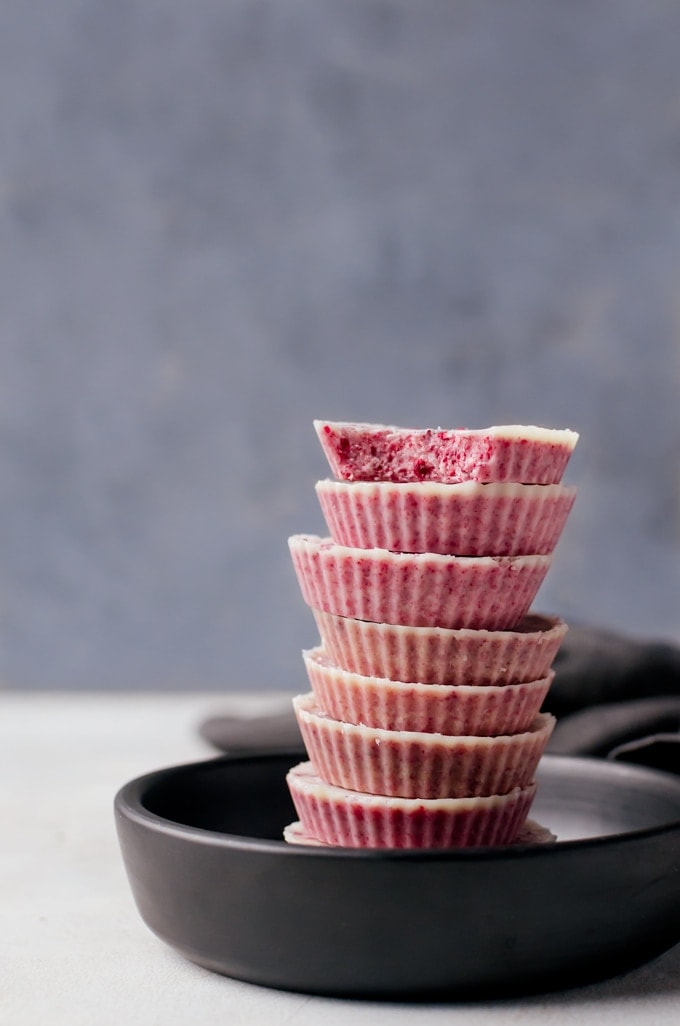 So how much do you know about the keto diet? I can honestly say that I know almost nothing about the lifestyle, except from what I can gather from the name. Which basically means you put your body into ketosis... I also understand that in the keto diet, this is basically done via (mostly or completely) cutting out carbs. So, yeah, I don't know much. But my friend, Carolyn, is an expert. In fact, she has a blog and a cookbook focused on the keto diet.
I wasn't sure how I would feel about making the white chocolate raspberry cups because I wasn't familiar with using some of the ingredients such as the cacao butter - which by the way is what makes white chocolate true white chocolate. The stuff without it isn't real white chocolate. It's an expensive ingredient and I've never used it in this form before. I was also unfamiliar with erythritol sweetener, but instead, I did opt for another type of similar sweetener I already had on hand so as to not spend too much money on an ingredient I wasn't sure I'd use up. It did have some erythritol in it. Regardless, I was excited to learn about an entirely different way of making food and treats.
I also wanted lots of raspberry, so I ended up crumbling more freeze dried raspberry and sprinkling it on top of the white chocolate raspberry cups. There isn't as much of a clear distinction between the layers than if you did not add the extra raspberry to the top. If you want less raspberry or more split between the layers, follow the directions as-is. Either way, these are incredible. I ended up making 10 batches in a week because I had requests from so many people in my family for them. It made me wish I did go with the original sweetener because I definitely would've made a dent in the bag!
Recipe Card
White Chocolate Raspberry Cups
Warning: these sweet little treats are highly addictive! Make a double batch of these white chocolate raspberry cups. 
Ingredients
½

cup

coconut oil

2

ounces

cacao butter

½

cup

freeze-dried raspberries

pulverized to a powder

¼

cup

powdered erythritol sweetener
Instructions
Add the coconut oil and cacao butter to a saucepan and heat until melted.

Add the raspberry powder and the sweetener.

Stir until well combined.

Add 10 cupcake liners to a cupcake tin and evenly divide the mixture into the liners.

Chill for at least an hour to firm.
Nutrition
Tried this recipe?
Tag me on Instagram! @acookienameddesire #acookienameddesire