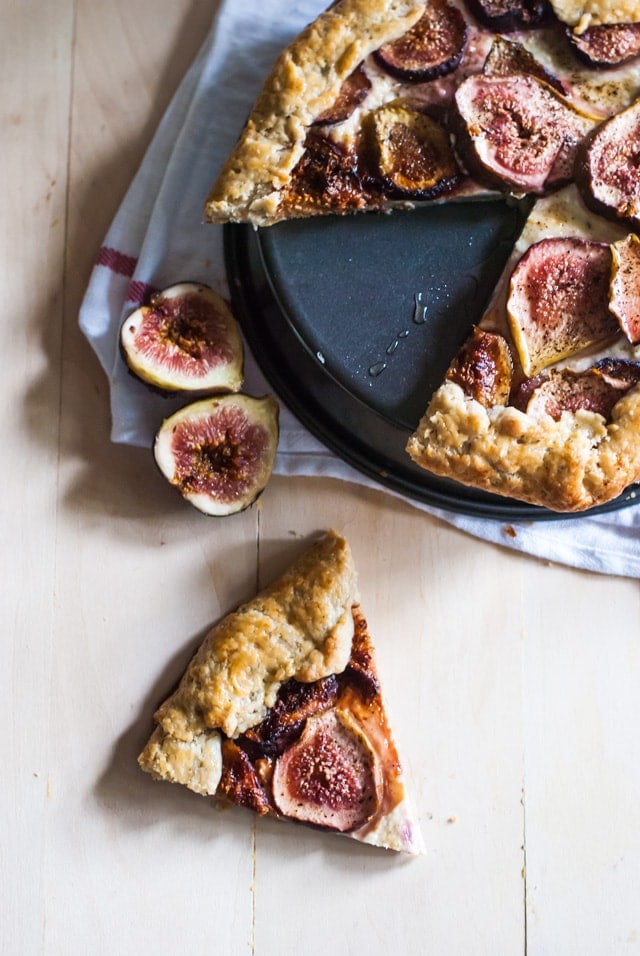 I always get so excited whenever our produce market has fresh figs. It only happens for a couple of weeks and they go fast, so I try to take advantage whenever I can. Fresh figs don't last very long so you have to use them up pretty fast. I wanted to make a Turkish fig cake along with this fig galette with honey cheesecake, but unfortunately, i bought the figs the day before my power went out and I wasn't able to bake the cake in time. At least I had this galette to pull me through.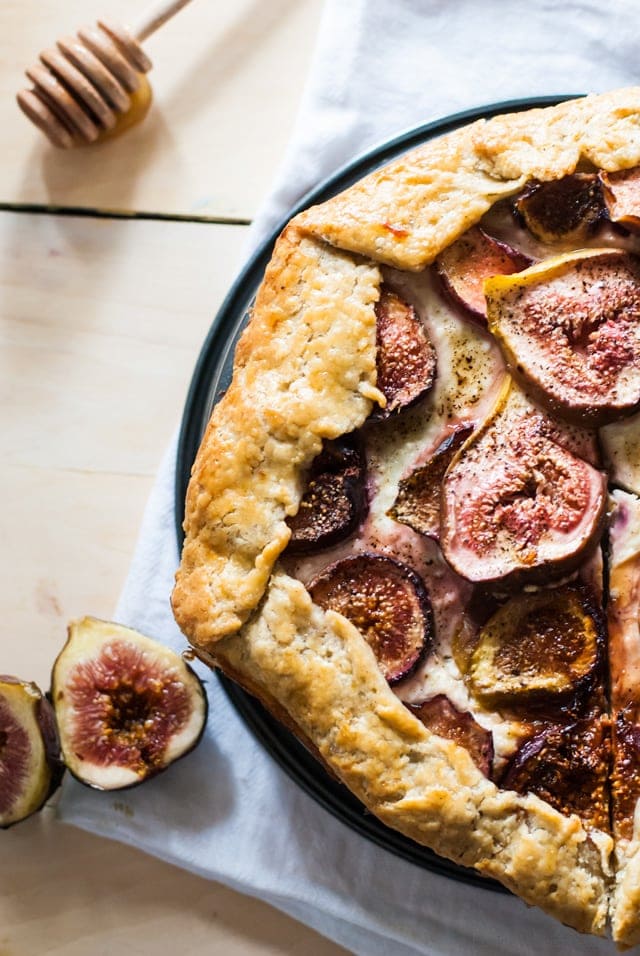 I am obsessing over this galette because there is a cheesecake layer right under those figs. So you are basically eating a pie and a cheesecake all on one simple galette. What could be better?
Out of all the galettes I've made so far, I think this is my favorite to share. It has a really nice balance of flavors and that crust is so buttery and crispy. I used the same
Galette dough I always use, but this time I chilled the dough overnight and that made all the difference in the world. You don't have to chill the dough that long, but if you want a super crispy crust, it is worth the wait.

What are your plans for the 4th of July? Our town stopped doing fireworks on the 4th years ago, so they are having them tonight. I want to take my daughter, but I'm afraid of driving in the mayhem, especially since I know so many people will be irresponsible and drink. I might find a quiet place a little bit away to watch them with her. Besides that, I'll probably be visiting my grandma for dinner and spending time with her. She doesn't handle any holiday on her own very well, and N loves to go see her.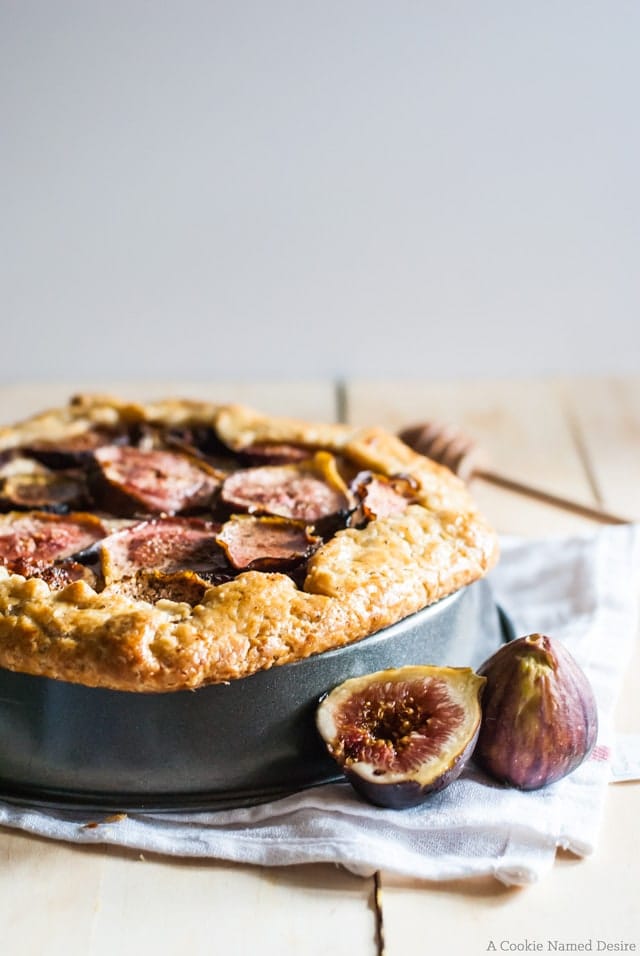 If you are planning anything fun, I can't recommend this galette enough. It makes one, but you can easily double the recipe for two. I also recommend my Pavlova Cupcakes and Strawberry Shortcake ice cream for the kids. Happy 4th of July, my American readers!!
Recipe Card
Fig and Honey Galette with Cream Cheese and Mascarpone
Ingredients
Galette Dough
11/4

cups

all -purpose flour

½

teaspoon

salt

½

teaspoons

sugar

4

tablespoons

½ stick frozen butter, cut in cubes

4

tablespoons

½ stick chilled butter, cut in cubes

¼

cup

ice water
Filling
4 - 5

figs

of medium to large size

3

oz

cream cheese

1 ½

oz

mascarpone

3

tablespoons

honey

plus extra for drizzling

½

teaspoon

cracked black pepper

egg wash

egg yolk, plus 1 tablespoon water
Instructions
Make the galette dough.Mix together the flour, salt, and sugar together. Cut in the butter using a pastry cutter or food processor. Add the ice water and mix until the dough begins to come together. Turn the dough onto plastic wrap and use the wrap to press the dough together and form a ball. Flatten the ball to a disc and chill for at least 1 hour or overnight.

Turn out the dough onto a lightly floured surface and roll out into a circle a little over a foot in diameter - accuracy is not too important here. Gently fold the dough into a triangle and transfer to a parchment-lined baking sheet and unfold.

Preheat the oven to 400 degress F.

Slice the figs at about a medium thickness. We want them more substantial than how we would normally slice so that they may hold up better during baking, but not so thick that they protrude out of the galette a lot. Set aside.

Mix together the cream cheese, mascarpone, and the honey together. Mix well and spread onto the galette, leaving a 1 ½ inch border all around.

Place the sliced figs all over the cream cheese mixture in a circular pattern. Fold over the edges of the galette onto the figs. Brush the egg wash over the galette dough.

Sprinkle the cracked black pepper over the galette.

Bake for approximately 20 - 25 minutes, or until the edges are a golden brown. Drizzle with more honey if desired prior to serving.
Tried this recipe?
Tag me on Instagram! @acookienameddesire #acookienameddesire