Enjoy the holidays with your favorite guy with a few taste and unique holiday prosecco cocktails. You both will love caramel apple bellinis and boozy eggnog egg creams made with VOVETI prosecco as you enjoy the night together!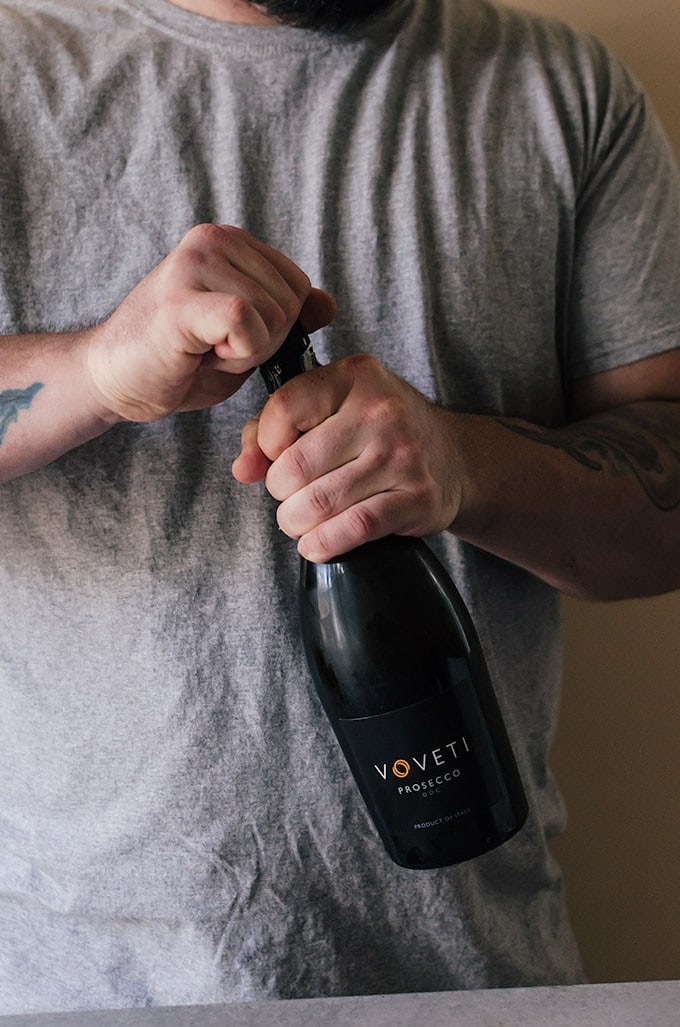 There is nothing I love more than coming up with fun holiday drinks. That might seem a little obvious since I just posted this recipe for mulled apple cider. Oh and this apple cider hot toddy just a couple of weeks ago. I realized that I never really make anything beyond the occasional mimosa and when I partnered up with VOVETI again for the holidays, I thought it would be super fun to come up with a couple of cocktails with my chef/budding mixologist friend, Ben using their prosecco.
And I am kinda stoked to share the caramel apple bellini and boozy eggnog egg cream that we thought would be great for a holiday happy hour at home for our friends.
First is the caramel apple bellini which I love because you know I am all about the apples this year (see apple spice cake and apple cider hot toddy or even the apple cider caramel as proof) This particular recipe is best prepped before you are planning to mix your prosecco cocktails because there is a bit of heating and cooling involved. We like to make our mix the night before so it can chill overnight.
Now, there is some debate between Ben and I as to what should rim the glasses. He prefer candy canes which are surprisingly good with the caramel apple bellinis and makes the drink a fall/winter fusion. Definitely worth trying. Me? I am more interested in something a little more traditional and love a graham cracker rim. It makes the cocktail taste almost pie-like and you know how much I love caramel apple pie!
The eggnog egg cream might be my favorite of the two cocktails. Ironically, this recipe isn't technically an egg cream which doesn't contain egg nor cream whereas the eggnog we use has both egg and cream in it which at face value is more "egg creamish" than an actual egg cream.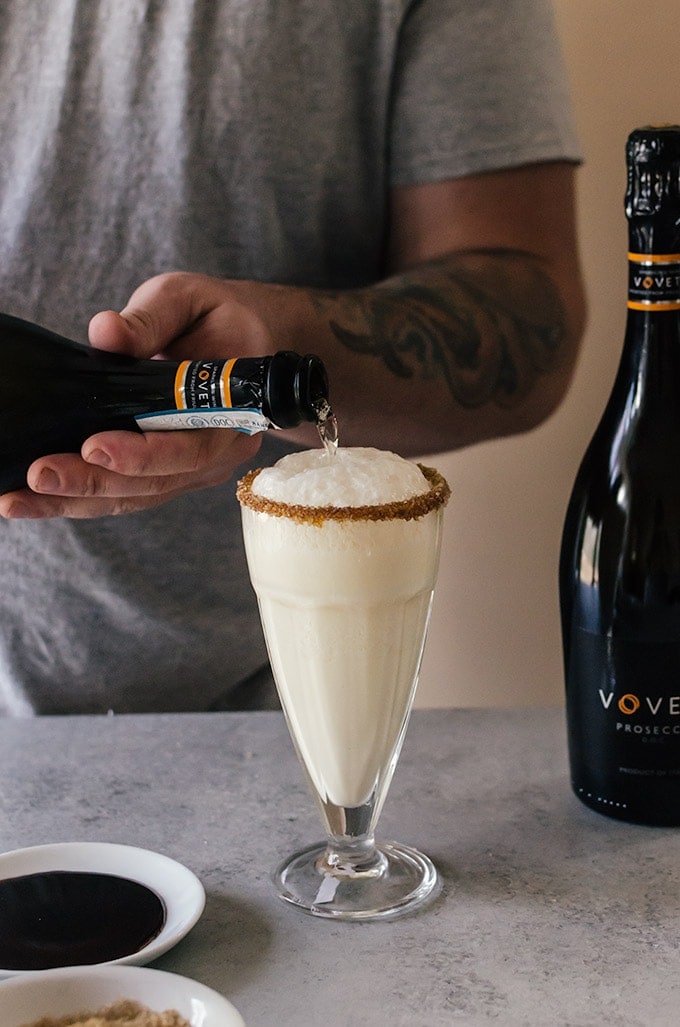 We used our favorite pre-made eggnog, but you can also feel free to use a homemade eggnog if you want. To up the holiday flavors in the nog, I added a few dashes of nutmeg and cinnamon. The molasses rim and turbinado sugar ring finish off the boozy eggnog egg cream for an irresistible drink that both he and I love.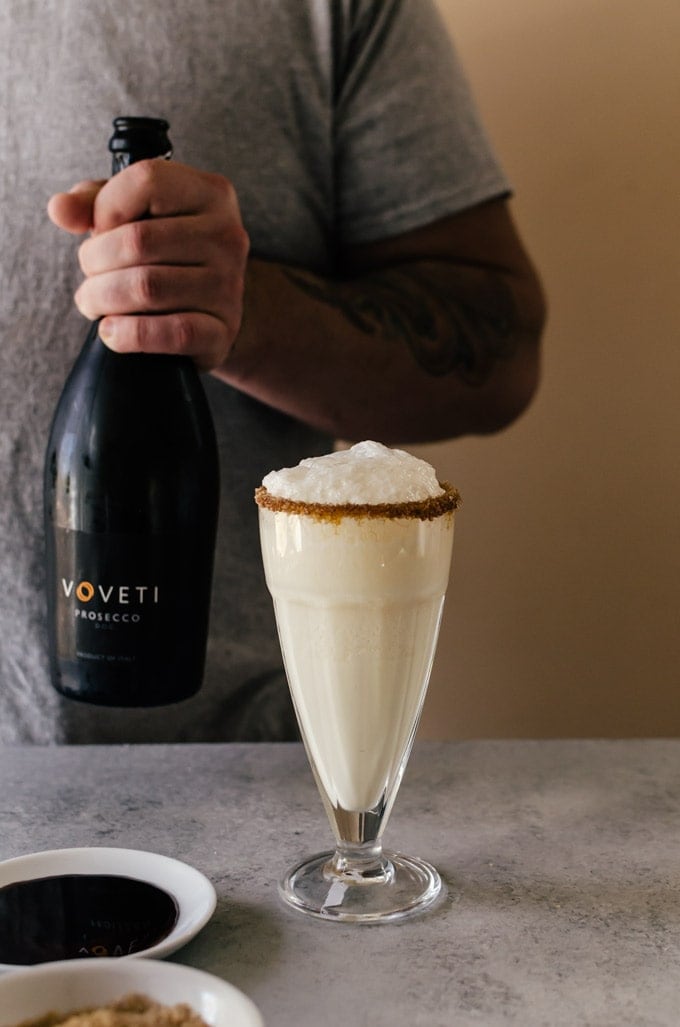 Of course, VOVETI adds the carbonation that you have in an egg cream, except this is boozy, and lends its own flavor to round out the flavor profile. We also love VOVETI because it is high-quality, but affordable prosecco we can use for our holiday happy hours which means if we finish a bottle with a few friends, we can break out a second without worrying about the costs. Which is great because I definitely want at least one of each cocktail!
Caramel Apple Bellini
Author:
Prep time:
Cook time:
Total time:
Ingredients
2 cups apple cider
1 stick cinnamon
3 tablespoons caramel, plus more for garnish
3 cups VOVETI prosecco
1 candy cane, crushed (optional)
2 graham crackers, crushed (optional)
Instructions
In a saucepan, heat the apple cider, cinnamon, and caramel together. Stir constantly and bring to a simmer for about 4 minutes.
Strain out the cinnamon and pour the cider mixture into a container and cool to room temperature before moving to a refrigerator to chill completely, preferably overnight. (If you need to speed up the process, you can place the mixture into a gallon bag and place in an ice bath for about an hour, adding more ice as needed.
Add some caramel to a small plate, add your candy cane or graham crackers to another small place and dip your cocktail glasses in the caramel, then in the candy cane or graham cracker.
Add 2oz of the apple cider to a champagne flute, add 4oz of the VOVETI prosecco. Repeat for the remaining drinks. Serve immediately.
Recipe Card
Eggnog Egg Cream
Ingredients
molasses

turbinado sugar

2

cups

eggnog

¼

teaspoon

ground nutmeg

½

teaspoon

ground cinnamon

1

teaspoon

vanilla bean paste

2

cups

VOVETI prosecco
Instructions
Dip the rim of your glasses in the molasses, then dip the glass in the turbinado sugar.

In a small bowl, mix together the eggnog, nutmeg, cinnamon, and vanilla together.

In milkshake glasses, add equal portions of eggnog and VOVETI prosecco, in that order.
Tried this recipe?
Tag me on Instagram! @acookienameddesire #acookienameddesire