You are going to fall in love with fall-inspired apple cider caramel sauce. Drizzle on cakes, ice cream, or even use as a dip. No matter what, you can't go wrong!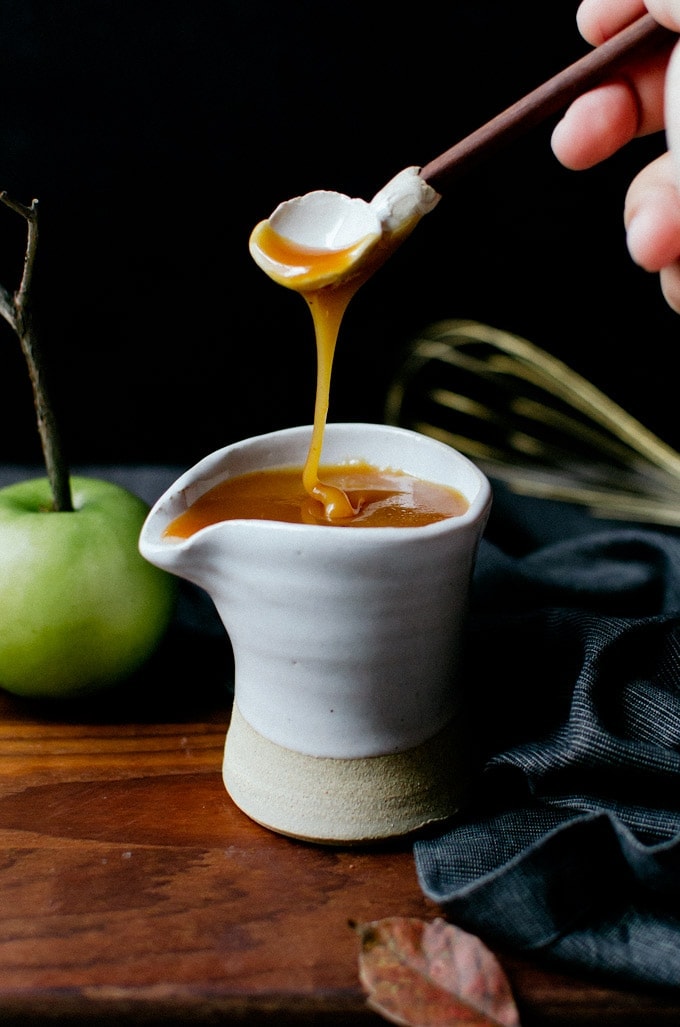 I am officially calling it. Fall 2016 is the year of apple cider and caramel. Gone are the days of pumpkin spice everything, which, let's be honest, has kind of gone out of control the past couple of years. Not going to lie though, I still enjoy the occasional pumpkin spice latte. But nothing can beat apple cider. And caramel. And especially apple cider caramel. And oh, look at that, here we are with a recipe for apple cider caramel.
In case you are wondering, no, I am not planning on working on my subtly or anything crazy like that.
I've been dreaming of this apple cider caramel (and another recipe I hope to share with you soon) the moment I first saw apple cider for sale at the local farm. At first I wondered if I should try to find out their amazing apple cider doughnut recipe and then had the idea to infuse apple cider into about a dozen other things and got started right away. So, I guess this is an official warning. There are more apple cider recipes in the works in the CND kitchen!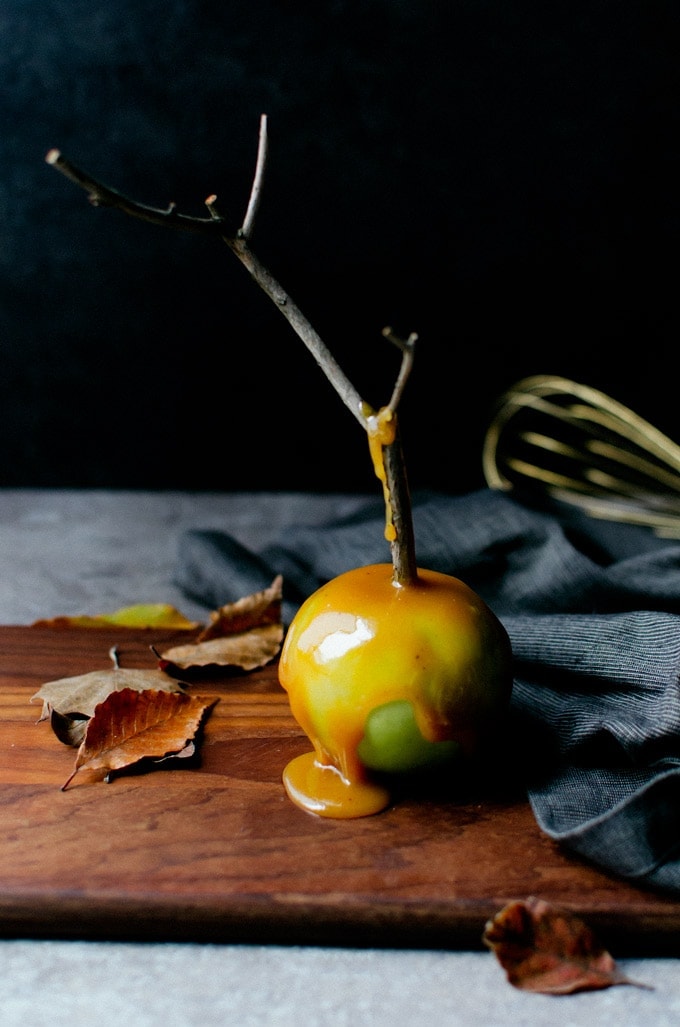 If you wanted to use this recipe for candy apples, I recommend cooking it a different method. I prefer to add all the ingredients together in a small saucepan and boil for approximately 10 minutes, or until the mixture is a dark amber color and visibly thicker. Keep a close eye on it and use a heavy bottomed saucepan to prevent burning!
Did you know you can make apple cider at home? Check out my guide which includes instructions on making cider using your stove top, slow cooker, and instant pot.
Recipe Card
Apple Cider Caramel
A sweet apple cider caramel sauce that is perfect for dipping and adding to ice cream, waffles, and more!
Ingredients
2 ¼

cups

apple cider

1

cup

granulated sugar

1

tablespoon

water

1

tablespoon

honey

1

cup

heavy cream

4

tablespoons

unsalted butter

1

teaspoon

vanilla extract

¼

teaspoon

salt

¼

teaspoon

ground cinnamon
Instructions
In a saucepan, add the apple cider and heat on medium-high until it is reduced to ¼ cup. It will be very thick and syrupy. This took me about 15 -20 minutes.

In another saucepan, add the sugar, reduced apple cider, water, and honey. Heat until it is boiling and reaches a dark amber color. This is easier to track with a metal saucepan. Please note that because of the apple cider and honey, the caramel will look dark before it is actually ready, so don't be afraid for it to get fairly dark. As long as it isn't smoking or giving off a burning smell, you are good!

While the sugar mixture is boiling, heat the heavy cream, butter, vanilla, salt, and cinnamon together in a bowl until the butter is melted.

Once the sugar mixture is the right color, add the heavy cream mixture and stir well. Be careful as the mixture will boil up and may sputter.

Pour into a jar and leave to cool. Cover, and store in the refrigerator until ready to use.
Nutrition
Tried this recipe?
Tag me on Instagram! @acookienameddesire #acookienameddesire