A gorgeous, flavor-packed strawberry upside down cake. Super easy, and perfect for a casual treat or even breakfast. This post was created in collaboration with Domino® Sugar. 
Why it Works
This cake is super easy to put together. All it requires is a few ingredients and fresh, in-season strawberries.
No crazy or hard to find ingredients. No special techniques. No special equipment.
The cake itself is so soft and moist. The strawberry juice seeps into the cake just a bit to really infuse the cake with more strawberry flavor throughout.
It makes just enough to serve your family and a guest or two. Plus, it stores well to snack on later.
Ingredients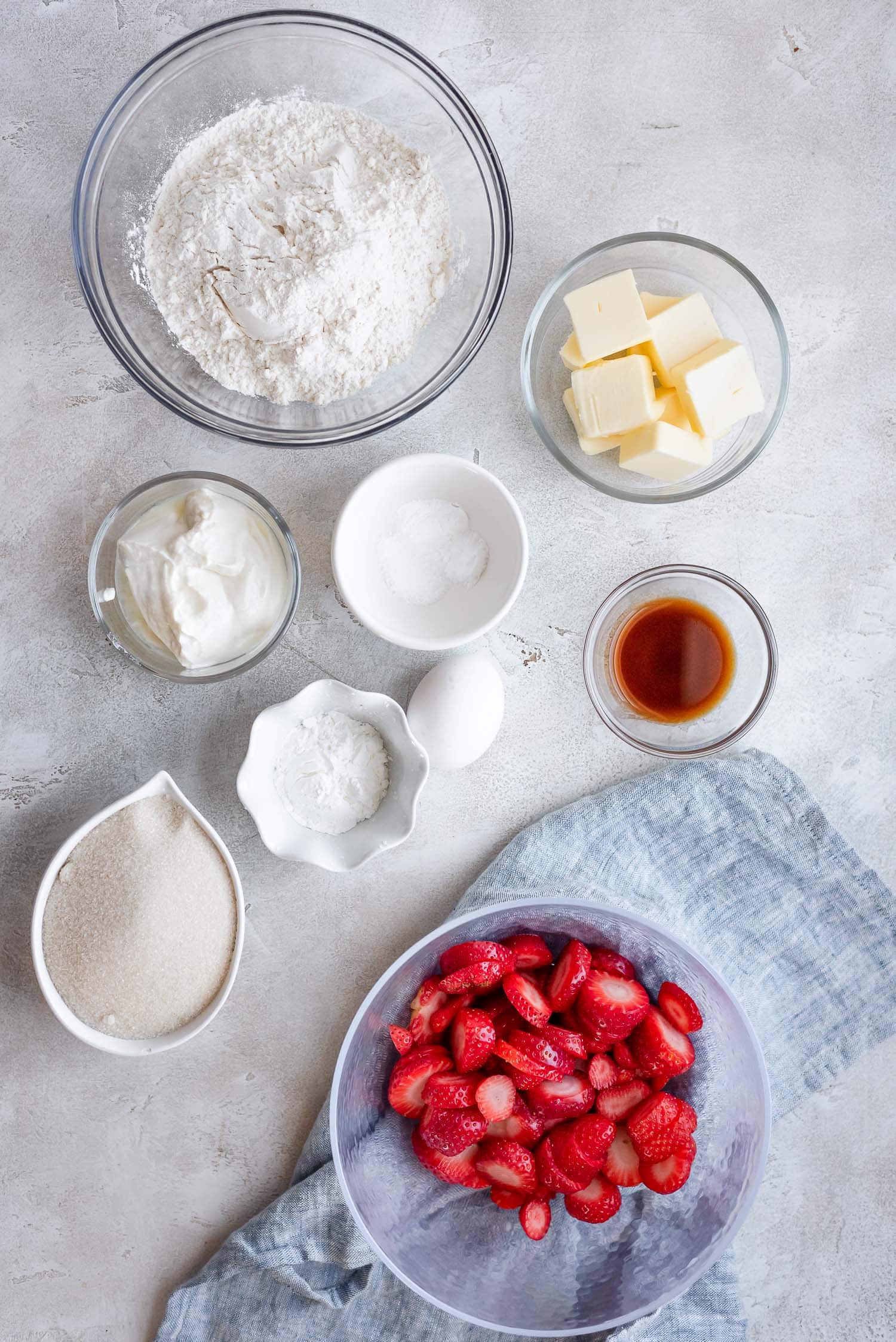 There are only a few key ingredients we use in this strawberry upside down cake. A lot of them are pantry staples, so you probably have them in your kitchen already! Let's go over a couple of the key ingredients.
Strawberries - This recipe works best with those juicy, ripe, in-season strawberries. I recommend sticking to those. In a pinch, or when you have a craving for this cake in winter, you can use thawed frozen strawberries.
Sugar - For the best results, you should use Domino® Golden Sugar because it brings out a light caramel flavor that really enhances the strawberries. It also bakes up beautifully in the cake for an unforgettable flavor and texture. In a pinch, you can use Domino® Granulated Sugar. For added depth, you can also experiment with using brown sugar in the strawberry topping. 
Flour - You should use all-purpose flour or white whole wheat flour. You can also try using cake flour in this recipe.
Butter - I recommend using unsalted butter. In the past we've experimented with shortening and margarine, but the results are never consistent.
Sour Cream - Sour cream adds a light tang to the cake that adds to how delicious the flavor is. It also has the added benefit of tenderizing the cake. You can substitute the sour cream with nonfat Greek yogurt. 
Method
Nothing beats how easy it is to make this strawberry upside down cake. The cake comes together quickly and in two parts.
Start with your strawberries. Slice at a medium thickness. Coat, and then set aside.
Mix the egg with half the sour cream and the vanilla and set aside.
Mix the dry ingredients together, then add in the butter and mix until it resembled pea-sized crumbs.
Add in the sour cream and mix. Then add in the egg mixture.
Pour the strawberry mixture into your prepared pan, then top with the cake batter. It will be thick - this is normal.
Bake, then flip the cake out and enjoy!
Expert Tips
I recommend cutting the strawberries in rounds. It makes it easier for the berries to evenly coat the bottom of your baking pan. You are free to cut them in any shape you like, however.
If possible, I also like to leave the strawberries to sit in their mixture for about 15 minutes before you start making the cake batter. It will allow the juices to release more (macerate) and you can coat your cake with that delicious syrup once you've flipped it out of the pan which will not only make it taste better, but it will also look prettier. 
You don't need to flip the cake immediately, if you don't want to. You can also wait for the pan to cool longer if it makes it easier for you. Since we line the bottom of the pan with parchment paper, it makes flipping the cake easier if you do decide to wait.
I recommend finishing the cake with a dollop of fresh whipped cream made with Domino® Confectioners Sugar.
F.A.Q.s
Can I substitute the strawberries for other fruits?
Yes, you can use blueberries, raspberries, pitted cherries, and other similar fruits. 
Can I bake this in a square baking pan?
Yes! You can use an 8x8 baking pan. The baking time will be slightly different, so I recommend checking at about 20 minutes. 
Related recipes
Strawberry Upside Down Cake
Total Time:
1 hour
10 minutes
A fluffy and flavorful strawberry upside down cake
Ingredients
Top
½ cup Domino® Golden Sugar
2 tablespoons Arrowroot starch
½ teaspoon Vanilla extract
1lbs Strawberries
Cake
1 large Egg, room temperature
½ cup Sour cream, room temperature
1 ½ teaspoons Vanilla extract
1 ½ cups All-purpose flour
¾ cup Domino® Golden Sugar
¾ teaspoon Baking powder
¼ teaspoon Baking soda
½ teaspoon Sea salt
9 tablespoons Unsalted butter, room temperature & cubed
Instructions
Prepare the cake top:
Preheat the oven to 350°F. Cut out a round of parchment paper and line the bottom of an 8-inch cake pan.
Whisk the Domino® Golden Sugar and arrowroot starch together in a medium bowl.
Add the strawberries and stir so the berries are fully coated and add the vanilla; set aside.
Prepare cake:
Mix the egg, half the sour cream, and vanilla together in a medium bowl; set aside.
Mix the flour, Domino® Golden Sugar, baking powder, baking soda, and salt together in the mixer.
Add the remaining sour cream and butter to the flour and mix until just combined.
Slowly add egg mixture and mix until just combined.
Spread the strawberries in an even layer in the prepared skillet, do not worry about arranging them in a pattern as long as they touch the edges of the pan.
Drop the batter onto the strawberries, then gently spread evenly.
Bake for 35 - 45 minutes, or until a toothpick inserted in the center comes out clean.
Allow to cool one minute, then run a knife around the edges and flip the pan over onto a plate to release the cake.
Notes
You can replace the vanilla extract in the strawberries with fresh vanilla beans for an even more delicious pop of flavor. 
Adding lemon zest to either the strawberries or batter will also brighten the cake wonderfully