Bacon, beer, and cheese come together to create the most addictive bacon beer cheese dip you could ever dip your chips in! This delicious dip recipe is perfect for game day snacking or anytime you need to have a delicious dip out for guests.
On days I am in the kitchen, I usually binge on Netflix while I bake. It's the only time I get to watch something that isn't cartoons and try and have something I can talk to other grown ups about every so often. My friend Sara at Cake Over Steak posted about her love of podcasts and shared a bunch of her favorites. At the same time, the podcasts app finally appeared back on my phone (it was gone for over a year for no reason!). So I decided to give it a try and subscribed to almost every podcast she mentioned, plus a few others I found.
And guys, I'm hooked.

I've learned so much about blogging and business and am completely immersed in this zombie podcast (obviously). I don't know what's taken me so long to get into podcasts. This way I can bake without accidentally getting sucked into what I am watching and also get some much needed education. It's the best form of multitasking ever.
We've been throwing a lot of impromptu parties at my grandmother's house. We'll just show up and call a few more family and friends and someone will bring over drinks and we will all have a great time together. At first I would bring over desserts for everyone, but I've been wanting to do a bit more, so I've also been taking over snacks like this caramelized onion dip I shared earlier this week and this utterly irresistable bacon beer cheese dip you see right here.
Now I love that caramelized onion dip. It's a little sweet from the onions, creamy, but still very light. But this bacon beer cheese dip. Oh man, how can I express how amazing it is? Well, let's just say this dip gets fought over and you can usually find someone getting the lasts bits of dip in the bowl with their fingers. I mean, come on. It's bacon, beer, and cheese. It's basically all the best (and worst for you) things ever all put into one dip. What's not to love?? For extra depth of flavor, I use two types of cheese, an extra sharp cheese, and a nice guyere. I also added a bit of the bacon grease into the dip cause, well, that stuff is pure liquid gold. You can use any of your favorite beers, I used what I happened to have around for this dip, but I prefer to use Stella Artois.
So enough chit chat, download some podcasts (I love the Food Blogger Pro and Chopped podcasts and the zombie podcast is called We're Alive. Seriously, it's so good) and make this dip. Everyone will thank you!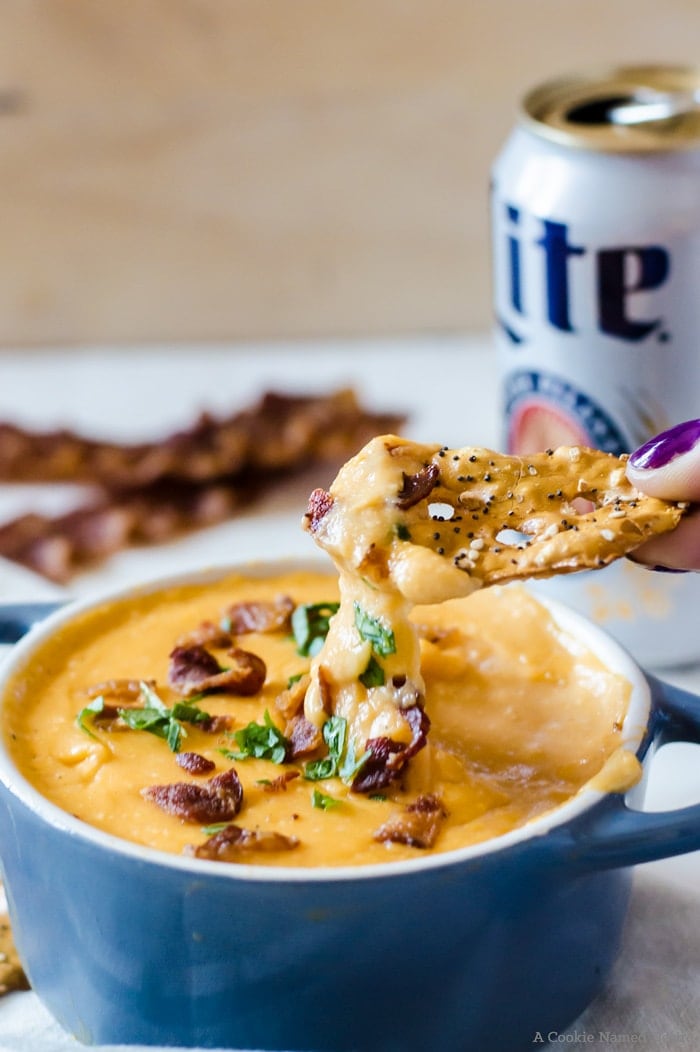 Recipe Card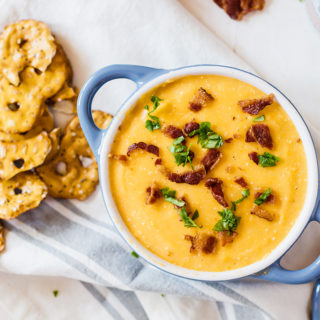 Bacon Beer Cheese Dip
This bacon beer cheese dip if packed with flavor and great for parties.
Ingredients
5

slices

of bacon

divided

1

clove

garlic

finely diced

1

cup

of beer

divided

4 ½

teaspoon

cornstarch

2

teaspoons

lemon juice

2 ⅔

cup

extra sharp cheddar cheese

1 ¼

cup

gruyere cheese

1

tablespoon

mustard

3

tablespoons

bacon grease
Instructions
Cook the bacon until crispy (I baked mine at 400 degrees for about 15 minutes). Reserve three tablespoons of the bacon grease. Set aside the bacon on a paper towel and crumble.

in a saucepan, cook the garlic in ¾ cup of beer until the garlic is fragrant. Mix ¼ cup of the remaining beer with the cornstarch and lemon juice to make a slurry. Add this to the hot beer mixture.

Add the cheese, one cup at a time and mix until melted. stir in the mustard, the bacon grease, and ¾ of the crumbled bacon. Transfer to a serving bowl and top with the remaining bacon.

Serve warm.
Notes
Take your time adding the cheese and stirring. It can very easily become grainy in texture. Do not overheat the mixture and stir until just combined and the cheese is fully melted.
Nutrition
Serving:
1
g
Calories:
129
kcal
Carbohydrates:
1
g
Protein:
7
g
Fat:
10
g
Saturated Fat:
6
g
Polyunsaturated Fat:
4
g
Cholesterol:
29
mg
Sodium:
206
mg
Tried this recipe?
Tag me on Instagram! @acookienameddesire #acookienameddesire