Yes, you heard me.
Gooey. S'mores. Candy. Cups. They are kinda like peanut butter cups, except with yummy S'mores goodness. If you've seen my S'mores Stuffed Cookies or S'mores Cheesecake, you might have realized that I have a bit of a love affair with S'mores. The funny thing is, I am not a huge fan of regular s'mores. No, I need something I can grab and go and eat at my office desk without looking too out of place. These s'mores cups fit the bill in a really awesome way. In fact, I am probably going to make a huge batch of them to give out on Halloween. Who is with me?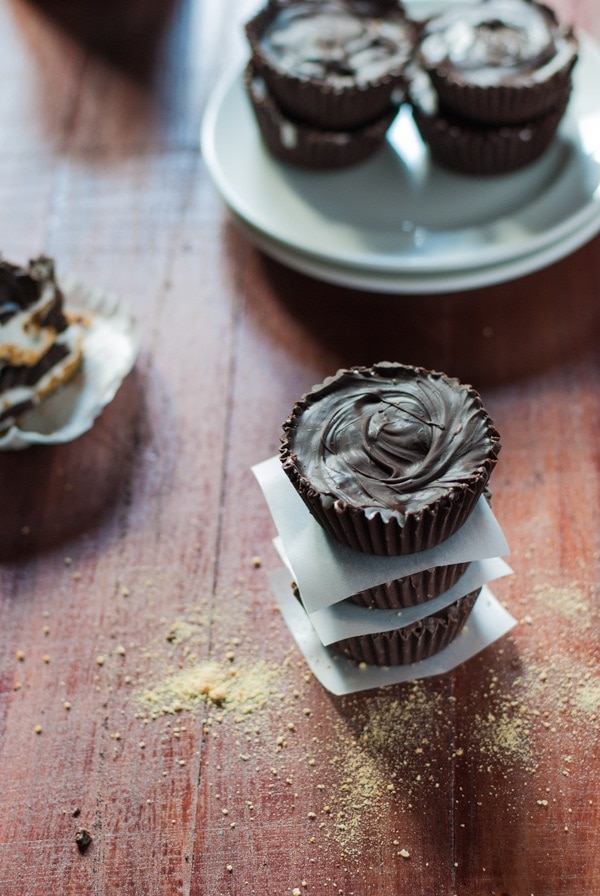 I mean... look at that awesome gooeyness? Can't you imagine taking your kids or nieces and nephews or grandkids or cousins out trick out treating while you walk behind them enjoying one or two of these morsels of deliciousness as they hop from one house to another? I always need a bit of a boost while taking my daughter out and this is the best way to do it in my opinion!
There are a couple of ways to make these cups. You can make them larger, like these cups, or smaller. You can also use sheets of graham cracker cut down to size, or make a graham cracker-y shortbread like I did. You can also make a regular graham cracker cheesecake crust and cut that down to size. I did the shortbread method because It was the tastiest method that also meant less mess when you bit into it.
These gooey s'mores candy cups rate fairly high on the messiness scale. I mean, anything deliciously gooey is going to be a little messy, but I want to put it out there and warn you. There are ways to cut down on the mess, but it is just faster when you allow a bit of mess and get your hands dirty (or chocolaty and marshmallowy <--- yes, that is a word. No, you can't go look it up).
This was my first time making any kind of candy, so I was pretty nervous. I did not know if I needed special cups to use (you don't) and I had no idea how to keep everything even when setting the chocolate (totally doesn't even matter). A lot of pictures and videos show people tilting the chocolate in the cups to get an even coating. I did a mixture of that and using my fingers. I still ended up with some parts that were higher than others. You can cut off the excess when it is all set if it bothers you. I used marshmallow fluff because it had the best consistency, but you have to be sure it spreads evenly to each edge, otherwise the chocolate will seep down to the graham cracker and create extra thick edges which isn't a bad thing if you like more chocolate, but my favorite part is the marshmallow, so I wanted a nice amount of that in these cups. I also used my fingers to coat the top of the cups because 1. It's fun. 2. I like the swirly look and you can control it better when you use your fingers as opposed to a spoon. 3. I got to lick the chocolate off my fingers when I was a finished. Sorry not sorry.
I mean, look at those awesome swirls. These cups are almost too pretty to eat.
Almost.
(P. S. Want a cheat version? Skip making the cookies and just cut down graham crackers to fit in the cups. Use two per candy and sandwich the fluff in the middle!)
Recipe Card
Gooey S'mores Candy Cups
Store in an airtight container for up to 5 days
Ingredients
½

cup

all purpose flour

½

cup

plus 2 tablespoons finely ground graham crackers

½

cup

powdered sugar

1

stick unsalted butter

cut in chunks

½ - 1

teaspoon

water

12

oz

Dark Chocolate Candy Wafers

found in craft stores

1

container marshmallow fluff
Instructions
Preheat the oven at 375 degrees F

Pulse the first 5 ingredients together in a food processor until a dough forms. Take out the dough and roll into a 1 ¼ inch (for large s'mores cups) or ½ inch (for small s'mores cups) log. Wrap in plastic wrap and chill for at least 30 minutes. Take out and cut into ¼ inch thick slices. Tip: turn the roll by a quarter after every cut to ensure your slices are always even. Place on a parchment-lined baking sheet and bake for about 10 - 12 minutes. Allow to cool completely.

While the cookies cool, Melt your chocolate over a double boiler or in the microwave according to package instructions. Take out your cupcake tin (or mini cupcake tin for mini cups) and your cupcake liners. Drop about ½ tablespoon of melted chocolate into your cupcake liner (about 1 - 2 teaspoons for the minis) and evenly spread the chocolate on the bottom and halfway up the sides of the liners. You should still have plenty of chocolate to coat the tops. Place the liners in the cupcake tin to cool and solidify.

Once the chocolate is solid again, place the cookies inside the cups and then top with about 1 - 2 teaspoons of marshmallow fluff. Top with enough melted chocolate to coat the tops of the cups. Allow the chocolate to solidify. If the chocolate in your bowl solidified again, reheat as necessary to melt.
Tried this recipe?
Tag me on Instagram! @acookienameddesire #acookienameddesire