I don't know about you, but I definitely have a few New Year resolutions to eat a more balanced diet and maybe lose a few pounds along the way. Not an easy feat when your job is to bake the sweetest of desserts every day or when you have as many sweet teeth as I do! To help us with our goals, I wrangled up some delicious sweet treats that are healthier and won't ruin our goals!
Healthier Treats From A Cookie Named Desire
Healthy Cinnamon Bun Raisin Scones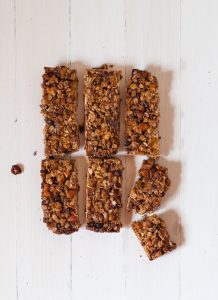 Chewy Cherry Mango Granola Bars
Homemade Yogurt - Plus you can add in a ton of delicious healthy flavors such as berries, apples, stone fruits, honey, extracts, and cocoa powder for an unlimited number of flavor combinations. (To keep things healthy and keep out the sugar while keeping things sweet, try lightly roasting fruits to release their juices. You can coat them in stevia, agave or honey to make them sweeter.
Gluten-Free Single Serving Muffins - Two of these muffins are seriously delicious and better for you!
Banana Muesli Muffins - You can make these muffins even healthier by using light buttermilk or nonfat yogurt!
Chocolate Chai Muffins - They are also gluten-free!
Baked Gingerbread Latte Doughnuts
Healthy Treats From My Favorite Bloggers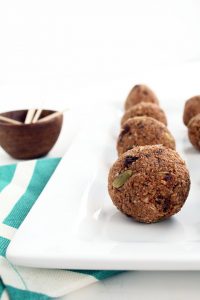 Cacao Plantain Rice Balls with Pepitas - from Ali of Inspiralized
Vegan Strawberry Shortcakes with Coconut Whipped Cream - from Ali of Gimme Some Oven
Cinnamon Raisin Swirl Peanut Butter - from Sally of Sally's Baking Addiction
Almond Joy Oatmeal Cookies - from Amy of Amy's Baking Addiction

Skinny Peanut Butter Fudge Brownies - from Jennie of The Messy Baker
Creamy Chocolate Avocado Ice Cream - from Jessica of Jessica in the Kitchen
Blueberry Almond Smoothie - from Nancy of The Butter Side of Sweet
Nutella Pistachio Truffles - from Sarah of Snixy Kitchen
Baked Apple Chips - from Sommer of A Spicy Perspective
Lightened Up Apple Crumble - from Aubrie of The Blonde Chef
What are some of your favorite lightened up desserts? (Share links if you have them!)
What are your resolutions for the New Year?